Danish Warmblood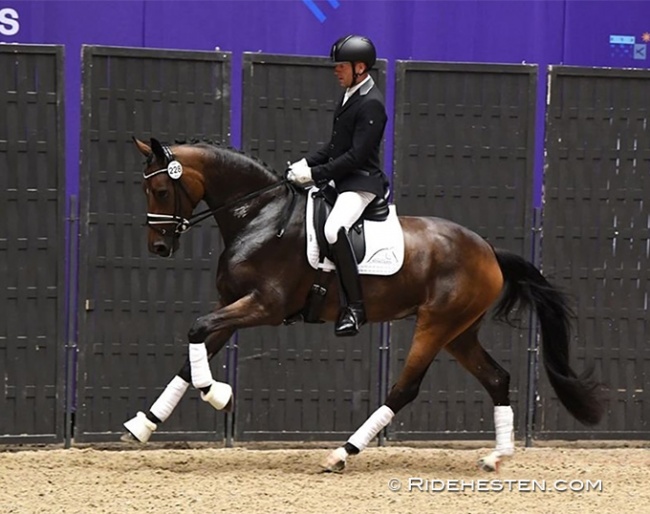 Dina Holmklit has been named 2022 Danish Warmblood Mare of the Year at the DWB Elite Mare Championships, which extraordinarly took place in Herning, Denmark, on 11 August 2022. 
A group of 39 mares in the age categories 3 and 4 presented themselves in hand and under saddle in Herning after having done their mare performance test earlier this summer. 
Dina Holmklit was one of three mares that received a "gold medal" at the annual Danish Warmblood Elite mare show and she grabbed the overall title as "Mare of the Year". She is by Hesselhøj Donkey Boy x  De Noir, and bred by Trine Udklit Sørensen. She is owned by Norwegian Kristin Andresen, who also owns sire Donkey Boy.
The DWB mare assessment committee praised Dina Holmklit for being an "excellent mare who has the whole package and who exudes huge talent. She is fantastically beautiful, pure in type with lovely open and well-lined croup. She is noble and expressive with a good feminine expression and carries the neck nicely under the rider. The movement is absolutely very good in all three gaits and she moves beautifully with swing, self-carriage and elasticity. She is ground covering and has uphill tendency. She is extremely rideable, obedient and willing to work and seems to have a very cool temperament."
The other two gold medal winning mares were Brandtbjergs Divya (by Hesselhøj Donkey Boy x  Blue Hors Don Olymbrio), bred by the Buhl family at Brandtbjerggard and owned by Agnet Holmsted; and the mare Sparkletini (by Springbank II x Franklin), bred and owned by Henrik Hansen.
Complete results list here. 
Photo © Ridehesten
Related Links
Valerie B Named 2021 Danish Warmblood Elite Mare Champion
Atterupgaards Lady Hamilton Named 2019 Danish Warmblood Elite Mare Champion
Grevens Fakina Named 2018 Danish Warmblood Elite Mare Champion
Skovens Tzarina Named Champion of the 2017 Danish Warmblood Elite Mare Show
Sezuanna Named 2016 Danish Warmblood Mare of the Year 
Delicious, Mildura, Schwarze Schwalbe, Tebaldo Winners of 2015 Danish Warmblood Elite Show
Lillevangs Pari-Diva Named 2014 Danish Warmblood Mare of the Year
Stigma Named 2013 Danish Warmblood Mare of the Year
Tirana Named Danish Mare of the Year 2012
Prima Donna Named Danish Mare of the Year 2011
Sirikit, 2010 Danish Warmblood Mare of the Year
Fabrix Miss Ésandri, 2009 Danish Warmblood Mare Champion
Bøgegaardens Don Romina, 2006 Danish Warmblood Mare of the Year