2022 North American Junior / Young Riders Championships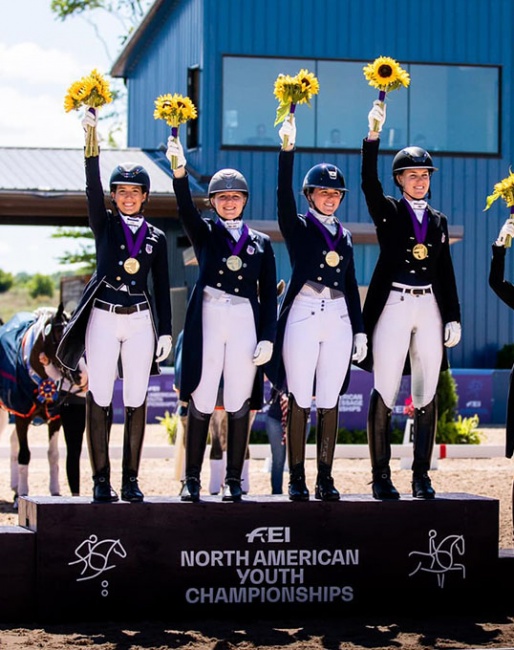 Team dressage competition concluded Wednesday at the 2022 North American Youth Championships with the Young Riders completing their team tests under perfect weather conditions at Flintfields Horse Park in Traverse City, MI, on 11 August 2022.
Region 3 and 9 Combine for Team Gold
The team gold medal went to the combined USA Region 3/Region 9 team of Sophia Schults (Wellington, Fla.) and Conocido HGF; Mary Claire Piller (Oakdale, Tenn.) and Oreo; Sydney Schultz (Mandeville, La.) and Dunkirk; and Sydney Lipar (The Woodlands, Texas) and Zerragmo.
Schults and Conocido HGF, a 2012 PRE gelding owned by Hampton Green Farm, had a banner day, earning a 67.647% from the judges.
"My goal was to have a clean and consistent test, and I'm very thankful that we achieved that," said Schults. "It's a new record for us, and it's a great time to do it! [My test] was nothing too exciting; just consistent, uneventful, and harmonious."
"I was just very excited to come in the ring and put a clean test down because my horse is not the typical dressage horse you see at championships," Piller said of Oreo, Elaine Knowles Cole's 2014 pinto Gypsy cross mare. "I wanted to make every point count and she really pulled it out for me for a clean, correct, and harmonious test."
"I was really looking for a clean, correct, steady test, which we were able to pull off," said Schultz, who rode Vicky Busch's 2009 Oldenburg gelding to a 64.441%. "I'm 21, so this is my first and last NAYC. I'm very excited and blessed to have this opportunity."
"The highlight of my test today was the trot and the walk work," said Lipar, who earned a 67.265% with Denise Lipar's 2012 Westphalian gelding, Zerragmo. "He gets a little bit excited in the show ring, so I really try to use that to my advantage and make the trot extra powerful and special."
Region 7 Collects Silver
In silver-medal position was the USA Region 7 team of Lily-Rose Bacon (Atherton, Calif.) and Warm Night; Lucienne Bacon (Atherton, Calif.) and Do Re Mi; Ellanor Boehning (Rancho Santa Fe, Calif.) and Sir Junior; and Erin Nichols (Yorba Linda, Calif.) and Handsome Rob AR. Nichols had the highest individual score of the day, earning a 70.147%.
"I am just so proud of my horse," Nichols said of her 2012 Dutch Warmblood gelding. "I've had him since he was a five-year-old and I brough him up through the levels. My goal was to break 70% this week, and to do that is just really amazing to me. I think the changes were definitely a highlight, and parts of the trot work really showed some his talent. He's really grown through the years that I've had him."
Region 6 and 8 Merge for Bronze
The combined team from USA Region 6 and Region 8 took home the bronze medal. The team was composed of Brenna Donovan (Andover, Mass.) and Scandal LWF; Jessica Beck (Oregon City, Ore.) and Elewaard; Megan Tursi (Goshen, Conn.) and So Speciale Edition; and Gemma Starn (Putnam Valley, N.Y.) and Diamond First Choice. Starn had the team's high score of the day, a 66.971%, and she had high praise for her 2011 Hanoverian gelding, both in and out of the competition arena.
"I've had 'Theo' for about three years, and honestly [the highlight] was just getting here and staying with riding through some incredibly trying times," said Starn. "Theo got me through some truly incredible hardships, and I'm so grateful for him. He is an angel. I kept repeating to myself, 'you are here with him, and he's amazing.' I adore him, and I'm just very grateful for his performance."
Learning Experience
For young dressage athletes with aspirations to compete at the international championship level, NAYC is serves as an important stepping stone. Team gold medalist Pilar articulated how NAYC offered valuable learning experiences for young riders moving up through the levels.
"The experience of being here is unlike anything else I've experienced," she said. "I think it's really important as far as being able to move up the levels to start here because it's an FEI championship. It's one thing to show at the national shows, and it's a whole different thing entirely to follow the FEI rules and stay in compliance. It's good to learn the rules now before we're in the senior category, and to show in front of this high-level judging. It's also good for the horses' development because it's a huge environment to show in. It's great for horses to be in this type of atmosphere."
Text © USEF press release
Related Links
Scores: 2022 North American Junior/Young Riders Championships
Region 4 Wins Team Gold at the 2022 North American Junior Riders Championships