Canada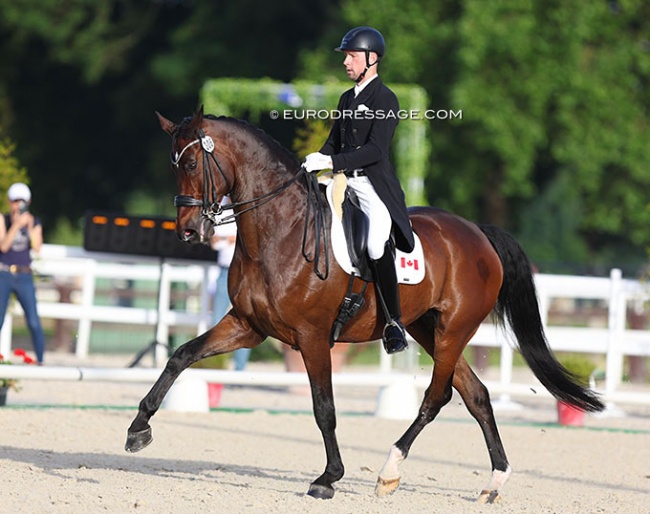 The Canadian equestrian federation has decided not to send a team to the 2022 World Championships Dressage in Herning but instead will be fielding two individuals. 
"Anaemic"
The Canadian selection criteria stipulated that "to guarantee the selection of a full team for the 2022 World Champiponships the final ranking average for the team must be 70% or higher." The average would be based on the results of each combination in four Grand Prix test, three Specials, with one result in each level attained after 1 April 2022.
This year Canada appeared slightly "anaemic" with a very low amount of Grand Prix riders competing for a team spot. Canada's anchor rider Brittany Fraser-Beaulieu is pregnant, while her Tokyo Olympic riders Lindsay Kellock and Chris von Martels did not contest a spot. Kellock quit competing Sebastien (by Sandro Hit x Fidermark) at the end of February at the 5* in Wellington, while von Martels' Eclips (by Apache x Ferro) did not show at all in 2022. 
Three in the Running
Only three riders were in the running for a team spot: Ryan Torkkeli, Naima Moreira-Laliberté, and Ariana Chia. 
The Canadian federation selected as individuals
Ryan Torkelli  on Sternenwanderer, a 16-year old Rhinelander by Lord Loxley x Ragazzo, owned by Dieter Laugks and Ingetraud Bolz
Naima Moreira Laliberté on Statesman, a 15-year old Hanoverian by Sandro Hit x Brentano II, owned by the rider
Ariana Chia
Ariana Chia was well on her way to secure a spot with her 12-year old Oldenburg Fiderflame (by Fidertanz x Abanos).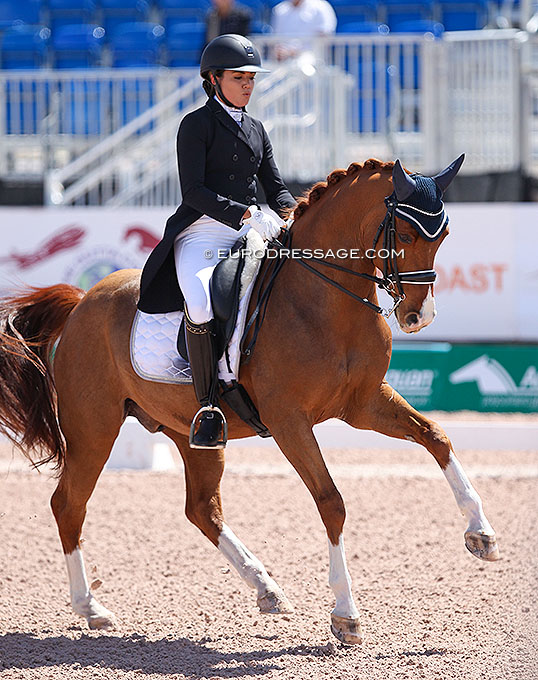 At the 2022 Global Dressage Festival in Wellington this year, she started off with a 64.739% in the Grand Prix in January, but as of February her scores climbed and she posted between 66 and 70% in the Grand Prix tests and Special. The Canadian NF decided not to select her. 
"The rollercoaster is finally over," Chia posted on social media after the decision to send only two individuals was taken. "This year was full of so many highs for Flame and me as a team, successfully breaking 70% in the CDI Grand Prix ring, finishing in the top 8 in many GDF Friday Night Lights Grand Prix Freestyle classes, and achieving so many new personal best scores throughout the season during only his second year at the Grand Prix level."
She continued, "however, this was not our year to be on a major games team. Although we finished up ranking 3rd in the country, it has been decided that Canada will not be sending a team to the World Championships. (..) I know our time will come to represent Canada in a major games, and we will continue working hard towards our next goal Paris, but I won't let this dampen how incredibly proud I am of my little superstar horse who held his own all season and still finished up in the top 3 in the country!"
Paris Olympics
The top six nations in the team competition at the 2022 World Championships Dressage will earn a starting place for Paris in 2024.
As it has done in the years before, Canada will attempt to qualify a team for Paris via the Pan American Games. In 2023 the Pan Ams will take place in Santiago, Chile, where the two best teams earn a start at Paris.
Photo © Astrid Appels
Related Link
Eurodressage Coverage of the 2022 World Championships Dressage