F.O.C.U.S.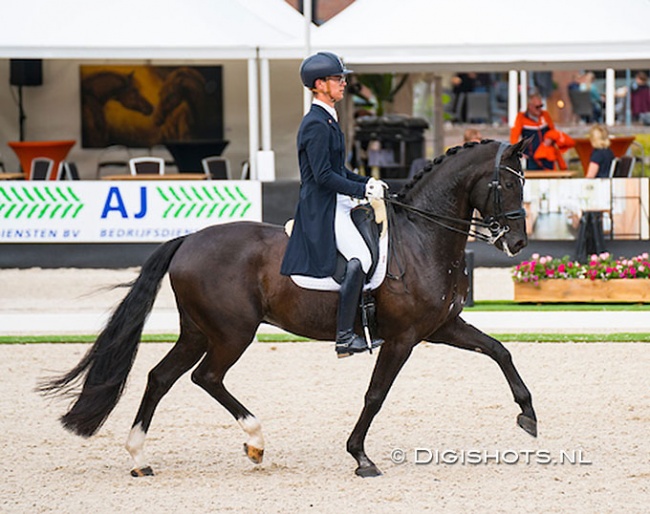 Reigning European Young Riders Champion Marten Luiten continues to add impressive achievements to his tally, most recently scoring a double Dutch Champion's title at the National Championships in Ermelo. Aboard Arie Yom-Tov's Killer he won the Young Riders' title and with Willeke Bos' Fynona he added the Under 25 title on top.
With 7-year old Killer Luiten has a special ace in his hands as the horse is in the running for Dutch team selection for both the 2022 European Young Riders Championships in Hartpury and 2022 World Young Horse Championships in Ermelo. 
Double Whammy
While Luiten and Fynona are familiar faces to the international youth show scene, his pairing with Killer, a 7-year old KWPN gelding by George Clooney x Tolando, is a new one.  Luiten took over the ride on Killer from 2015 European Young Riders' champion Dana van Lierop at the start of the year and the new duo has made an impressive progression on the training scale.
Marten first showed the horse at M-level at a regional show in the winter to get their feet wet in the show scene, but by April he firmly established the 7-year old at small tour level and made his international show debut at the CDI Kronenberg, where they won the team and individual test with 70+ scores and were second in the freestyle with 72.717%. 
In May Luiten qualified the talented gelding for Dutch team selection for the 2022 World Young Horse Championships in Ermelo in the late summer, while he also scored the Dutch Young Riders Champion's title after two winning rounds on h 71.471% and  76.217%.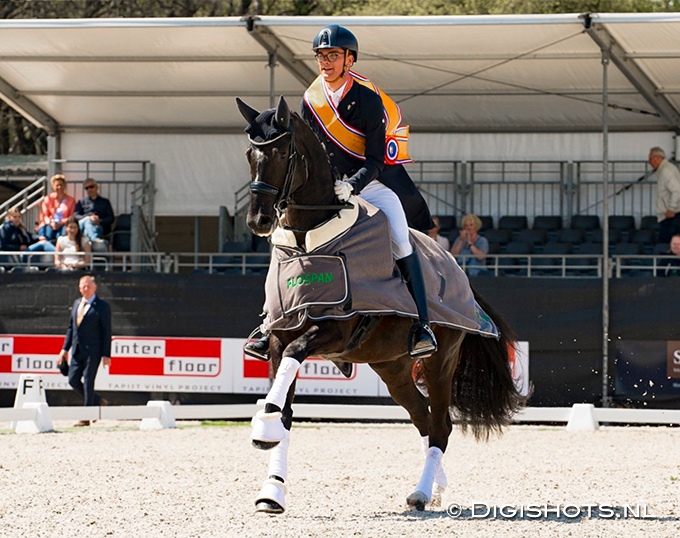 "I'm so proud of Killer. At the start of the year we were doing M-level and now we are here," Luiten stated. "Killer went really well. I notice that we are getting more and more in tune with one another. There were a few small mistakes here and there, but he's developing really well and improving a lot. We started the year at Z2 level and it went fast fro there. He is, of course, only 7 but very willing to work and that makes all the difference."
Killer's owner Arie Yom Tov is thrilled with the double achievement of his black gelding, the national title as well as a chance to compete at the World Championships. "I'm very proud of both of them," said the Hungarian owner, who has supported numerous young talented dressage riders by giving them his horses to produce.  Killer is acquainted with the show grounds of the World Young Horse Championships in Ermelo. In 2019 he won the consolation finals under Sjuul Spelt (NED) in the pilot programme for 4-year olds.
Programme of Excellence
Luiten's successes in the arena have not gone unnoticed and he was accepted for the CHIO Aachen Campus Programme of Excellence. Only Europe's best young riders were invited to this programme and get coaching by Isabell Werth on a regular basis as well as support for nutrition, fitness, and media management. 
When asked which European Championship Luiten will ride this summer, Young Riders with Killer or Under 25 with Fynona, the 20-year old is unsure yet.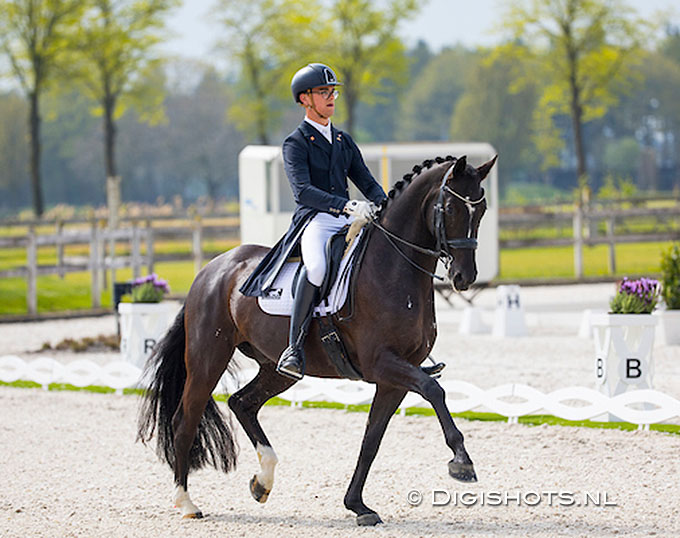 "It's too early to tell," he told Eurodressage. "This was only our first observation. During the season I'll see how Killer and Fynona develop and based on that I'll make a choice in agreement with team trainer Monique Peutz, in case I qualify both for the team."
Luiten is about to finish his Bachelor in Business Managemet with still two courses and a dissertation to go, but his riding is eating up more of his time. The young man from Winschoten, The Netherlands, is already building a career as a (semi-)professional rider. 
"I will still do a Masters degree, but I want to spread it over 1.5 years instead of 1, so that I have more time for the horses," he added. 
Photos © Digishots
Related Links
Van Norel, Van Nek, Luiten Win 2022 Dutch Youth Championships
Sport Pro Horses Yom-Tov Group, Title Sponsor of 4-YO Challenge at 2022 World Young Horse Championships
Central European Young Horse Championship to Boost Young Horse Sport at 2022 CDI 4* Pilisjaszfalu
Marten Luiten is the 2021 European Young Riders Champion
Scores: 2019 World Championships for Young Dressage Horses