Hanoverian Auction News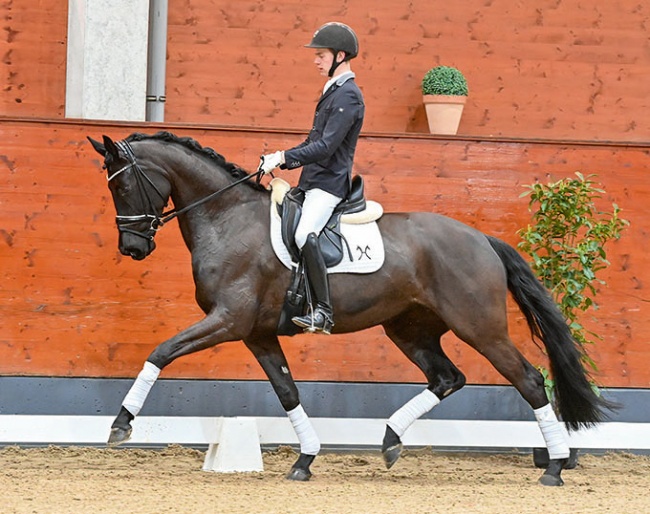 Moonlight Sonata achieved the top price of 105,000 euro in the 2022 Hanoverian April Online Auction, which concluded on 23 April 2022. 
Moonlight Sonata
Early on Saturday afternoon the time had come – the Verden Auction Online in April entered its final phase. After exactly 100 bids and an hour after the auction started, the virtual hammer fell for the catalogue number 1. The black Moonlight Sonata (by Morricone x Lauries Crusador xx) achieved the top price with 105,000 €. Bred by Carsten Haack and owned by Erdal Yesilkaya, Odenthal, the mare will move to a dressage stable in Lower Saxony. 
The most expensive show jumper was Quinta (by Qualito x Perigueux), who sold for 38,500 euro to Greece.
Secret's Sirina (by Secret x Wolkentanz I) and Moritzburg (by Morricone x Lauries Crusador xx) stay in Germany for 80,000 and 65,000 euro. Quercelona (by Quantensprung x Danone) sold for 55,000 euro. The gorgeous grey mare Meine Wolke (by Morricone x Don Frederico) fetched 40,000 euro.
France Shopped
Almost half the collection (24 of 52 horses) sold for 25,000 euro or more and almost half of them move abroad.
French customers bought no less than five horses: Orphelia (by Orlando x Acodetto I) for 28,000 euro, For Chance (by Furstenball x Londonderry) for 21,500 euro, Fiorello (by Finnigan x Belissimo M) for 17,500 euro,  For Romea (by For Romance x Lauries Crusador xx) for 15,500 euro, and Filippa (by Finnigan x Londonderry) for 10,500 euro.
Finnish clients bought four horses: Sean Connery III (by Sir Donnerhall x Rotspon) for 48,500 euro, Freixenet (by Finest x Belissimo M) for 25,000 euro, Eurotop (by Emilio Sanchez x Furst Heinrich) for 20,000, and Diamant de Dodo (by ) for 18,000 euro. 
Spanish clients bought Furstina (by Furst William x Furst Romancier) for 51,500 euro and Bailador M (by Borsalino x Weltmeyer) for 50,000 euro,
An Austrian paid 55,500 euro for Fair Quiz (by For Romance x Quiztime).
The average price for a horse in this auction was 28,304 euro. 
Next Auction in Verden
Those who did not get their chance at the riding horse auction can secure a foal at the Verden Foal Spring next Thursday, 28 April. Bids for the 32 representatives of the 2022 vintage can be submitted from Monday onwards, before the Bid Up starts three days later at 7.30 pm CET.
Complete results here.