Hanoverian Auction News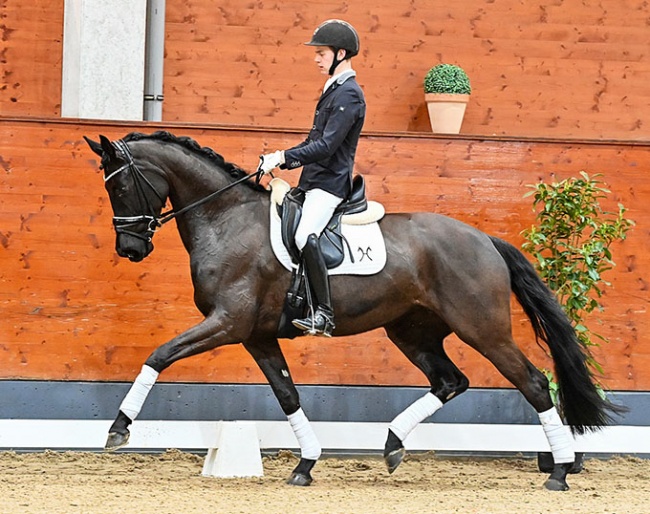 The countdown has started and 58 sport horses are ready for clients from all over the word at this year's Verden Online Auction in April.
On Saturday, April 23, the spotlight will be on the top-class riding horse collection, consisting of 37 dressage horses and 21 show jumping horses. The riding horses can be inspected and test ridden on site from Tuesday, April 12, to Saturday, April 23.
Proven Bloodlines
Decorated with victories and placings in novice class tests for young riding and dressage horses, the five-year-old Moonlight Sonata (Owner: Dr. Erdal Yesilkaya, Odenthal) opens the auction lot in April. The paint-black daughter of Morricone I convinces under saddle with great movement volume, a lot of talent for collection and an extraordinary work attitude. Her dam, Lourdes IV (by Lauries Crusador xx x Raphael), is paired to Benicio and produced Bonjour, who is currently successful in the advanced level under Ines Bormann. Dr. Carsten Haack from Freiburg, breeder of number 1, also bred Lourdes IV's full sister Louise to Morricone I in 2018. The result is the talented Moritzburg, who adds head number 32 to the auction line-up.
Secret's Sirina (by Secret x Wolkentanz) carries the head number 2 and has already led the winner's circle in a riding horse test three times. Willow, the dam of this highly talented Secret daughter, is the youngest of four Wolkentanz offspring out of Beluga (by Bergkristall x Askan). Her full brother White-Whings achieved victories and placings up to advanced level under various riders. Her full sister, state premium mare Wega, produced the advanced level successful dressage horses Rosenquarz K (by Romanov Blue Hors) and Baccardi Feeling K (by Belissimo M).
In addition to Secret's Sirina, her half-brother Showroom (Owners: Marvin & Sylvia Klausing, Diepholz), who is one year younger, also shines in the catalogue with the head number 14. After the successful use of Secret, breeder Miriam Schulz from Stuhr chose his sire Sezuan this time. A breeding decision that once again produced a highly interesting dressage horse with potential for the large arena.
Performance Horses with Top Pedigrees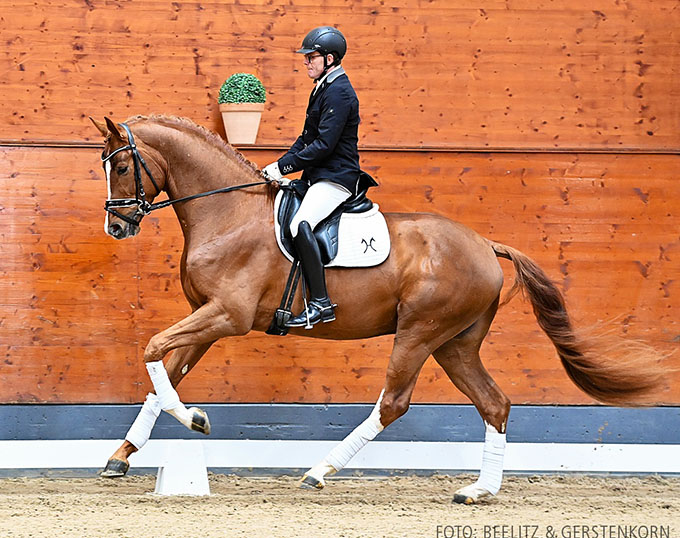 Young dressage horses, whose bloodlines have already led to success several times, characterize the auction lot. Isterberg II is a licensed stallion, winner of a test for young riding horses and number 6 on the Verden auction stage after passing his sport test. His full brother, Isterberg V, who is in breeding at the Letter Berg Stud, has been victorious several times at medium level in line with his age under his permanent rider, Stephanie Leuenberger.
Number 7 is the highly interesting Sir Donnerhall I son Sean Connery. Four years ago at the Verden Foal Auction, the charming chestnut bred by Torben Schulze, Steinhorst, trotted straight into the heart of Hamburg-based Renate Weber, who recognized his potential and in whose ownership he grew into a magnificent riding horse. During his lifetime, his full brother, the private sire Sean Connery I who was based at the dressage horse performance center in Lodbergen successfully matured to Grand Prix level under his Swedish rider Therese Nilshagen.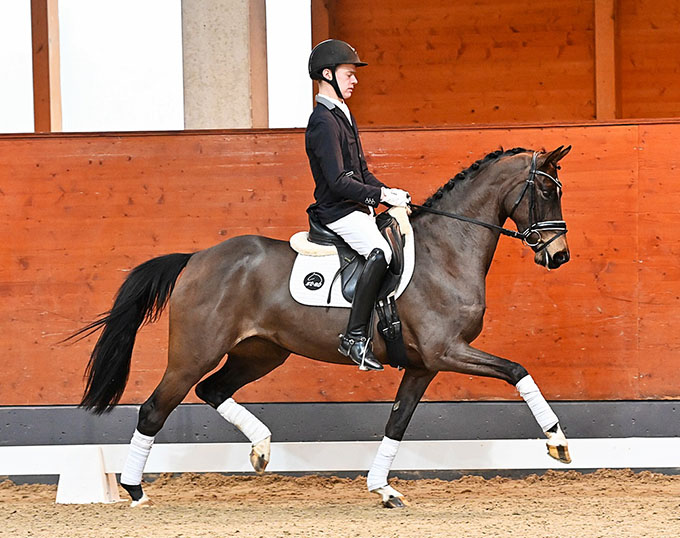 His full brother Sean Connery II, four years younger, was successful up to advanced level under Sascha Schulz for Luxembourg's Dressage Grand-Ducal and is now collecting successes on the international stage under the Russian junior rider Iaroslava Inshakova.
According to the motto "Small but impressive!" Quarcelona presents herself with the number 12. From the proven breeding house of the Schenk family from Römstedt, this Quantensprung daughter shows herself in clear elite standard. Already her two-year older half-sister Barcelona by Borsalino shone under the saddle of Jacob Schenk. Carefully used, the Hanoverian premium prospect stood out as Vice Bundeschampion at the age of three and as a finalist in Warendorf at the age of four.
Livestream
The first presentation on Saturday, April 16, will be completely recorded. We will put the clips online as of Monday evening, April 18. Besides the preliminary video this will be an additional help to watch your favourite horses during training.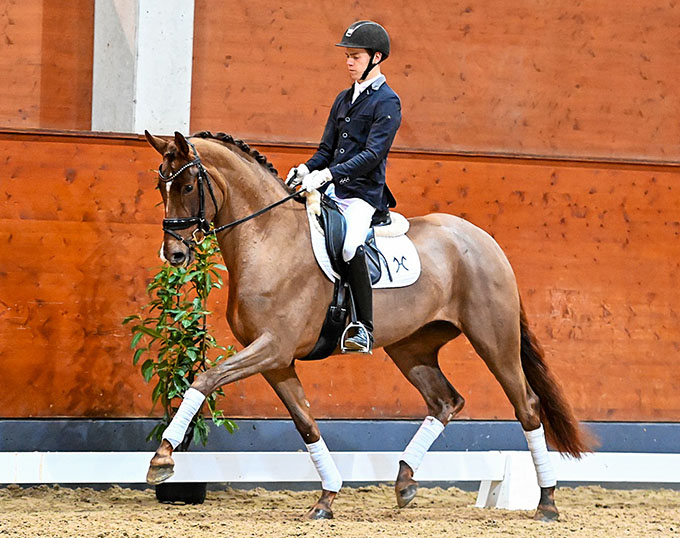 Furthermore we offer a livestream on our homepage for the presentations of the riding horses on Saturday, April 16, at 10.00 am, on Wednesday, April 20, at 3.00 pm as well as for the free jumping of selected riding horses on Friday, April 22, at 10.00 am.
Customer Service
With advice and support, our customer advisors will help you find the right horse for your joint equestrian career. During the period from April 12 to 23, the riding horses can be examined daily in training and tried out by appointment.
Our customer advisors will be happy to make an appointment with you to try out the horses.
Title hero Quizmaster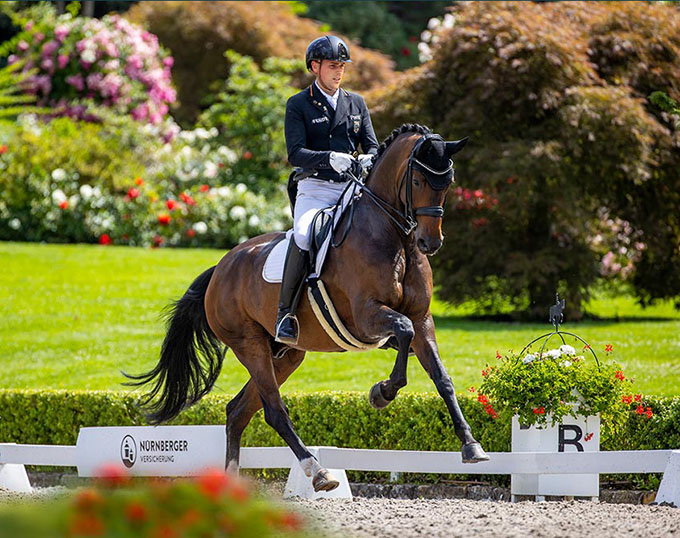 Highly successful former Verden auction horses traditionally adorn the titles of the Verden auction catalogs. Quizmaster, a gelding by Quasar de Charry/Velten Third born in 2012, saw the light of day in Klaus Klüver's breeding stable in Lamstedt. Our title hero in April celebrated his first success as Bundeschampion of three-year-old riding horses with his trainer at that time, Jessica Lynn Thomas.
As one of the top priced horses at the Elite Auction in October 2015, he moved to the stable of Sascha Schulz. Under Luxembourg's flag, he rode Quizmaster to bronze in Warendorf and a year later competed in the five-year-old final at the World Championships for Young Dressage Horses in Ermelo/NED. After that, the journey continued to Hof Kasselmann, where the gelding made the jump into the big arena together with his rider Frederic Wandres. In March last year, the pair won the Nations Cup in Wellington/USA as part of the German team. Two months later, they secured one of the coveted final tickets to the Nuremberg Burg-Pokal in Redefin. There the pair won both the qualification and the final. With a score of 77.244 percent, the pair were clearly ahead. Then came the Burg-Pokal Final.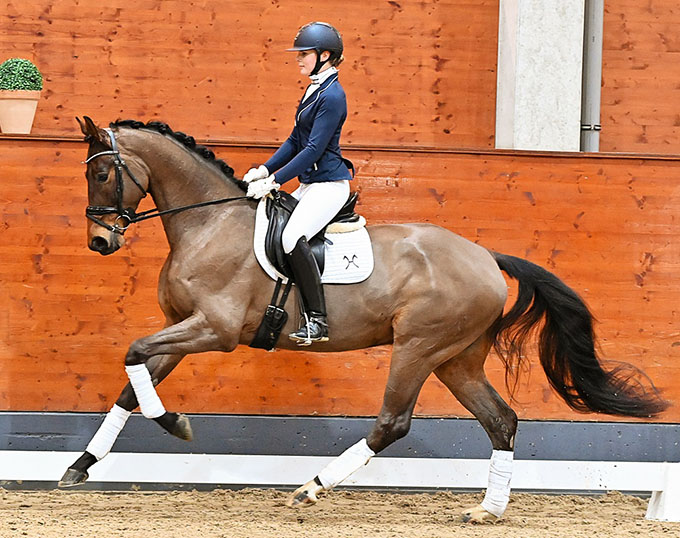 "Quizi simply plays to his strengths," Wandres praised his quizmaster. The final test in Kronberg went similarly well for Frederic Wandres as the test the day before. The gelding showed some highlights worth seeing, which included especially his expressive trot and the traverses. They received a total of 75.463% and meant 3rd place. "I am incredibly proud of Quizi. Sometimes he lacks concentration and prefers to clown around. But that's exactly what I like about him," Wandres said.