Germany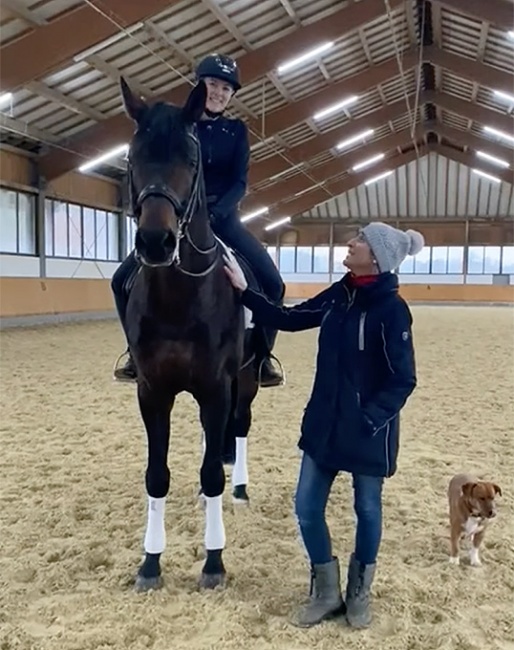 German eventing Olympian and multi-talented rider Ingrid Klimke is sidelined with a shoulder injury.
Klimke was strikingly absent from the 2021 Nurnberger Burgpokal Finals after qualifying the now 9-year old Westfalian gelding Firlefranz (by Franziskus x Rapallo), owned by Klimke, Joan Johnston and Joanna Crilly, at the last selection show of the season in Schenefeld. 
At the beginning of December 2021, Klimke officially withdrew from the Burgpokal Finals and her spot went to Daniel Bachmann Andersen on Sissy Max-Theurer's Holsteiner stallion Caracciola MT (by Chin Champ x Calido). No official reason for her withdrawal was issued. 
On 22 January 2022 Klimke will be hosting a Masterclass at the Swiss National Centre of Equitation (NPZ) in Berne, Switzerland, where also a big stallion show is taking place.  Not Ingrid but her 19-year old daughter Greta Busacker, the 2021 European Young Rider Eventing Champion, will be presenting Ingrid's Grand Prix stallion Franziskus in the show. 
"Ingrid Klimke won't be coming alone to our Stallion anniversary in Berne. Premium stallion Franziskus will accompany her," the NPZ stated. "Because of Ingrid's shoulder injury, she won't be sitting in the saddle herself, but will have a premier in Berne. Her daughter will be in the saddle of Franziskus."
Ingrid's passion for eventing has not left her unscathed. In May 2021 she injured her ribcage in a fall at the CCI Baborowko and had to be operated on. She saw her Tokyo Olympics go up in smoke. A year before that she fractured a thoracic vertebra in a training accident.
Related Links
Firlefranz and Finley Drop Out, Salvina and Caracciola MT Step in for 2021 Nurnberger Burgpokal Finals
Ingrid Klimke's 6th Olympics Up in Smoke, Injured in Cross Country Fall
Klimke and Franziskus Drop out German Olympic Team Contention due to Injury
Ingrid Klimke Fractures Thoracic Vertebra in Riding Accident