Grand Prix Sales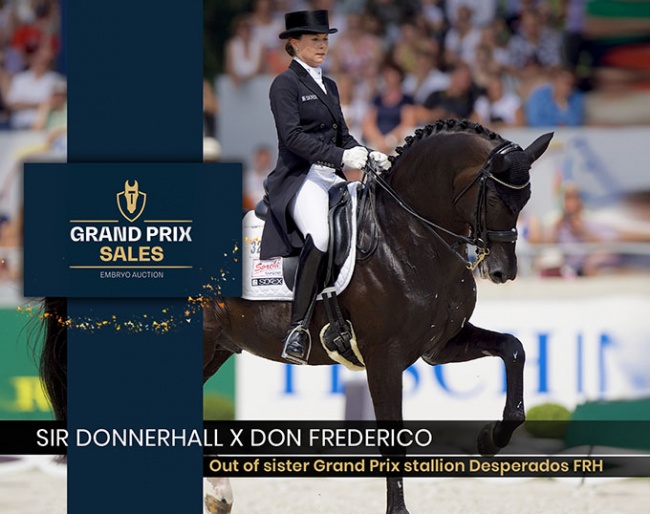 An implanted embryo by Sir Donnerhall x Don Frederico became the top selling dressage lot in the 2021 Grand Prix Sales auction, which concluded on 14 December 2021. 
In their last auction of the year 2021 the Dutch auction company Grand Prix Sales held an online auction of mainly show jumping embryos. There were five dressage embryos up for sale. 
The best selling dressage lot was an in utero embryo by Sir Donnerhall out of Danzmusik (by Don Frederico x Wolkenstein II ), who is a half sister to Desperados (by De Niro x Wolkenstein II). It sold to Germany for 18,000 euro.
The embryo by Revolution out of Sisther de Jeu (by Gribaldi x Amor), implanted into a recipient mare, sold for 16,000 euro to a Dutch client.
A frozen embryo by Toto Jr out of the dam (by Krack C x Sultan), who produced Imposantos, sold for 13,000 euro to Finland. 
A frozen embryo by Sir Donnerhall out of Rumira, the full sister of Rubin Royal (by Rohdiamant x Grundstein II) sold for 9,000 euro to Belgium.
Related Link
Exclusive Dressage Embryos in 2021 Grand Prix Sales 13 - 14 December 2021