U.S.A.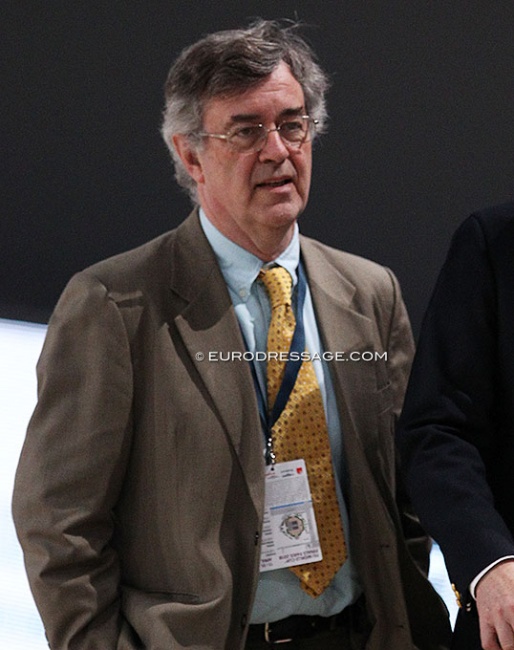 French based British dressage statistician David Stickland has resigned from his position as advisor on two Horse Sport Ireland committees. 
David Stickland is a senior Research Physicist with Princeton University, who is based at CERN in Geneva, Switzerland, where he works on experiments as the coordinator of beam conditions and luminosity. He lives across the border in France and is an avid dressage fan, whose score analyses have been used by the FEI, national federations, media publications and individual riders for their insight in the sport. 
In 2019 Stickland was appointed on the Horse Sport Ireland Dressage and Para Dressage High Performance Committees as an an advisor. 
The HSI Dressage High Performance Committee is chaired by Joe Reynolds, with David Stickland, Gillian Kyle and Norbert Von Cramon as Advisors supporting Johann Hinnemann as Dressage High Performance Director.
The HSI Para- Dressage High Performance Committee is chaired by Dara Kearney, along with Micheal Kearney, David Stickland as Advisors supporting Debora Pijpers as Para-Dressage High Performance Director.
Eurodressage contacted Stickland for a statement and he said, "I want to thank the Irish Dressage community for the opportunity to have worked with the 'Girls in Green' since 2019 as they earned the Irish Qualification for Tokyo. The same is true of the amazing para-dressage community and their participation in the Paralympics. While I was, and am, more than happy to work with those riders, I found the environment in the High Performance Committee to be counter productive."
Stickland explained, "I was very disappointed that having earned a first ever team place in Tokyo and having riders qualified to form a team, no team was sent and the resulting message to athletes was very negative. By contrast it was very special to have a para-dressage team in Tokyo just a few weeks later. I wish the Irish riders the very best on their route to achieving, and this time attending, a team participation in Paris 2024!"
Photo © Astrid Appels
Related Links
David Stickland's guest columns on Eurodressage
Horse Sport Ireland Decides not to Send Team to Tokyo, Three Spots Released
Independent Arbitrator Rules in Favour of Horse Sport Ireland Concerning Olympic Dressage Team
Rawlins and Connors Lodge Appeal Against HSI's Decision not to Send Team to Tokyo