F.O.C.U.S.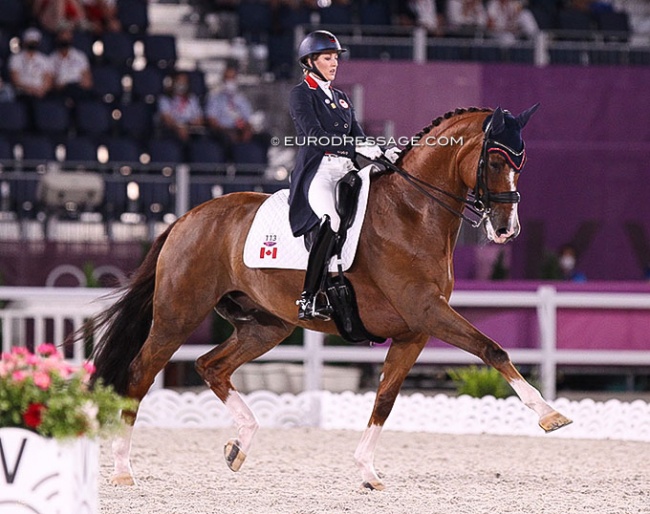 Canadian Olympian Brittany Fraser-Beaulieu has finished the most exciting year in her professional dressage career as the double Canadian Grand Prix record holder with her first Olympics under her belt. 
Aboard her partner of  eleven years, the 16-year old Dutch warmblood gelding All In (by Tango x Damiro), Brittany floated from one highlight to the other in the summer of 2021. She placed 18th in the Kur to Music finals at the 2021 Olympic Games in Tokyo as the second Canadian rider to ever do so and with the Canadian Olympic record score. 
Seven weeks after Tokyo she spearheaded the Canadian team in the CDIO Aachen Nations' Cup, achieving a new Canadian record and personal best in the Grand Prix and placing 12th in the Freestyle.
Record Year
Riding from one personal best to the other, Brittany has been on cloud nine and is grateful to All In to take her on this journey to two Canadian record scores. She bested the Grand Prix record in Aachen (73.80%) and earlier in the year set the new freestyle record in Wellington of 79.30%.
"Having a personal best in the Grand Prix at Nations Cup in Aachen was truly the icing on the cake after Tokyo. Aachen is my favourite competition and I was really striving to be in the ribbon ceremony so that was definitely a career highlight for me," Fraser-Beaulieu stated.  "I currently hold two Canadian records and am only the second rider in Canada to make it to the Olympic Final.  To achieve these records on All In is really something very special to me."
Perfecting the Grand Prix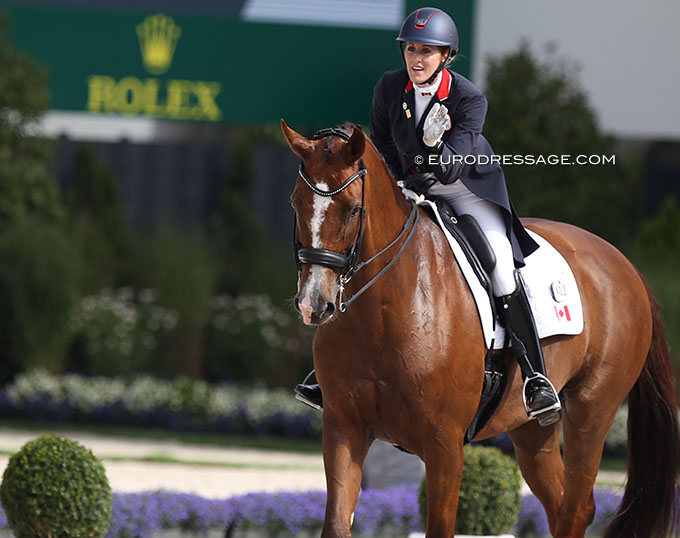 Fraser-Beaulieu has been coached by  Ashley Holzer her entire professional career and looks up to Holzer, who made history for Canada when she achieved a team bronze at the 1988 Olympic Games in Seoul (KOR). The student-master duo have a close-knit collaboration of which Brittany is reaping the fruits. 
The 33-year old Fraser has been dotting the i's and crossing the t's  in her daily training this Olympic year to reach peak performance.
"I have really been trying to perfect the Grand Prix when I am training at home," she said. "I have been riding through the test more than I used to, trying to analyse where I am losing points, and where I could gain more points. It has really helped me have more control of the moments with All In. My focus now will be trying to do the same with my Freestyle. I have a goal in mind that I have not achieved yet! "
Home is Where the Heart Is
Chasing dreams in the equestrian world demands for an extraordinary lifestyle and routine. Reflecting back on the long but prosperous year, Brittany is aware of the sacrifices she made to achieve her goals.
With a full schedule of riding and coaching students, Brittany has a full plate of work. In addition she is also a mom to 2.5-year old son Théo and was parted from him more than she liked to reach her Olympic target.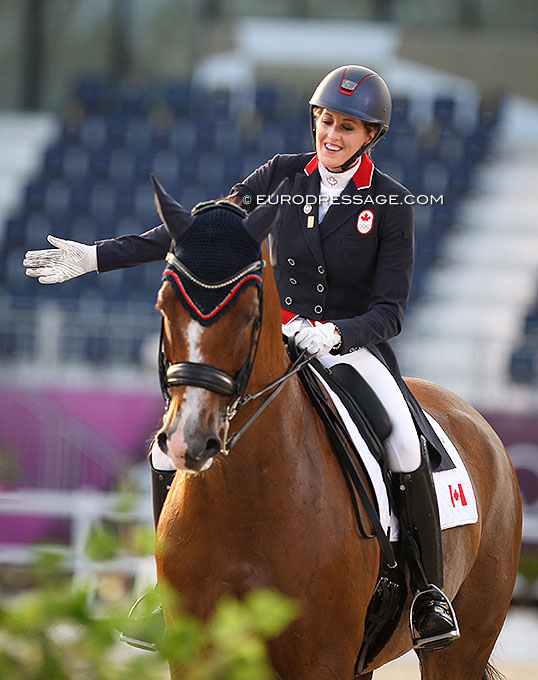 "As much as I love competing all over the world, the most challenging part is leaving my family behind, my husband Marc and my son Theo," she confessed. "I also have a many students and horses at home, but now teaching online has been a great option for me. I am blessed with many great riders as students so they ride my horses for me while I am away."
2022 World Cup Final
One major dressage competition is still on Brittany's bucket list and that's the World Cup Finals. They will take place in Leipzig (GER) on 6 - 10 April 2022.  
To make it to the 2022 World Cup Finals, Brittany will be riding the qualifiers in Florida upcoming winter. 
"I am planning on going to Wellington with my horses and clients," said Brittany, who was the recipient of $10,000 Brosda Olympic Bursary for 2021 for the third, consecutive year. "I would like to try for World Cup this winter. I was invited last year, but unfortunately it had to be canceled due to Covid-19. World Cup is something I have not competed at before and would love to have that opportunity with All In."
Succession
Brittany is also thinking of the future as All In will be 17 in 2022. She's preparing his succession with two horses, Leeghwater and Downing Street. 
Leeghwater is a 5-year old Dutch warmblood gelding (by Franklin x Tango), which friend and client Jill Irving secured at the Dutch Dressage Stars auction. Downing Street is a 6-year old by Don Nobles x Rubinstein, owned by Nadia Moretto.
"Leeghwater already scored 85% in the 5-year old young horses classes in Canada and Downing Street got 84.8 in the 6-year old class," said Brittany. "Both are talented young horses and I am excited for their future. I'm also continuing my search for more youngsters to prepare for the future."
Related Links
Canadian Riders Named for 2021 CDIO Aachen
Adrienne Lyle's Salvino Withdrawn from 2021 Olympic Individual Medal Finals, Brittany Fraser Substitutes
Fraser Wins World Cup Qualifier with Personal Best at 2021 CDI-W Wellington
Fraser Rides Best Grand Prix to Date to Win at 2021 CDI-W Wellington
Top Seller Leeghwater Sold to Jill Irving in 2020 Dutch Dressage Stars Part I
2021 Brosda Olympic Bursary Awarded to Brittany Fraser-Beaulieu