2021 French Young Horse Championships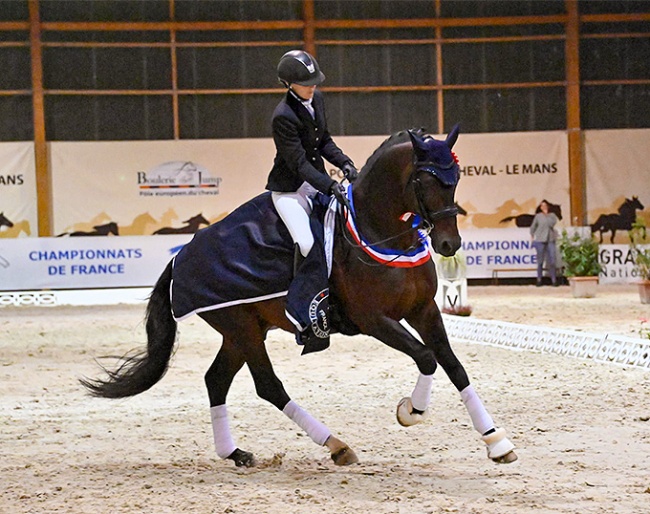 Laetitia Lorber and James Bond de Massa became the winners of the 2021 French Championships for 7-year olds held during the 2021 CDI Le Mans on 15 - 17 October 2021. 
For the sixth consecutive year, the French equestrian federation (FFE) hosted these Young horse championships in Le Mans to grower interest of the French riders. This year 15 combinations competed in the two rounds - the FEI 7-year old preliminary and finals test - that counted for the overall ranking
James Bond de Massa Champion
A new comer on the international scene but a familiar face in France, Laetitia Lorber had her first big moment of national fame as a senior rider by winning the 7-year old Championship in Le Mans. Her partner in crime is the Lusitano cross bred James Bond de Massa (by Bon Bravour x Xaqiero) which she only began competing in August. 
Owned by Françoise Niklaus, the dark bay James Bond de Massa placed third in the first round with 75.614% and convincingly won the finals round with 79.014, averaging a winning total of 77.314% for the title, champion sash and trophy.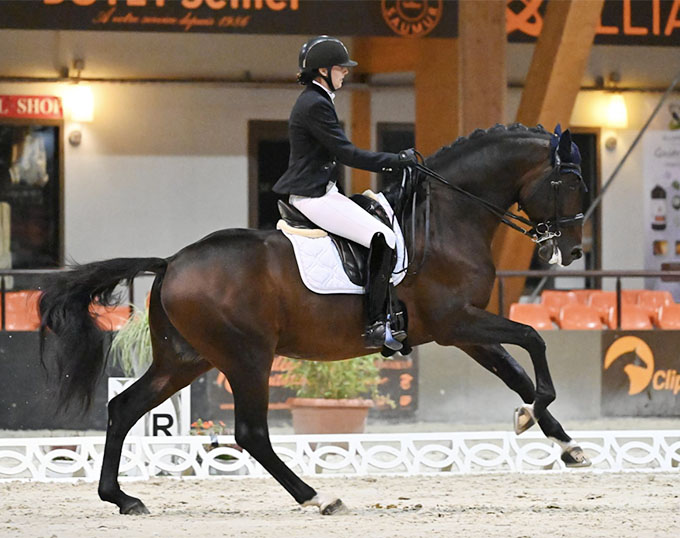 "James Bond is a magnificent horse with so much quality and a heart of gold," said Lorber, who trained with Evelyne Fleck a decade ago and now works under the supervision of Arnaud and Anne-Sophie Serre, the head riders at Elevage Massa. "I'm so grateful that he gave me such nice tests and emotions (in Le Mans). I'm very grateful to Arnaud and Anne-Sophie for their confidence, support and the work they did the past few years. This is a team effort."
Originally from the Alsace, Lorber started out as a groom at brood farm de Massa in the south of France and has worked her way up onto the riders' team. She is currently riding two horses owned by Françoise Niclaus, the 7-year old champion James Bond as well as Alquazar de Massa (by San Amour x Landim). 
"I'm thankful to Françoise who entrusted her adorable horse to me and supported me from the start of this adventure," Laetitia added. 
Barcelona de Malleret Reserve Champion
Pauline Guillem celebrated thrilling success in Le Mans not only capturing the reserve champion's title on Barcelona de Malleret but also placing fourth with Dancielle de Malleret. 
Guillem began working as head in-house rider at brood farm Malleret at the beginning of 2021 and the experience has taken her straight to the 2021 World Young Horse Championships in Verden and the French reserve champion's title, all aboard the elegant grey Oldenburg mare Barcelona de Malleret (by Bretton Woods x Diamond Hit).  In Le Mans the mare proved consistency and finished second in the preliminary test (77.128%) and second in the Finals test (77.222%) to average 77.175% for the runner-up position. 
"Barcelona was fantastic and it was a real pleasure to ride her," said Guillem. "She felt more relaxed and comfortable with the technical difficulty of 7-year old work. For the first time she gave me the feeling from home in the competition. I learnt a lot from Verden, watching the best riders of the world during their training sessions. Barcelona also learnt to handle stress. We gave her a little break after Verden and then together with Annick Dauban we prepared her for Le Mans in a very good mood. Our goal was a test without mistakes and with a smooth rideability."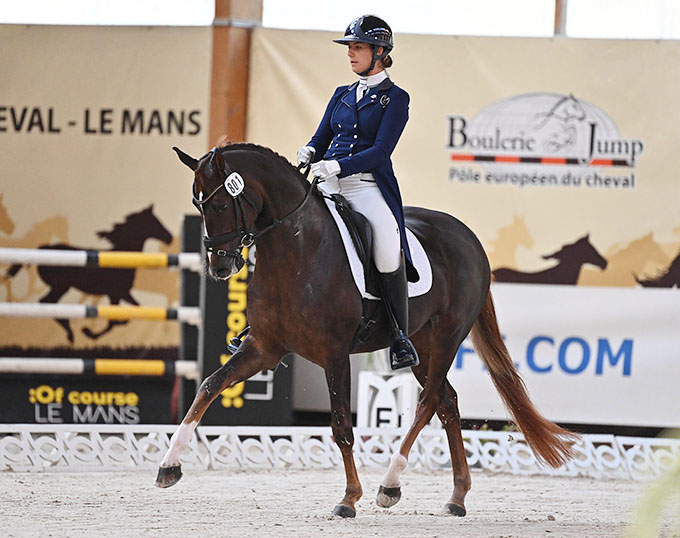 Guillem's tour of glory did not stop there as she also placed fourth on Dancielle de Malleret, an Oldenburg mare by Danciano de Malleret x Florencio, who spent 2020 in training with Olympian Dorothee Schneider in Germany. Dancielle returned to France this year to continue her development under Guillem. In Le Mans she was fourth in the preliminary test (74,378%) and finals test (74,507%) to finish fourth overall with an average of 74.443%.
"Dancielle didn't do so many competitions this year, but after winning the two tests without big mistake in Fontainebleau three weeks ago, we decided to try for the French championship," Guillem explained. "Dancielle can be a bit shy but in Le Mans she proved she is a very good competitor. I'm sure she can be a great mare in competition for the future."
Guillem will now continue to work her horse "with confidence and serenity" at Haras de Malleret over the winter. "Gerald Martinez breeds good horses with a nice philosophy. I'm happy to continue working with him next year."
Bonze for Joolz
French based Portuguese rider Carlos Pinto decided not to go the 2021 Portuguese national dressage championships in Alter do Chao, which were held the same weekend as Le Mans, but he kept his travelling at a minimum and ride a full book of horses at the CDI Le Mans.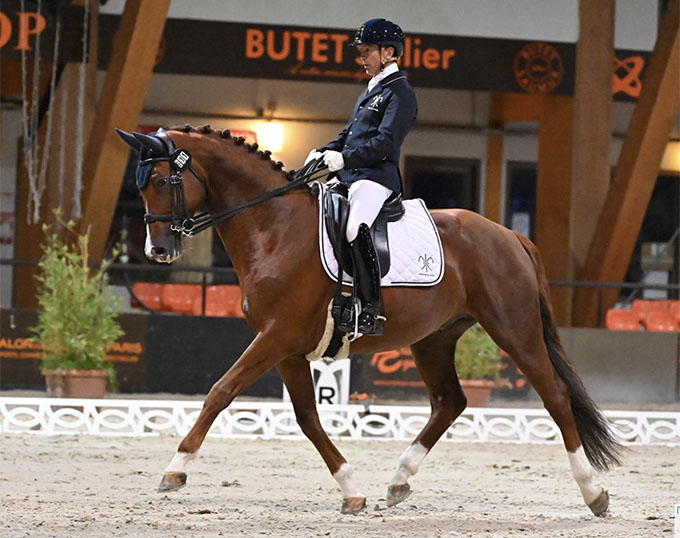 For the 7-year old championship he saddled the KWPN gelding Joolz, who is by Florencio out of V Obertje (by Jazz) and owned by Haras de la Gesse. The pair had its international competition debut in May 2021 at the CDI Ornago, followed by a double victory at the CDI Le Mans in June 2021 in the international 7-year old classes. Last weekend, the pair finished third overall with 76.645% after posting 76.340% in the preliminary test and 76.950% in the finals test. 
As a foal Joolz made headlines by becoming the price highlight of the 2014 Borculo foal auction, selling for 37,000 euro to Dutch horse dealers Tim Collins, Nico Witte and Anton van Limpt.
Photos © Les Garennes courtesy Boulerie Jump
Results - 2021 French Championships for 7-year old Dressage Horses
1.  James Bond De Massa - Laetitia Lorber -  75,614% 79,014% --- 77,314%
2.  Barcelona De Malleret - Pauline Guillem -  77,128% 77,222% --- 77,175%
3.  Joolz -  Carlos Pinto  - 76,340% 76,950% --- 76,645%
4.  Dancielle De Malleret - Pauline  Guillem - 74,378% 74,507% --- 74,443%
5.  Jesse - Maxime Collard - 73,541% 74,557% --- 74,049%
6.  Jibraltar De Massa- Anne Sophie Serre  - 72,009% 74,022% --- 73,015%
7.  Einstein Du Parc - Mathieu Berville  -  72,120% 73,628% --- 72,874%
8.  Atlanta De Hus - Alizee Roussel -  73,793% 71,457% --- 72,625%
9.  Rock With Me -  Flora Benshila - 72,020% 69,972% --- 70,996%
10.  Ezperanza Desir -  Alice Deleuze  - 69,393% 71,272% --- 70,332%
11.  Don Dias -  Chantal Klimmer - 70,081% 70,478% --- 70,280%
12.  Darling Flower - Laetitia Isselin  - 68,532% 71,750% --- 70,141%
13.  Erudit De La Baronnie -  Marie Lesnard -  67,118% 72,258% --- 69,688%
14.  Jefferson - Maxime Collard - 69,857% 68,622% --- 69,240%
15.  Jaipur Vd Jantoomse Fokke - Diogo Pinto -  60,657% 63,457% --- 62,057%
Related Links
Favereau and Deauville de Hus Win 2020 French Championships for 7-Year Olds
Habana Libre A Wins 2019 French Championship for 7-year olds
Pottier and Gotilas du Feuillard Win 2018 French 7-year old Championship
Vanlandeghem and Sertorius de Rima Win 2017 French Championships for 7-year Olds
Issartel and Evita Win 2016 French Championships for 7-Year Olds