2014 Borculo Foal Auction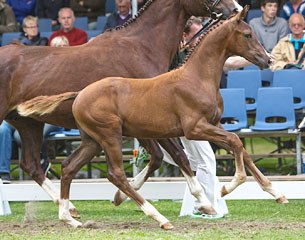 The Dutch warmblood colt Joolz became the price highlight of the 2014 Borculo Foal Auction in Borculo, The Netherlands, on Thursday 21 August 2014. The chestnut Florencio x Jazz x Contango offspring sold for 37,000 euro.
Joolz is bred by F. Verwegen-Spiering out of V-Obertje, a full sister to KWPN Mare Champions Zhara-Obertje and D.Obertje. He sold to Tim Collins, Nico Witte and Anton van Limpt.
The second most expensive foal was the jumper colt Jurançon (by Harley x Numero One), which sold for 29,000 euro to Alex Postma.
Dressage bred foals sold the best in Borculo. Jendelin E (by Charmeur x Sir Sinclair) sold for 25,000 euro, Jill (by Chippendale x Uphill) for 23,000 euro, Just Magic (by Ferdeaux) and Jeforaline W (by Sezuan x Gribaldi) for 21,000 euro.
Australian customers acquired Julius (by Negro x Flemmingh) for 11,500 euro and the Danish bred Nifro Lillle Lund (by Don Schufro x Future Cup) for 9,000 euro.
An in-utero foal by Totilas out of Florisanta (by Johnson) sold for 15,000 euro.
No less than 43 foals out of a collection of 79 sold for more than 10,000 euro. The average sales price was approximately 11,700 euro.  It was the first time that fillies sold for bigger prices than colts. The average filly price was 11,804 euro, the average colt price 11,742 euro.