Trakehner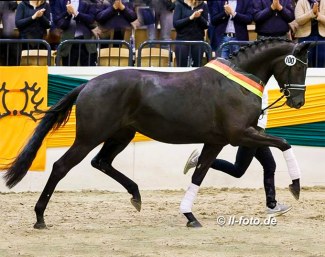 The 3-year old Salvana's Helena was named "Mare of the Year" and winner of the 2021 Trakehner Elite Mare show which is held co-incidingly with the annual Trakehner stallion licensing in Neumunster, Germany. 
On 15 October 2021, the 3-year old mares parades into the arena of the Holstenhalle and the assessment committee consisted this year of Axel Brockmann, Frank Bangert and Gerd Sosath, assisted by Amelie Bothe. 
The winning mares and highest scoring mares at the regional breed shows were invited to this Mare of the Year Championship. Eleven mares participated and Salvana's Helena was the winner. She is by Helium out of Elite mare Hedwig (by Kaiserdom). Bred by ZG Rüdel and owned by Helmar Bescht, this dark bay beauty won the coveted title. She is the full sister to Helene, the champion of 2020.
"When you see such a nice mare here, with such movements, such suppleness and character, then you can only be proud as breeder and owner. She is an outstanding Mare of the Year champion, we can't find any words for such a horse," said the committee.
The reserve champion was Donauspiel, a black Millennium filly out of Donauelfe (by Elfenstein), bred by Hans-Joachim Gross and owned by Gestut SN Grafing. 
Third place went to the chestnut filly Giovanna. She is by His Moment out of SPS Giovana (by Hertug) and is bred and owned by the Danish Angelica Lauritzen.  
The other non-ranked mares were
Hirtengabe (by Dürrenmatt out of Hirtenlied (by Friedensfürst)) - Breeder & Owner: Philipp von Schöning
Pfingstrose (by Hibiskus out of Passion V (by In Flagranti)) - Breeder: Erin Raili - Owner:  Franz Raili
Thora (by His Moment out of Tanzmaus (by Connery)) - Breeder: Ines Eisold - Owner: Sven Döllne
Kelani Aloha (by Freiherr von Stein out of Ke Aloha (by Silvermoon)) - Breeder & Owner: Andrea Korte
Giselle (by His Moment out of Guadeloupe (by Imperio)) - Breeder & Owner: Christian Röhl
Donauröte (by Le Rouge out of Donauliebe (by Redecker)) - Breeder: Renate Weber - Owner: Jens Kley
Twin Flame (by Herbstkönig out of Tamira V (by Buddenbrock)) - Breeder & Owner: Iris Jansen-Jentgens
Luxusliebe (by Freiherr von Stein out of Luxusperle (by Singolo)) - Breeder & Owner: Dr. Andreas Wezel
Photo © LL-foto
Related Links
Helene Named 2020 Trakehner Elite Mare Champion
Belle Fleur, 2018 Trakehner Elite Mare Champion
Krishna, Trakehner Mare of the Year 2017
Kosima Named 2016 Trakehner Mare Champion
Tanzmusik Named 2013 Trakehner Mare Champion
Herzrouge and Cote d'Azur Shine at 2012 Trakehner Mare and Dressage Championship
Praise Me Named 2010 Trakehner Mare Champion