Oldenburg Auctions
The 3-year old Superb (by Secret x Welt Hit II) became the price highlight of the 2021 Oldenburg Autumn Elite Auction in Vechta, Germany, on 2 October 2021. 
After a six-hour auction marathon, around two and a half million euros were in the wallets of Oldenburg breeders. Oldenburg friends from all over the world secured their Oldenburg star at the 95th Autumn Elite Auction at the Oldenburg Horse Centre in Vechta.
Superb Price for Superb
The noble black mare Superb danced at the top of the price list. The 3-year-old Superb (by Secret - Welt Hit II - Landadel) is bred by Lambertus Schnieder from Molbergen and exhibited by Stevens Sportpferde from Molbergen/Lower Saxony. The beautiful black mare sold for 450,500 euro to a regular Oldenburg customer and successful first-class breeder in Germany.
Superb is sister to Grand Prix star Famoso OLD (by Farewell III/Benjamin Werndl) and the licensed Schickerio (by Stedinger).
The 4-year-old Commisario (by Comme il faut - Diamant de Semilly - Nekton), bred by Hans-Jürgen Poehls, was the second top price and most expensive jumping horse. Exhibitor b-Horses from Eckernförde discovered Commisario as a foal in Vechta. He now sold for 105,000 euro to Lutz Gössing, patron of the international show jumping stable of Tim Rieskamp-Gödeking.
International Interest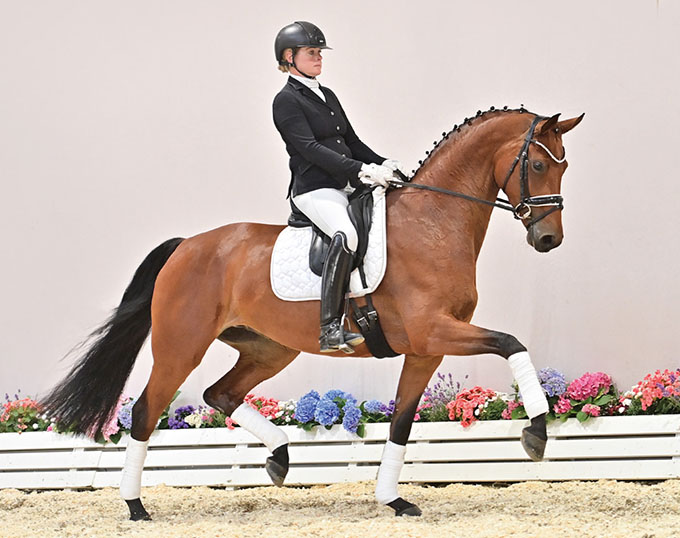 Swiss clients bought the black mare Fea Falina (by Farrell x Santander H x Freiherr) for 95,000 euro. 
Belgians took home Dot Com (by Don Juan de Hus x Dimaggio) for 85,500 euro, Florida (by First Ampere x Davignon) for 28,500 euro, and Fine Dining (by Feinrich x Rubin Royal) for 18,500 euro.
American customers secured Fantastic Mr Fox (by Furstenball x Sandro Hit) for 52,000 euro and Baldessarini (by Bonds x Metall) for 19,500 euro
German clients purchased the bay gelding Furstenkrone OLD (by Furst Fugger x Rohdiamant) for 93,500 euro and the American owned Top Job (by Top Gear x De Niro) for 75,000 euro. 
Austrians purchased Summerglow (by Secret x Dancier) for 41,000 euro, while jumper Choupet (by Chacco's Son II x Cordalme) moves to Mexico for 45,000 euro.
A Dutch buyer got My Way (by Millennium x Romanov) for 25,000 euro.
A group of 15 horses out of a collection of 39 sold abroad.
Sempre Libre Best Selling Foal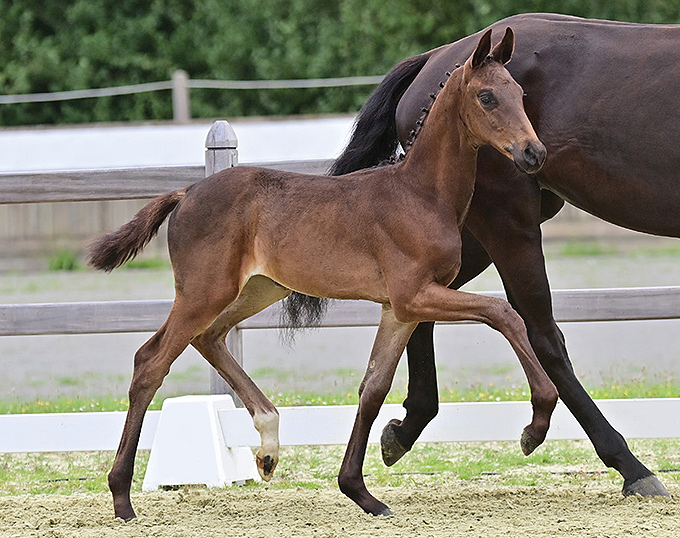 The top price among the elite foals was 62,000 euro for the charming Sempre libre (by So Perfect - Fürst Romancier - L'Espoir), presented by Brigitte Griesser from Austria. He sold to new customers in Great Britain. Sempre libre is out of the first crop of the Sezuan son So Perfect, who was the reserve champion of the Oldenburg licensing in 2019. 
The top price in the jumping foals with 33,000 euro for Connery (by Conthalou - Cornet Obolensky - Casall), bred by Rudolf Kühlmann. Connery will move to the stable of regular customers in Sweden.
New customers from Costa Rica secured two Oldenburg dressage stars: Elite foal Tribeca NY (by Total McLaren - For Romance I) for XX and the  dressage sport mare Senorita (by Sezuan - Sir Donnerhall I) for 36,000 euro.
Dionne (by Dynamic Dream x Zack) and Barbour (by Bonds x Quaterback) move to the Ukraine for 36,500 and 20,000 euro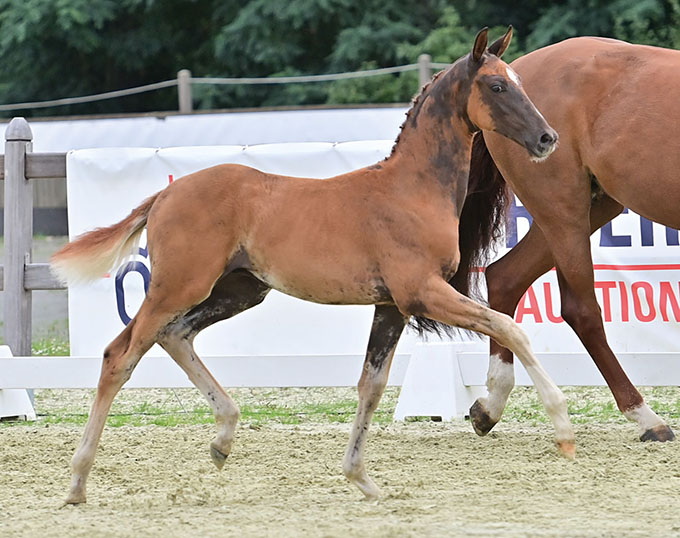 Dalibor (by Danone x Furstenball) sold for 21,500 euro, a Hungarian customer bought Sir Romancier (by Sezuan's Donnerhall x Furst Romancier) for 11,000 euro.
The Belgian bred Bajazzos (by Bonds x Royal Diamond x Krack C), originally named Brooklyn Krack van het Klaverhof,  sold to the Schrecker family for 16,000 euro. Swiss clients bought Dreispitz (by Dressage Royal x Temptation) for 8,000 euro.
Austrians purchased the last two foals in the lot: Fortunios (by Furst Toto x Scuderia) for 8,000 euro and Drambuie (by Dynamic Dream x Furst Heinrich) for 10,000 euro.
The 39 riding horses cost an average of 48,872 euro, the 28 elite foals brought 14,589 euro on average.
Complete results: riding horses - foals.