NRPS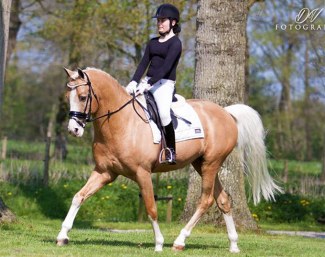 The NRPS dressage pony breeding stallion Le Matsjo passed away on 4 June 2021. He was 23 years old. 
Le Matsjo was by Leuns Veld's Elegant out of a dam by Kompas x Solferino. He is bred by the Veenstra family, which owned him his entire life. 
All Predicates
He was born on 13 April 1998 and licensed as a breeding stallion in 2001. He competed in sport at national level in The Netherlands, performing at FEI pony level in dressage and at Z-level in show jumping. 
The palomino stallion was quite popular amongst Dutch pony breeders and has 250 offspring registered in The Netherlands. His most famous offspring is Irish team pony Arendsoog. 
Because of his merit in sport and for breeding, he earned all the predicates available: he was an NRPS Keur, "prestatie", sport and preferent sire. 
His most famous offspring is the international FEI dressage pony Schermeer's Hof Arendsoog, who competed for Great Britain under Alicia Patrick and for Ireland under Alana Cazabon (2014 European Pony Championships) and Sadhbh O'Toole
Sad Farewell
The stallion was euthanized on 4 June.
"On Monday we had a nice ride and on Tuesday he still covered. He was top fit and especially very happy. Yesterday morning we came his stable and saw it was wrong. He lay down and was screaming in pain," said Desiree Veenstra. "After two vet visits we took him to the clinic where he got worse so we had to put him out of his misery. We don't really know what was the matter. Probably he was at the end of his life and it's better like this.
He was a true family pony and influential in Dutch pony breeding. 
"He was one of the first palominos in The Netherlands, which made him meaningful for breeding and our business," said Desiree. "He leaves a great void and was very special for our entire family."
Photo © DV Fotografie - Astrid Appels
Related Links
O'Neill, Holstein, Dunphy, Blake Farrell Win 2017 Irish Dressage Championships
Finalists Known for 2011 Dutch Young Pony Championships
Jazmin Yom-Tov Geared Up for First European Under 25 Championships