Hanoverian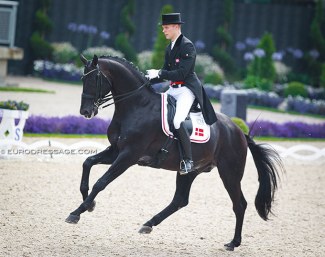 The Hanoverian licensed breeding stallion and Grand Prix horse producer Blue Hors Hotline has passed away. He was 18 years old.
Hotline was by Hofrat (by Gribaldi) out of De Nira (by De Niro x Wendepunkt x Busoni xx). He was bred by Friedrich Oppermann. 
800,000 euro
Breeder and horse dealer Heinrich Giesselmann presented Hotline at the 2005 Hanoverian licensing, where he was named champion of the licensing. He sold at auction for the then record price of 800,000 euro.
Paul Schockemohle acquired the stallion in partnership with Blue Hors stud, although later on Blue Hors obtained full ownership of the stallion.
Hotline did his 70-day stallion performance test in 2006 and became the winner, scoring 137.34 index points, with a score of 149,28  for dressage and 110.43 for show jumping. 
Danish Team Hopeful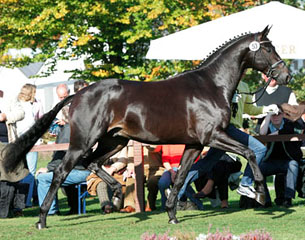 He was first competed by Andreas Helgstrand as a 5-year old in Denmark in 2008. In 2009 Sune Hansen took over until 2011, after which Allan Gron campaigned him at national small tour level in 2012. 
Under German Mai Kohlschmidt, the stallion made its international Grand Prix debut in December 2013. He competed the dark bay stallion through 2014. In 2015 Blue Hors' new stable jockey Daniel Bachmann Andersen took over.
In 2016 Bachmann and Hotline were in the running for Olympic team selection. Hotline did his final international at the 2016 CDIO Aachen after which the Danish Olympic team was announced. Hotline was not selected on the team.
The stallion did not compete at all in 2017.
Retirement
Hotline was quietly retired from sport due to niggling injuries.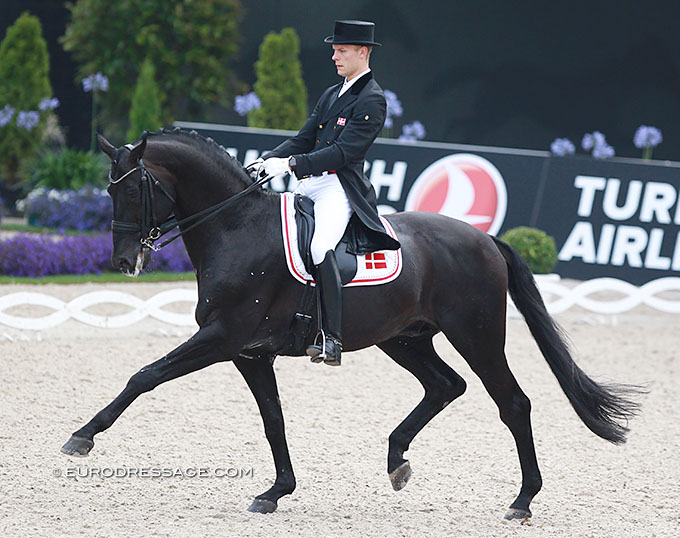 In 2018 he was leased to the Warendorf state stud for one season with the option to extend for two more seasons. However, Warendorf was undergoing structural changes at that time and Hotline returned home to Denmark in November 2018.
Sold to Canada
One month after his return from Warendorf, Hotline sold to Jen Arnoldt of Dreamscape farm in British Columbia, Canada. 
Hotline covered for two years and catered to the North American breeding market. 
Lipoma
Unfortunately in January, Arnoldt lost Hotline in January to a large lipoma, which caused strangulation very close to his stomach.
"His prognosis was very poor overall for surgery, recovery and future quality of life," said Arnoldt. "We made the very hard decision it was in Hotline's best interest to let him run free of pain to the big green pasture in the sky."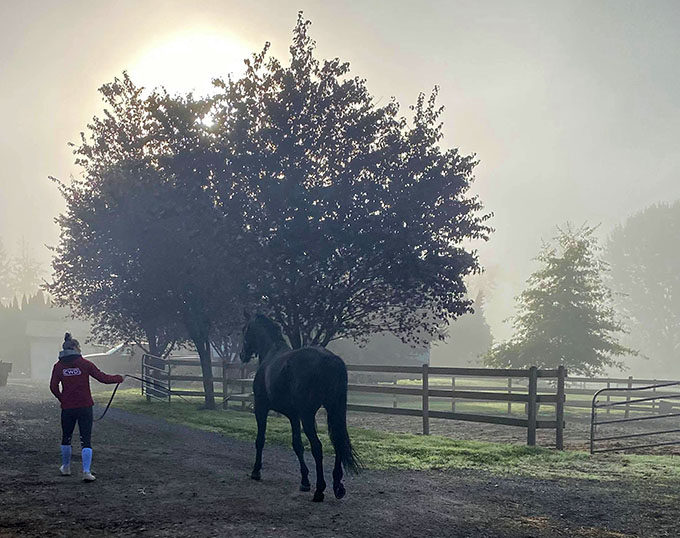 "I will forever be thankful to Blue Hors for sharing Hotline, not only with me, but also with North American breeders," Arnoldt wrote "I know they really felt as did I, he could really make a positive impact on breeding in North America, and there are so very few stallions like him in the world. Hotline had a huge impact on our lives in only two years, I can't imagine the hole he left with those who knew him best and dealt with him for years. Hotline was a larger than life personality, he had a presence that just engulfed you, you knew you were in the presence of something special."
"I adored his huge funny macho personality," she added. "He loved having his big wide forehead patted and would allow for the occasionally kiss (if no one was watching), he knew he was the king, and he demanded that respect."
Legacy 
In 2016 Hotline was named Danish Warmblood Stallion of the Year.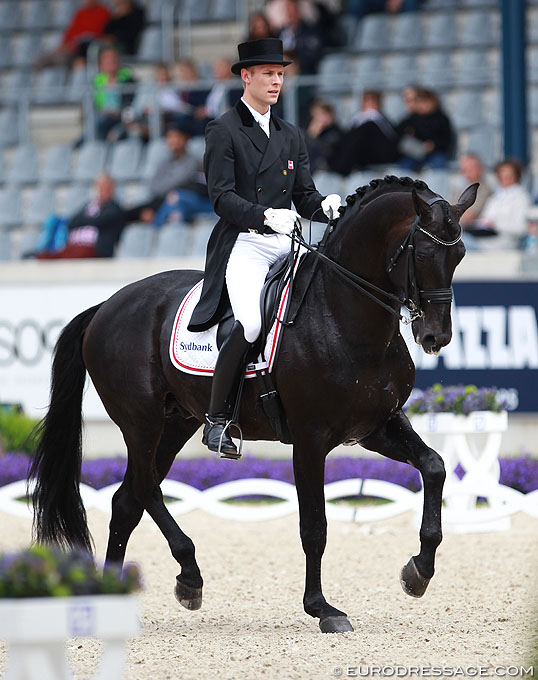 In Germany he sired 7 licensed sons and 27 state premium daughters. He has no less than 517 offspring registered for sport and 57 of them competed at S-level and higher. In Denmark he sired almost 500 offspring, 15 sons were selected for the Danish Warmblood stallion licensing and 10 of the daughters receiving breed show medals: 1 gold, 3 silver and 7 bronze. In the US he produced the licensed son Ripline.
Hotline's most famous offspring are the Grand Prix horses Hot Hit (Frederic Wandres), Hot Secret (Birgit Wientzek Plage) Hotpoint di Fonte Abeti (Frederico Mexia), Huracan (Hiroyuki Kitahara), Hendrix (Warwick McLean), Templeton's Honeymoon (Lisa Wilcox), Herzregent (Mateusz Cichon), Horares (Insa Hansen), Highline (Rainer Schwiebert),  U.S. Developing Grand Prix horse champion Horizon (Adrienne Lyle), and many more.
He produced numerous World Young Horse Championship participants, such as Svalegards Hottie (by Hotline x De Noir), Hermes de Hus (by Hotline x Rohdiamant), Sirikit  (by Hotline x Don Schufro). As a dam sire, Hotline can be found in the Grand Prix stallion Ferrari (by Foundation x Hotline).
"My breeders really liked him and he suited the mare base here," Arnoldt told Eurodressage. "They wanted long-term riding horses. There was already quite a bit of interest for the 2021 season. It's a big loss for North American breeding. There are not a lot like him here."
Photos © Astrid Appels - private
Related Links
Eurodressage Photo Database: Hotline
Hotline and Rockefeller Move to Canada
Blue Hors Hotline Returns to Denmark
Hotline Leased to Warendorf State Stud
Hotline Named Danish Warmblood Stallion of the Year 2016 
Absolute Record Price for Hotline at the 2005 Hanoverian Stallion Licensing Auction
Generous Grading at the 2005 Hanoverian Stallion Licensing