Denmark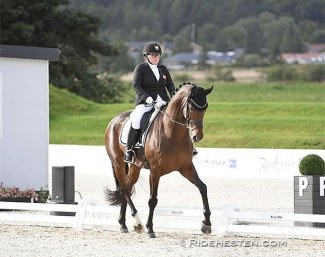 Danish para rider Camilla Christensen has her gaze on the 2021 Tokyo Paralympics and found a new equine partner for the journey, the 8-year old Danish bred Fürsten. 
Top of her Game
Between 2014 and 2020 the Grade V para rider has been campaigning two horses: the 16-year old Danish warmblood Obreja's Sly (by Don Schufro x Rambo) and the 16-year old Danish bred Ostergaardens Deleight (by De Noir x Weinberg). 
"My dream is to ride Tokyo, but also the World Championships on home turf in 2022," Christensen told Ridehesten. "Then I will return to the top 5 on the world ranking, like I was with Ostergaardens Deleight in 2016-2017. Right now I'm number 12."
Fürsten Future
In May 2020 Christensen began her search for a new and younger equine partner for the future and struck a collaboration with the celebrated Danish warmblood breeders' couple Lillian and Carl Erik Jensen. The couple have bred the international Grand Prix horse Donna Silver (by Don Schufro x Willemoes), the licensed stallion Willemoes (by Cantus x Wahnfriend) and the recently sold Bournonville (by Bon Bravour x Willemoes) who will continue under Swedish Olympian Tinne Vilhelmson. 
Christensen received the ride on the 8-year old Danish warmblood Fürsten (by Furstenball x Londonderry x Don Schufro x Willemoes) and the new duo made a flying start, winning silver at the 2020 Danish Para Dressage Championships last September. 
"To be able to get a silver medal after only six weeks together says enough about this horse," Camilla stated about Fürsten. "He has a great character and quickly understands my aids."
Broken Ribs
In July 2020 Christensen was kicked in the stomach by a horse in the field. She was transported to the hospital where she was diagnosed with two fractured ribs. Camilla healed fast though and returned to the saddle quickly in preparation of the 2020 National Championships.
Christensen is a Grade V para rider. She was involved in a car accident in 1998 that caused an impairment to the right side of her body. She sustained a brain haemorrhage and several broken bones in the accident. She also lost the vision in one eye.
Source: Ridehesten