The Netherlands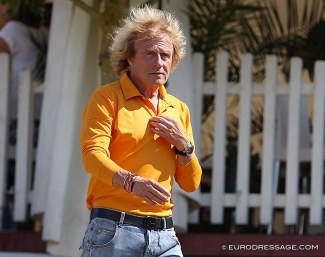 Dutch dressage trainer Sjef Janssen underwent heart surgery at the Maxima Medical Centre in Veldhoven, The Netherlands, and will need six weeks to recover.
"This week it went wrong with his heart," Anky posted on her social media. "Thanks to the efficient action of a team of cardiologists at the Maxima Medical Centre in Veldhoven it all turned out fine. He has been supplied with a pacemaker. Now he'll need to take it easy for six weeks and then can go full throttle again.
On Friday 15 January 2021, Janssen celebrated his 71st birthday. A day later he underwent surgery. 
"For the first time he seemed happy to celebrate his birthday," Anky added.
Janssen trained Anky van Grunsven to three Olympic individual gold medals. He is the former Dutch team trainer. Most recently he worked as Belgian team trainer, although his contract was ended one year prematurely in 2019 after the Belgian team had disappointing results at the 2019 European Championships in Rotterdam.
Janssen has always been an active athlete. Aside from riding, he is also a keen cyclist, a passion he inherited from his father Sjefke Janssen, who was a professional cyclist who won the bronze medal at the 1947 UCI Road World Championships. Sports and athleticism run in the family. Janssen and Van Grunsven are parents to two children, Yannick Janssen and Ava Eden, who are both into show jumping. Janssen also has a daughter, Kayden, in Florida from a previous relationship.  She rides horses alongside being a singer and actress.
This is the second health scare that Janssen suffered in ten years time. In 2011 he was successfully operated on a brain tumour. 
Related Links
Sjef Janssen: "Life is Still Smiling Upon Me"
Sjef Janssen Successfully Operated On
Anky van Grunsven Cancels Florida Appearance
Anky van Grunsven Gives Birth to a Daughter
Anky van Grunsven Has Given Birth to a Baby Boy
KBRSF Terminates Contract with Sjef Janssen as Belgian Team Manager