2021 CDI-W Wellington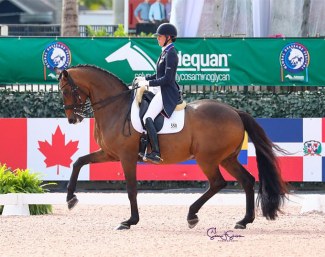 Day two of the Lloyd Landkamer Memorial Week at the 2021 Global Dressage Festival concluded on Friday 15 January 2021 after Olivia LaGoy-Weltz (USA) and Rassing's Lonoir bested an impressive lineup of riders in the day's Grand Prix CDI-W. 
In their first international competition since February 2020, LaGoy-Weltz and the 17-year-old Danish Warmblood gelding (by De Noir) owned by LaGoy-Weltz and Mary Anne McPhail came out on top, earning a score of 73.978%. Second place in the class went to Great Britain's Susan Pape on Don Noblesse, Harmony Sporthorses' 14-year-old Hanoverian stallion by Dancier, who ended with a 73.022%. Third place was awarded to Yvonne Losos De Muniz (DOM) on Aquamarijn, her own 16-year-old KWPN mare by United, earning a 71.717%.
"Shake Out the Bats"
"I'm really happy with how this has started off," began LaGoy-Weltz. "We went out and rode in a national competition last week, and it was harmonious, but plain. It served its purpose to go out and 'shake out the bats,' and that's part of the strategy. We've been trying to push it to the next level with Lonoir. I've kept him quiet for so many years, but there is a lot of horse in there. The goal was to push that more today; we did, [but] we had a few costly bobbles in the zigzag and in the pirouette. We can fix that next time. I know that [coaches] Debbie [McDonald], Ali [Brock], and Charlotte [Bredahl] say that he has never looked better. That's a good place to start, so we want to keep going from there."
LaGoy-Weltz and the gelding enjoyed some downtime this summer when major shows were put on hold, hacking and waiting for competition to resume. "After everything came to a screeching halt last year," she explained, "we finished in such a good place and were like, 'Now what?' With a 16, coming 17-year-old horse, we didn't want to keep him in that spot all summer long, so we did a lot of working on things but also a lot of hacking and hills, with a goal to ramp back up slowly down here. So far it seems to be going okay!"
"Pick What is Right for Lonoir"
"As the duo prepares for the remainder of the season and beyond, LaGoy-Weltz is planning accordingly with her team, including coaches Debbie McDonald and Allison Brock. "The plan is to keep options open and pick what is right for Lonoir," she said. "You never know what is going to happen these days [due to COVID], so we are keeping it open. We will switch over to some Grand Prix Specials eventually. We just have to determine whether it's for the four star, or if we are going to wait for the five star, and then decide what we really want to do."
She concluded, "Ali stops by in the afternoons once a week, and we take that and check in with Debbie, so Debbie is very much still a part of our work. They're both amazing and work so well together. Everyone ultimately wants the same thing: more up, more sit, more hind legs, more electricity, more perfection!"
Kohmann Takes Two
In the Intermediate I 3*, Kevin Kohmann (GER) marked his second victory of the week with the 11-year-old Equitas LLC-owned KWPN stallion Five Star, by Amazing Star, earning a 73.353%. Second place went to Joanne Vaughan (GEO) and her own 10-year-old gelding Forbes, by Fidertanz, with a 61.059%.
Related Links
Scores: 2021 CDI-W Wellington
Lyle and Harmony's Duval Capture Grand Prix Win At First CDI of 2021 Wellington Season