U.S.A.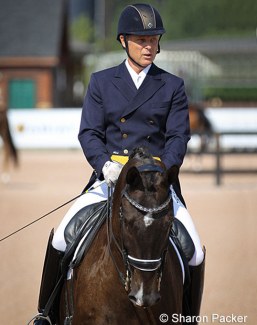 On 2 November 2020 Swedish born American Grand Prix rider Hokan Thorn was found unresponsive and got rushed to the hospital, where he spent two weeks in an artificial coma. 
His condition is now improving. 
Thorn's husband Richard Ruben, whom he married in 2013, has been by his side. 
The 61-year old Thorn is originally from Visby, Sweden. His life has been all about horses, working first as an apprentice at the state stud in Flyinge and then at Stromsholm before moving to Germany, where he worked under Udo Lange and Alain Gaihede. In 1983 he moved to the U.S.A., accepting a riding job in Aiken, SC.
He was short listed for the US team for the 1996 Olympics in Atlanta with Jennifer Brinkley's Bas. In 2005 Thorn competed at the World Young Horse Championships in Verden on Donegal (by Davingport x Grundstein). 
In the 2010s Thorn was based at Katherine Pfaff's Cross Creek Farm farm in Columbus, NC. In 2019 he moved to China Farm. He last competed in January 2020 in Wellington, Florida.
The travel ban to the U.S. makes it not possible for Hokan's brother to visit him in the hospital. In addition visitors are not allowed due to Covid-19 restrictions in the hospital. 
Cards can be send to
Hokan Thorn
C/O China Farm
880 Smith Chapel Road
Campobello, SC 29322
U.S.A.
Photo © Sharon Packer
Related Links
American Dressage Rider Teresa Butta-Stanton Passed Away
Spanish FEI Rider and PRE Trainer Ruben Arrabe Sanchez Died Unexpectedly
Agastrofos Sold to Antonia Ax:son Johnson
2005 World Young Horse Championships Kick Off with Scary Vet Check
Short List of American Horses for 2005 World Championships