2020 CDI Ornago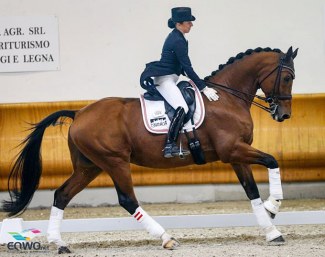 The brand new combination, Austrian Astrid Neumayer and the German owned Zap Zap, surged to the top of the board in their first international show together at the 2020 CDI Ornago in Italy on 16 - 18 October 2020. 
Hosted at the renowned Malaspina equestrian centre, the 2020 CDI Ornago was able to draw out a big starters field despite a second wave of Corona starting to sweep across Europe. With no less than 22 combinations in the big tour, the competition was great.
Neumayer and Zap Zap Shine
Neumayer and her new ride, Zap Zap, dominated the Grand Prix and topped the board with a 70.978% earning test, edging out the Italian based Irisih rider Anna Merveldt on Lusitano Esporim (70.761%). Italian eventing rider-gone-dressage rider Francesco Zaza and Wispering Romance were third with 70.370%. 
In the Grand Prix Special Neumayer upped the ante and produced a whopping 73.149% earning test and won her second trophy of the weekend. Merveldt was back in second place with 71.191% and Zaza slotted in third on 70.553%. 
"In the Grand Prix  I was still very cautious about giving aids because I didn't know how he would react," Neumayer told Eurodressage about her new GP ride. "In the special I was able to really go for it and he did a great job and gave everything until the end.
Zap Zap, from Junior Horse to Grand Prix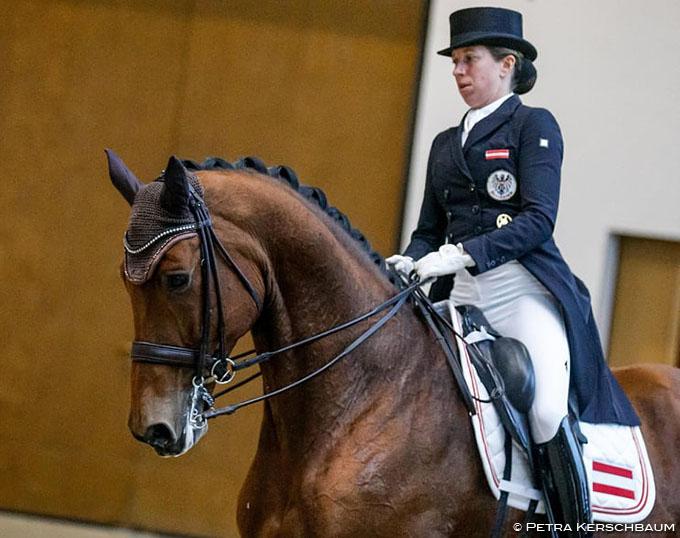 The 12-year old Danish warmblood gelding Zap Zap (by Zack x Leonardo) is bred by well known Danish dressage trainer Morten Thomsen and is not an unfamiliar face on the international stage. 
He sold as a youngster to Austrian Dr. Ingrid Pretsch, who first allocated the ride to Austrian junior rider Maria Huber. She made her CDI debut at junior level on the then 7-year old Zap Zap at the 2015 CDI Lamprechtshausen and went on to ride in Fot and Kaposvar that year. In 2016 the pair only rode national shows in Germany until the summer. 
In 2017 Zap Zap got a new rider in Franz Trischberger, who first campaigned him in the South of Germany, before introducing him to international Grand prix level at the CDI Wiener Neustadt in the spring of 2019. Trischberger and Zap Zap competed at CDI's in Munich, Randhofen and Munich Indoor. 
Due to corona, the 2020 show schedule was a bit later but Franz last presented Zap Zap in competition in Wels in August. A fall-out between owner and rider led to the end of the partnership
Olympic Hopeful for Neumayer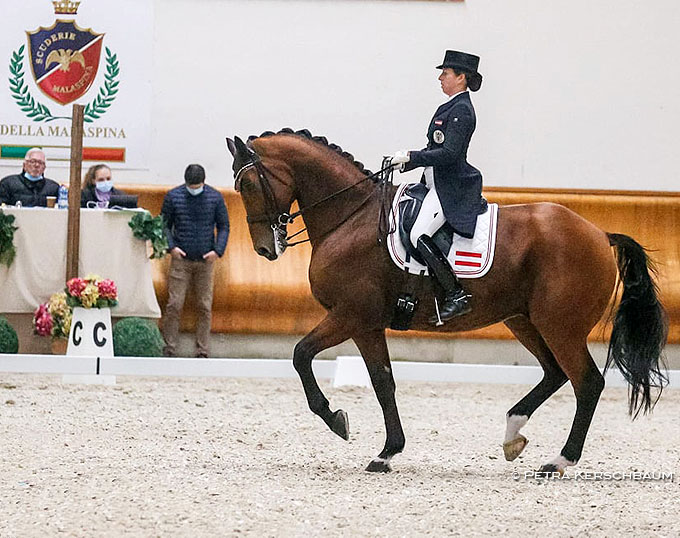 Astrid Neumayer, the 2018 Austrian reserve Grand Prix Champion, has a new Olympic hopeful in Zap Zap, who arrived at her yard, Pramwaldhof stud, at the end of August.
"The owner, Dr. Ingrid Pretsch, asked me if I would take him into training and of course I was happy to say yes," said Astrid. "Zap Zap is a very imposing horse with no weaknesses. He has an expressive canter tour and shows great piaffe and passage."
Neumayer now has two confirmed Grand Prix horses in her barn, Zap Zap and her own Sir Simon, as well as the 10-year old rising Grand Prix horse Sir Diego coming along. With three irons in the fire for Tokyo team selection, Astrid has great cards in her hand.
"I hope that Zap Zap can be a candidate for Tokyo 2020 alongside Sir Simon and Sir Diego," she confessed. Neumayer hopes to ride him next at the 2020 CDI-W Salzburg. 
Since 2018, Astrid has been training regularly with Hof Kasselmann's Hartmut Lammers.  "Hartmut regularly supports me with all horses at home and also at the show," she added. 
Related Links
Scores: 2020 CDI Ornago
Neumayer's Rodriguez Retired from Sport
Salzgeber's Sir Simon Sold to Austria
Double Victory for Astrid Neumayer at 2016 CDI Cappeln
Double Whammy for Neumayer in Owners' Class at 2011 Sunshine Tour