Finland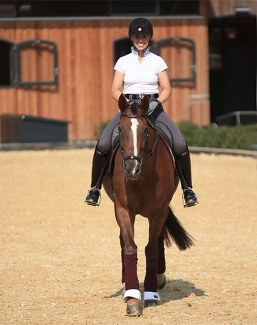 Finnish Grand Prix rider Terhi Stegars has been reunited with her 2019 European Championship ride Thai Pee. 
In the autumn of 2019 the now 14-year old Oldenburg mare (by Farewell III x Dormello) was sold by her owner Tanja Kayser to the Grotz-Frieden family as a Grand Prix schoolmaster for Corinne.
Stegars and Thai Pee became a combination in 2010 when the mare was 4 years old. She took her from A-level to international Grand Prix.  Their international show debut was the FEI Nations' Cup show in Uggerhalne, Denmark, in 2017, where they finished second with Team Finland.
Terhi and Thai Pee represented Finland at the 2017 European Championships in Gothenburg and at the 2019 European Championships in Rotterdam. 
New Chapter in Luxembourg
On 1 November 2019 Stegars relocated her dressage training business in Luxembourg from Kayser's yard "A Bis Grand Prix" to Claude Niedner's brand new equestrian facility in Contern, Luxembourg. 
In the 9 years that Stegars worked for Kayser she and the duo's co-owned Trakehner stallion Axis TSF represented Finland at the 2011 and 2015 European Dressage Championships, the 2013, 2015 and 2016 World Cup Finals, and at the 2014 World Equestrian Games. With Kayser's Thai Pee she rode at the 2017 and 2019 European Championships. 
Building a Business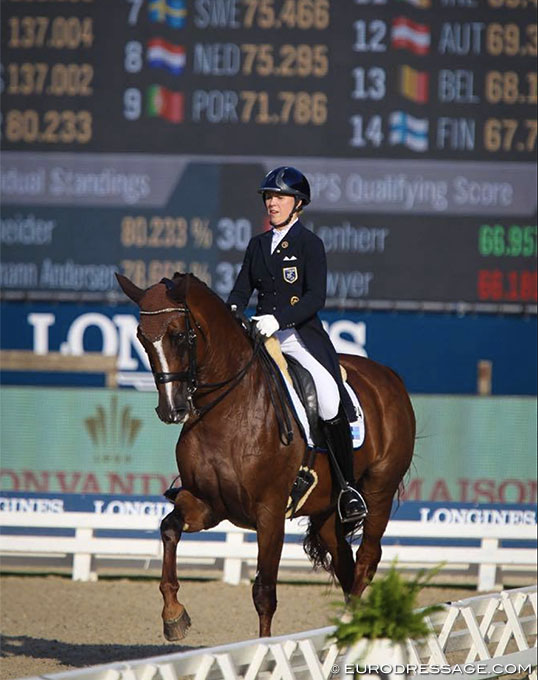 When Terhi moved to Niedner's yard almost a year ago, a new chapter started in her life. She was aware that she would be taking a step back from international elite Grand Prix sport with a new allotment of young horses to develop up the level and with no immediate horse at Grand Prix level to ride. 
While Terhi certainly savours the fresh breeze that blows through her life and the barn, with a small group of clients to cater, she still hopes to return to the international stage at Grand Prix level eventually. 
"There is nothing I enjoy more than training horses up the levels, teaching them the upper level movements and then showing the result of years of patient work," said Terhi, who realizes that training a Grand Prix horse is like carving a sculpture, starting with a big block of marble and slowly chiseling away until you have a masterpiece. 
Sharing the Joy
Most recently a bit of Grand Prix came back into her life. Thai Pee returned to Terhi in livery at the yard in Contern. Terhi has been assisting the owners as their "sherpa," helping them climb to the peak of the sport, Grand Prix level. 
"I am the 'personal trainer" for Thai Pee at the moment," Terhi smiled, thrilled to have her former Grand Prix horse back in the barn. "I have been helping them with conditioning Thai Pee. I ride her daily together with Mrs. Frieden."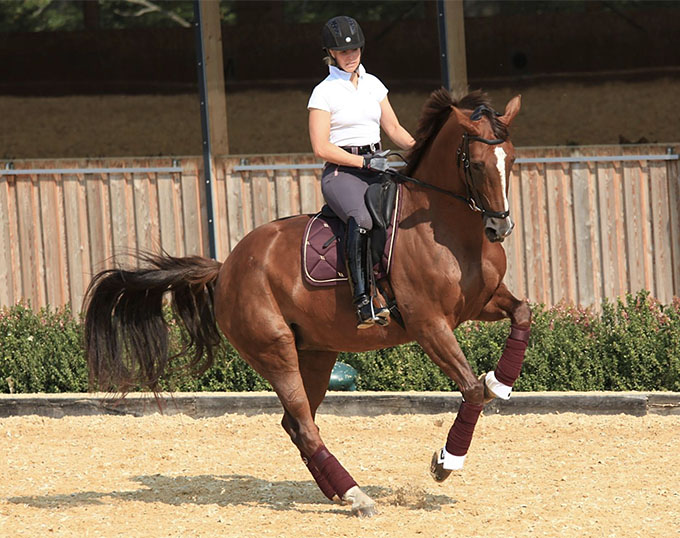 Terhi hopes to expand her business with another horse owner who is looking for a patient trainer that works according to the principles of classical dressage and together aim for high performance sport.
"I would love to find another passionate horse owner who wants to go on the adventure of taking horses to Grand Prix with me and enjoy the thrill, excitement and lifestyle of competitions," she said. "It's such an emotional and fulfilling experience to showcase the fruits of your labour at competitions and championships and share the joy and success with those equally enthusiastic owners."
The Contern Dressage Center provides a professional, yet family atmosphere with all amenities available for top horse management, including turnout in lush fields. 
"It's a paradise for horses here and we have a small dedicated team that takes the best care, both mentally and physically, of the horses," Terhi vouched. 
Follow Terhi on Facebook at www.stegars.de or www.facebook.com/Terhi-Stegars
Related Links
Finnish Team Horse Thai Pee Sold
Terhi Stegars Relocates in Luxembourg