Westfalian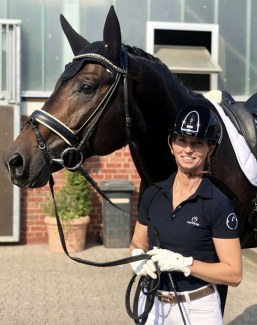 The 4-year old Ellis and the 5-year old Kardam's Whisper became the high scoring horses at the 2020 Stallion Sport test in Munster-Handorf, which took place on 14 - 16 September 2020. 
With only 9 horses competing out of a group of 16 that was entered, this was one of the smaller sport tests. Still some ringing names participated. 
In the 4-year old group Stefanie Wolf steered the Westfalian bred Ellis (by Escolar x Dimaggio) to the high score of 9.12 points. The bay earned 10 for walk, 8.4 for trot 8.8 for canter, 9.2 for rideability and general impression. 
The second best scoring stallion was Gestut Sprehe's Dimaggio Black (by Dimaggio x Furst Heinrich), presented by Australian Simone Pearce. Dimaggio Black got 9 fro walk, 8.7 for trot, 8.5 for canter, 9 for rideability and 8.8 for general impression to finish on 8.82 points. 
There were only three 5-year olds in Munster-Handorf and the Austrian owned and KWPN bred Kardam's Whisper (by Toto Jr x Sir Sinclair) was the high scorer with 9.10 points. Presented for the occasion by Eva Möller instead of his Dutch rider Hans Peter Minderhoud, Kardam's Whisper scored 9 for walk and canter, 8.6 for trot, 9.5 for rideability and 9.3 for general impression.
The second best scoring stallion was Sissy Max-Theurer's Oldenburg bred Dovizioso (by Dancier x Sunny Boy) with a total of 7.94 points. He got 7.8 for walk, trot and canter, 8.2 for rideability and 8.0 for general impression.
Related Links
Fusionist and Escamillo, High Scorers of the 2020 Verden Stallion Sport Test
Fürst Dior and Gaitano, High Scorers at 2020 Munster Stallion Sport Test
Furst Samarant and Zoom High Scorers at the 2019 Munster Stallion Sport Test
Gaitano and Jovian, High Scorers at the 2019 Munster Stallion Sport Test