2020 European Youth Championships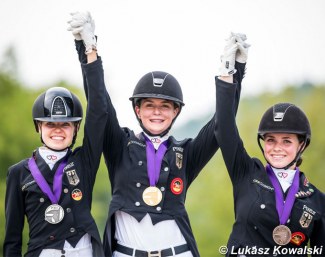 German Valentina Pistner surfaced at the top of the board and claimed the Kur gold medal on the concluding day of the 2020 European Junior Riders Championships at Stable Unikornis in Pilisjaszfalu, Hungary, Friday 14 August 2020.
For Pistner the journey in Hungary has been an emotional roller coaster with performing below par in the team test when her horse QC Flamboyant pulled the tongue over the bit, but her team mates saved the biscuit and Germany secured team gold. In the Individual Test Pistner rode like a SpaceX up on the board to a second place and silver medal and the icing on the cake followed on Friday with Kur to Music gold.
Joining her on the podium were German team mates Anna Middelberg for silver and Jana Lang for bronze. 
A Dream Fulfilled
German team routinier Valentina Pistner saw her dream fulfilled today at her third consecutive European Junior Championships, grabbing that highly coveted individual gold medal. The 17-year old is not yet in her last year as a junior rider, but reached an apex in Budapest. She garnered two individual silver medals in 2018, two individual bronze ones in 2019 and another individual silver yesterday.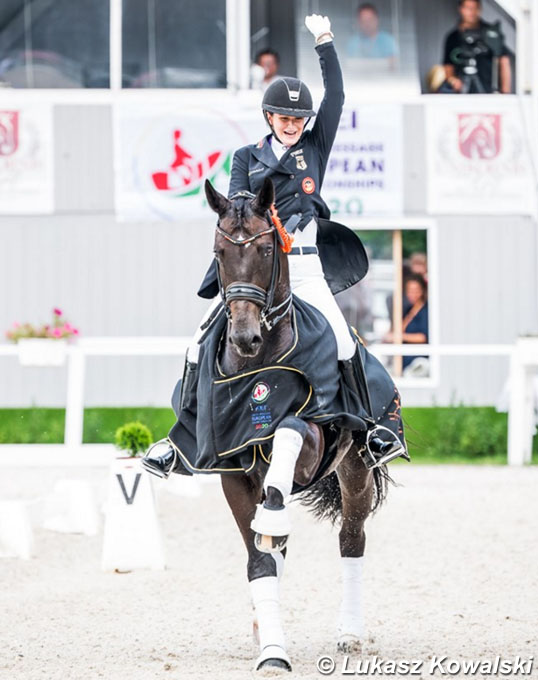 The pieces of puzzle all came together in the Kur to Music in which Pistner and her long-time partner 12-year old Oldenburg gelding QC Flamboyant (by Fidertanz x De Niro) scored a whopping 79.285% to win the freestyle as last starter to go in the class.
Judges Thomas Kessler (GER), Mariette Sanders-van Gansewinkel (NED), Maria Colliander (FIN), Carlos Lopes POR), and Peter Hansághy (HUN) were not unanimous though with three judges ranking her first and two second. Her scores went from 77.250 Hansaghy to 80.625 (Kessler), but it all averaged out in the victory.
"It's such an incredible feeling. Today everything worked and Flambi was super on my aids," said Valentina, who lives in Bad Homberg, the same town as German Olympian Sönke Rothenberger. "My team mates Anna and Jana both rode very good kurs and I didn't expect that ours would be good for gold."
My motto is 'just do it, stay calm and try your best because that's all you can ever do," said the level-headed Pistner, who kept her cool through the roller coaster week.
"This is my third European Championship and my ninth medal! Now it may be time for us to step up to another level. I'm not sure yet, it hasn't be fully decided, but I have been riding Juniors since I was 13 and it's maybe time to move on and try to progress and improve."  
Middelberg Gets Silver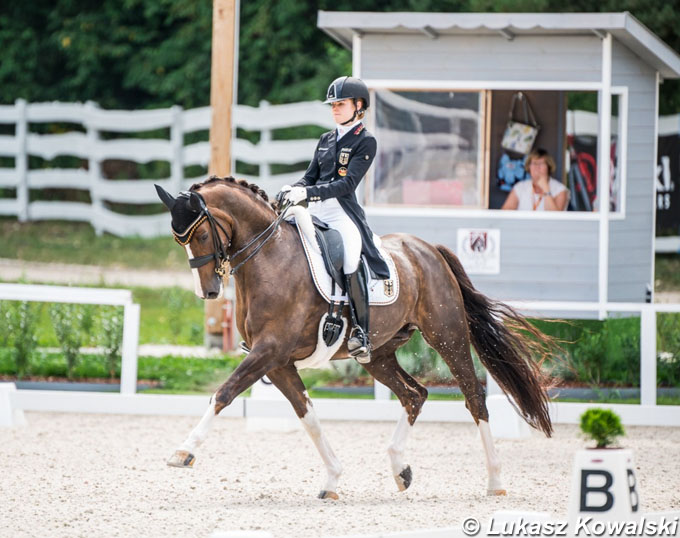 German team mate Anna Middelberg was unable to achieve a hattrick after winning team gold and team test on Tuesday and individual gold in the individual test on Thursday with an impressive round that left no doubt about her superiority.
In the freestyle, however, Anna and her 9-year old Oldenburg gelding Blickfang HC (by Belissimo M x Brentano II) were edged out by Pistner. Middelberg placed second with 78.480%. Two judges had her first, two second and one third. Her marks went from 76.875% to 80.250%. She was one of the few riders to begin her freestyle with the canter tour. 
Anna can look back on a highly successful week in Budapest with three medals added to the team goldshe took at the European Pony Championships in Kaposvar (HUN) in 2017 and at the 2019 European Junior Championships in San Giovanni in Marignano (ITA) last year.
Second Bronze for Lang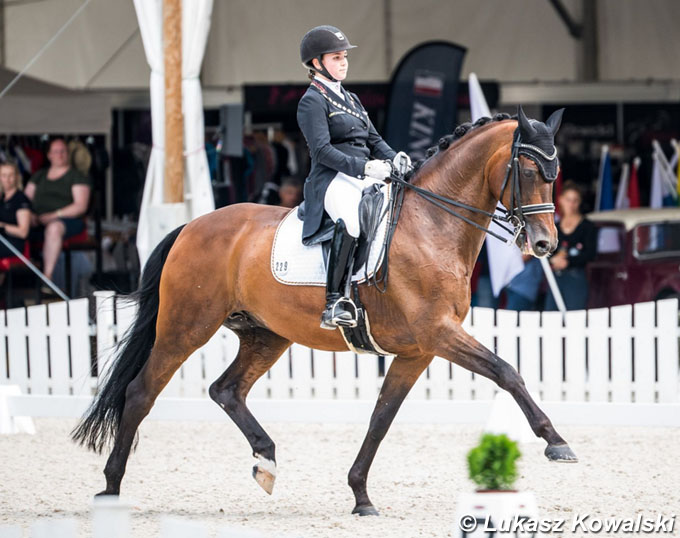 For German Jana Lang Budapest was a major success story.
The petite rider already has two European Pony Championships down her belt in 2017 and 2018, but did make it onto the pony team in 2019 and only made the full transition to junior level in the winter of 2019. Her new acquisition Baron (by Johnson x Krack C) exceeded all expectations. After winning the CDI-W Mariakalnok in June, the pair got a firm place on the German team for Budapest and obtained team gold and individual bronze the days before. 
She also solidly placed third for a second bronze medal in the freestyle with a 77.040% score. Her flying changes were nicely synchronized to the music.
Three judges had her third, one fourth and one sixth. Her marks went from 75.925% to 78.125%. 
Robin Heiden Double Fourth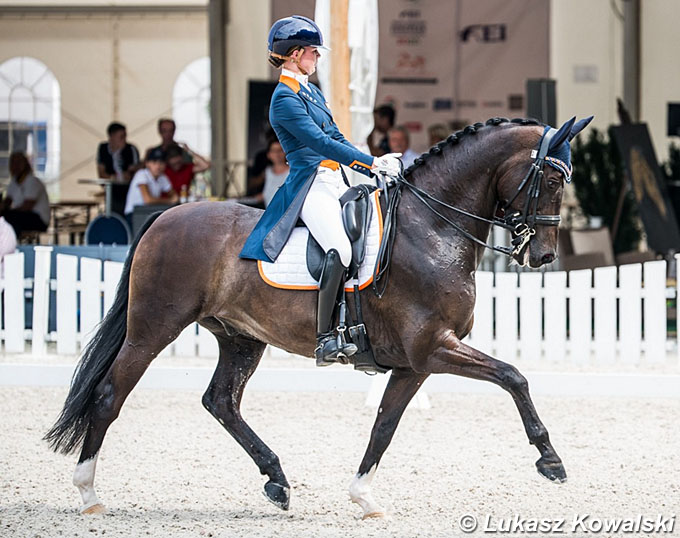 Dutch junior team new comer Robin Heiden became Holland's strongest rider in Budapest.  In 2019 Heiden showed at the European Pony Championships with Colourfull Cannonball and finished 6th in the Kur. This year, her home bred, 9-year old KWPN gelding Gasmonkey (by Tuschinski x Ferro) put Robin straight onto the junior team. With solid riding they became the torchbearers for their country. 
After winning team bronze and placing fourth in the individual test, Heiden and Gasmonkey were fourth again in the Kur to Music on a score of 75.580%. They rode to Bryan Adams music.
"I went to the European Championships with little experience. This is my first year as a junior and I didn't know how the international judges would score me," said Robin. "My horse Gasmonkey exceeded all expectations and I'm super proud of my fourth place."
Dutch team trainer Monique Peutz added that," Robin rode a beautiful test. Maybe it wasn't the freestyle with the highest technical difficulty but one that shone with harmony and suppleness. It was an exciting day for sport, which we enjoyed with all team mates."
Helgstrand Fifth
The 2019 European Pony Champion Alexander Yde Helgstrand showed that the transition from ponies to horses can be an easy one.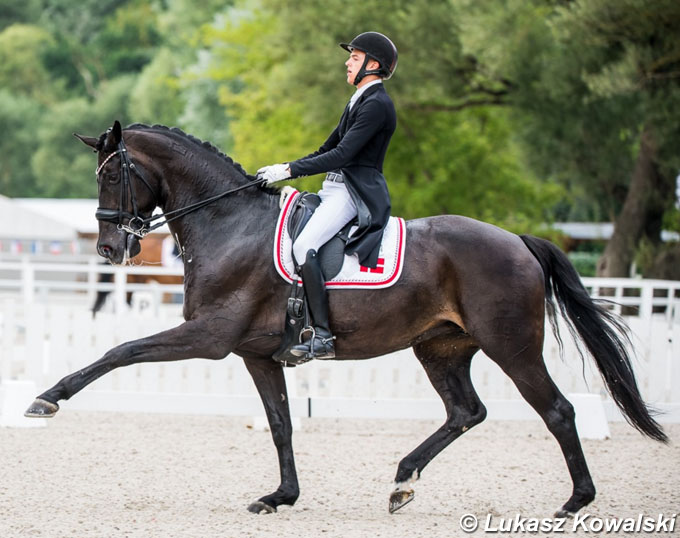 The Danish rider helped secure team silver on Tuesday and finished sixth in the individual test, behind team mate Frederikke Gram Jacobsen.  In the freestyle Helgstrand made a push for power while nerves got the better of Gram Jacobsen who dropped to an 8th place (74.720%). . 
Aboard the 15-year old Danish warmblood mare Grevens Sa Va (by Soprano x Romancier) young Helgstrand scored 75.225% to finish in the top five at his first Junior Europeans. The judges were fairly divided over the rider, with their individual marks fluctuating between 4%. Colliander had him second with 77.500% but Lopes 8th with 73.100%.
"All three (Danish) riders gave it their all and showed me that they are really passionate about it," said Danish team trainer Dennis Fisker. "When you ride a final you have to give it 100% instead of just playing it safe. Of course we would like to have been at the top, but I'm very happy with the riders' performance and the good team spirit in the Danish camp."
French on Form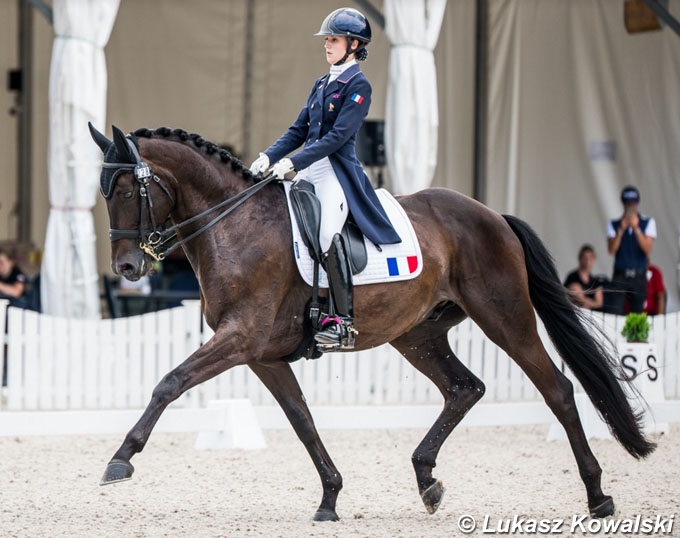 The French junior riders had a stellar run at the 2020 Europeans, finishing in a historic fourth team place, after ranking 11th with the team just one year ago. 
In the freestyle, Mado Pinto took over the French lead role from Mathilde Juglaret, who dominated the individual test, and became the highest scoring French rider with 74.900% aboard the 9-year old Hanoverian bred Hot Bit de la Gesse (by Hotline x Rubin Royal), bred and owned by Haras de la Gesse in France. They landed 6th place.
Team mate Juglaret finished right behind Pinto in 7th place on a score of 74.745%. Mathilde's partner-in-crime is the 8-year old Lusitano bred Caporal de Massa (by Rieto x Xaqiero). 
Text by Astrid Appels - Photos © Lukasz Kowalski
Related Links
Scores: 2020 European Children and Junior Riders Championships
Middelberg Shows How It's Done, Individual Test Gold at 2020 European Junior Riders Championships
Paul Jöbstl Overnight Leader in Individual Test at 2020 European Junior Rider Championships 
Middelberg Takes Germany to Team Gold at the 2020 European Junior Riders Championships
Jana Lang and Baron Take Lead in Team Test at 2020 European Junior Riders Championships
Eurodressage coverage of the 2020 European Youth Championships