2020 European Youth Championships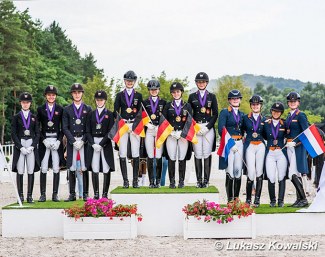 Anna Middelberg spearheaded the German campaign to secure team gold at the 2020 European Junior Riders Championships held at Stable Unikornis in Pilisjaszfalu, Hungary on 11 August 2020.
The Junior Team Championship concluded today with the second group of riders competing in the team test for nations' ranking. Germany was the overnight leader and kept a firm hold on that top place on day two. With 222.212 points they scored team gold. Denmark edged out The Netherlands for silver (214.818 points), while the Dutch equipe got bronze with 2013.595 points. 
The test was judged by Carlos Lopes (POR), Peter Hansághy (HUN), Mariette Sanders-van Gansewinkel (NED), Thomas Kessler (GER), and Maria Colliander (FIN).
Middelberg Makes it Happen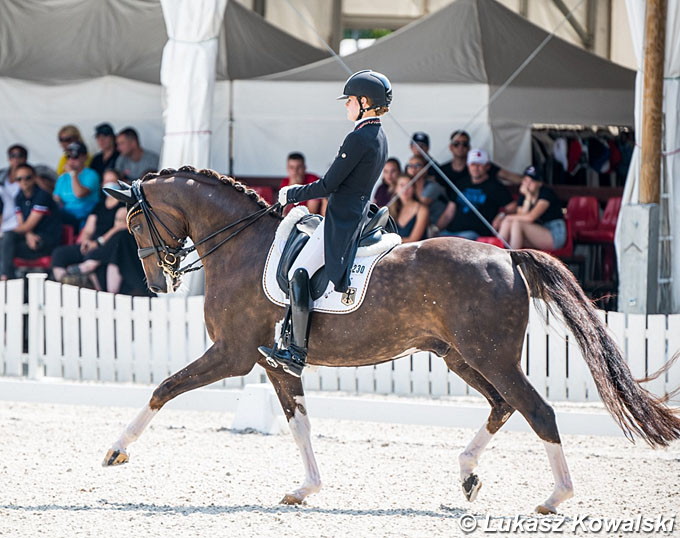 The 17-year old Anna Middelberg and her 9-year old Hanoverian gelding Blickfang HC (by Belissimo M x Brentano II) became the high scorers of the day with 75.454%. The partnership of two years produced a very solid round in which the good seat and quiet hand of the rider stood out. The horse chewed on the bit even though the trembling lower lip showed slight tension. Blickfang was cadenced and rhythmical in the trop work, showed much overstep in the extended walk, although there could have been more V-moment in the rhythm. The halt for rein back was not square. The super flying changes were smooth and big. The liver chestnut was very willing to work with his rider and they looked like well oiled pair. 
After being Germany's number three at the 2019 European Junior Riders Championships in Italy, Middelberg immediately promoted herself as an individual gold medal favourite. Her 75.454% score showed a good median from all five judges although a patriotic kick of 78.030% from German judge Kessler was maybe a bit too optimistic. His "slip" updward, however, did not make much of a difference for the final team ranking. 
Jana Lang, the overnight leader after group 1, ended up in second place at the end of the class. She earned 74.515% for her ride on the 14-year old KWPN gelding Baron. Team new comer Allegra Schmitz-Morkramer and her Holsteiner Lavissaro (by Lissaro van de Helle x Aljano) were fifth on 72.243%.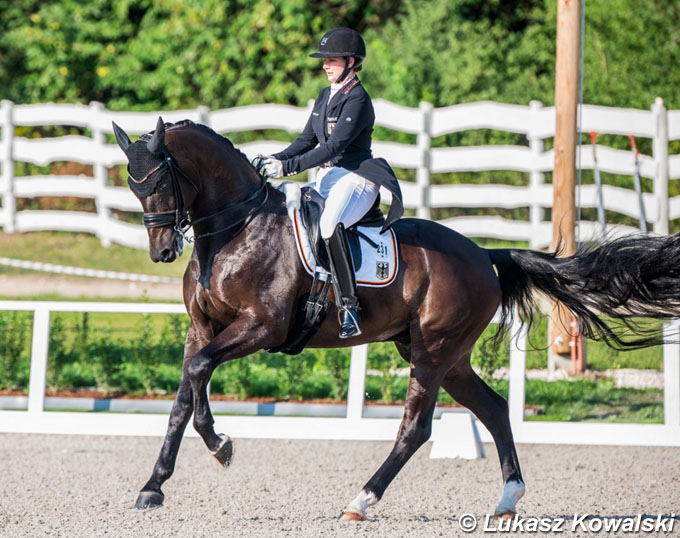 Germany's Valentina Pistner and her 12-year old Oldenburg gelding QC Flamboyant (by Fidertanz x De Niro) had an off day. While the pair was good for double individual bronze at the 2019 Europeans, their kick off at the 2020 Championships did not go as planned. The big, powerfully moving Flamboyant was behind the aids, irregular in the trot extension, and he dropped behind the vertical throughout the ride with his mouth open. The backward working hand of the rider did not help the situation and by the time they reached the canter work, the horse lost all impulsion and abruptly dropped to walk or halt on several occasions. On the final centerline he even changed lead a few times. It was hard work for Pistner to make the best out of this test. The mega extended walk of her Oldenburg gelding, nor his huge flying changes could save the day. They finished 27th with 67.939%, although Portuguese judge Lopes still had them at 70.000% and Hungarian judge Hansaghy even on 72.879% (??). Rematch in the individual test. 
"The atmosphere is outstanding," German team trainer Hans-Heinrich Meyer zu Strohen rejoiced. He was particularly pleased about the winning combination. "The pair showed a very impressive harmony. The horse convinces with its good quality of gaits, a lot of relaxation in the body and the fine riding of the rider. It was a nice image to end with." Meyer zu Strohen explained that the bad luck with Pistner's ride was because the horse had thrown the tongue over the bit. "Valentina deals well with the situation and is looking forward to her next start."
Danish Rise to Silver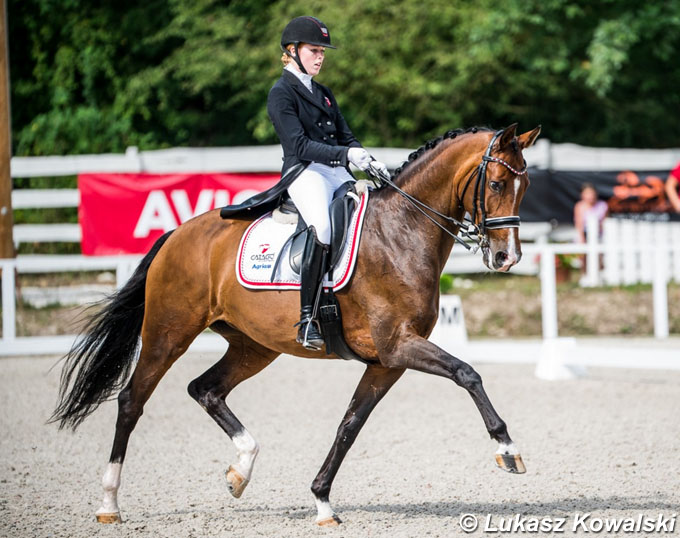 The Danish junior team captured the silver medal with Frederikke Gram Jacobsen and her 10-year old Danish mare Ryvangs Zafina (by Zack x Come Back II) leading the way. The sympathetic mare has much cadence in trot, was a bit overbent on the shoulder in right and runs slightly in the trot extensions, but the rhythm is very even and she is very willing to co-operate with her rider.  She appeared more elastic on the right lead than the left one. The extended walk is limited in overtrack but had good relaxation. The collected walk was well ridden with a clear 4-beat rhythm. The first flying change was ridden off the required line but all four flying changes were executed with great ease. At all times the mare was very steady in the contact and head position. 
Denmark's second best result come from 2019 European Pony Champion, Alexander Yde Helgstrand, who has a plethora of horses to pick and choose from at his father Andreas' dealing yard. His number one choice for juniors is the 15-year old Danish mare Grevens Sa Va (by Soprano x Romancier), previously owned and ridden by Carina Nevermann Torup.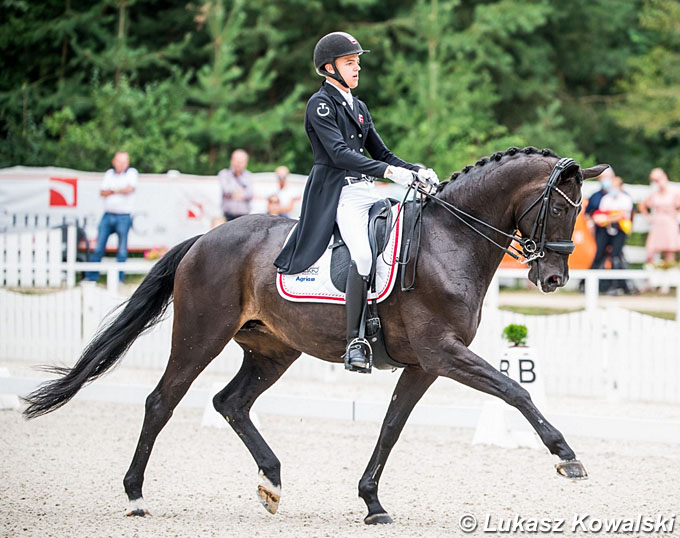 The mare is highly confirmed at small tour level and showed great ease with all the movements. She particularly showed sweeping flying changes. However, she tiled in trot at the start of the test and overall the self carriage in canter could be better. Helgstrand rode his test full focus, but in the contact the mare needs to be lighter and more steady with her head instead of bopping a bit. They posted a score of 71.848% but Hansaghy had them at 68.030% and Kessler at 73.939%. 
Denmark's third score came from Kristian Wurtz Green and Bovbjergs Zhivago (by Romanov x Don Schufro), who rode on Monday and got 70.637%. He finished 10th and had team mate Maja Emilia Leth and Stasia EG (by Stedinger x Akinos) right behind him on 70.091%. 
"It was really a good team performance and no-one fell behind," said Danish team trainer Dennis Fisker. "The Germans were a bit ahead, but I have to admit it was deserved. Overall there was good judging, but on Alexander they disagreed a bit; but it wouldn't change anything to the result."
Dutch Get Bronze
The Dutch dressage team landed in the bronze medal position with 213.515 points. Their best ride came from Robin Heiden and the 9-year old home bred Gasmonkey (by Tuschinski x Ferro). As team newcomers they rode on Monday and were second provisionally. After group two they ended third with 72.788%.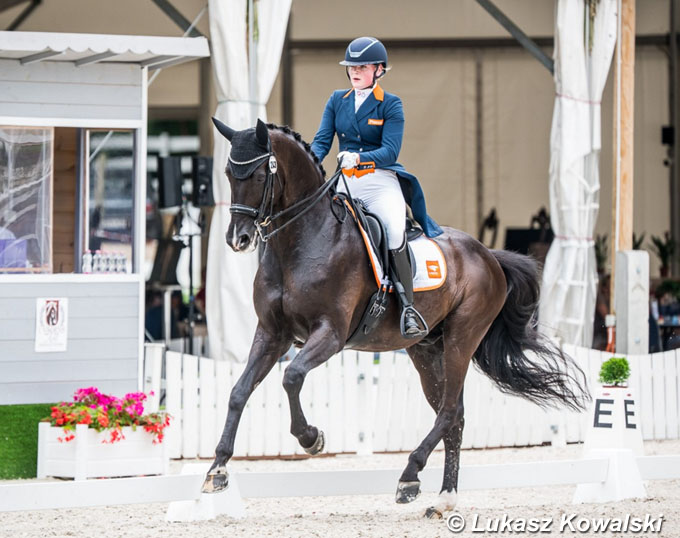 Holland's last rider to go for the team, Sanne van der Pols and the 13-year old Dutch bred Cuvanck PP (by Downtown x Munchhausen), finished 7th with 71.363%. The pair produced a sweet ride, with a steady bridle contact and good mouth. While in trot the horse could show more self carriage and smoothness in the rhythm, the canter work convinced with its good flying changes, but there was an issue in the last one. 
Holland's third rider was Evi van Rooij on the former licensed stallion Don Tango B (by Contango x Jazz), who ended 16th with 69.364%. Her horse was a bit distracted but Van Rooij kept her concentration and scored points in canter.  Shanna Bars and Fernando (by Westpoint x Donnerhall) were 18th with 69.151%
"I'm very proud of our juniors," said Dutch team coach Monique Peutz. "There are a few EC debutants in the team and their horses are also not that experience. From the judges we got compliments that all Dutch riders rode their horses with much harmony. We had a few mistakes too many for silver, but the difference with the Danes was small."
France Fabulous Fourth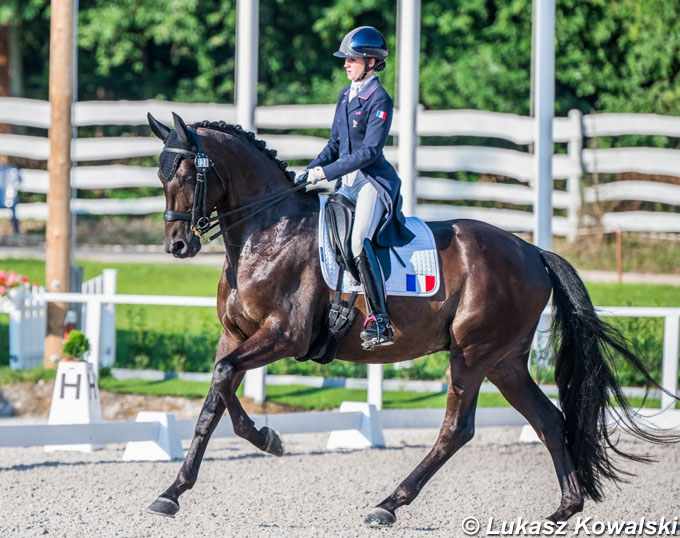 The French junior team pulled off an impressive feat by placing fourth in the team ranking with 210.576 points! At the 2019 European Junior Championships in San Giovanni in Marignano they finished 11th and one year later jumped no less than 7 places in the ranking ! An example for other countries who are seeking to connect with the podium. 
France's best score came from experienced team rider Mado Pinto, who is riding her fifth European Championships; two in the children division and two as a young rider! For the 2020 Europeans the 18-year old, whose parents are international Grand Prix riders Carlos and Isabelle Pinto, dropped down to junior level, which she is allowed due to her age. In 2020 she partnered with a brand new horse, the 9-year old Hanoverian Hot Bit de la Gesse (by Hofrat x Rubin Royal), which Is bred and owned by her sponsor Haras de la Gesse. The duo finished 9th in the team test with 71.121% and had the judges quite in unison over her performance. 
Mathilde Juglaret and Sylvain Massa's Lusitano stallion Caporal de Massa (by Rieto x Xaquiro) slotted in 12th. A third-time European Championship rider, Juglaret posted 70.061%, while team mate Alexandre Cheret and the 14-year old KWPN mare Bamona (by United x Inspekteur) contributed the third score of 69.394% to France's historic team result. France's scratch score was 68.000%, produced by Ella Lostria on Bon Romantic.
Austria Completes Top Five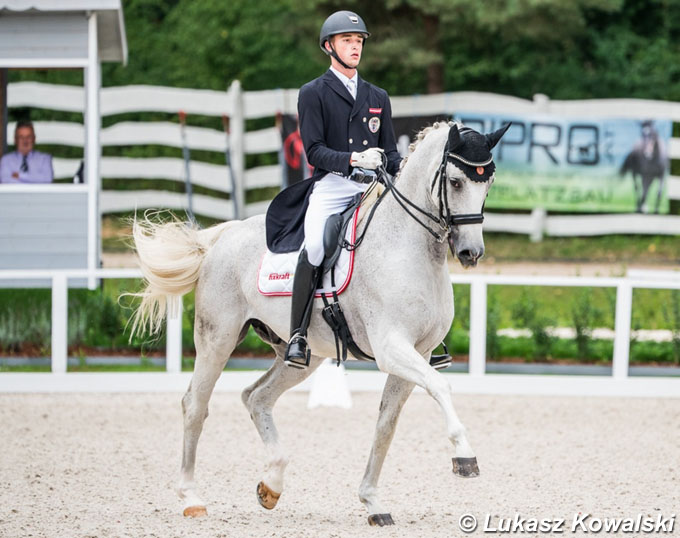 The Austrian team pushed Belgium into a sixth place when the final rider on the Austrian team, Felix Artner and Ruth Wimpissinger's 15-year old Westfalian Sisley Santino (by Sir Donnerhall x Godehard), produced a 71.333% earning test to place 8th individually. His ride of two years, Santino showed ease in the execution of the lateral movements. While he lost some elasticity in the back in the collected walk, the canter work was very solidly ridden with secure changes.
Oskar Ochsenhofer and the 14-year old Hanoverian mare Sanibel (by Samarant x Donnerhall) rode Austria's second best score of 69.394% which placed them 14th. The black mare is already competing in her fifth European Championships. She did three with elder sister Lilli Ochsenhofer (2015, 2016, 2017) and now two with Oskar (2018, 2020). 
Austrian team newcomer, Marie-Paule Frauenschuh on the 13-year old Oldenburg bred Di Magic OLD (by Dimaggio x Rohdiamant), achieved 67.667% and helped Austria achieve a team total of 208.394 points. Belgium was sixth with 306.848 points. 
Text by Astrid Appels - Photos © Lukasz Kowalski
Related Links
Scores: 2020 European Children and Junior Riders Championships
Eurodressage coverage of the 2020 European Youth Championships
Jana Lang and Baron Take Lead in Team Test at 2020 European Junior Riders Championships