2020 European Youth Championships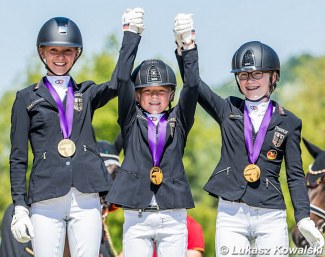 Emily Rother pulled the German team to gold medal victory in the Team Championship of the 2020 European Children Championships in Pilisjaszfalu, Hungary on Wednesday 12 August 2020. 
The German and Dutch were in a neck-to-neck battle for gold but in the end, last  year's European Champions persevered again. With a total of 245.468 points the Germans got the gold. Holland earned silver with only a fraction less, 245.201 points. The bronze medal went to France, who have been on stellar form here in Budapest after claiming a historic fourth place in the junior division yesterday. 
Rother in Charge
Germany's Emily Rother topped the board in the team championship test with an 84.025% earning test aboard her 9-year old Oldenburg gelding Jasper (by Jazz Rubin x Pik Donnerhall). The panel of judges, consisting of  Katrina Wüst & Freddy Leyman for the quality mark, and Trond Asmyr, Annette Fransen Iacobaeus, and Alice Schwab for the technical component, rewarded Rother with 75.800% for the technical part and 92.250% for quality of riding, with a 9.3 for seat, 9.0 for aids, and 9.3 for precision and general impression.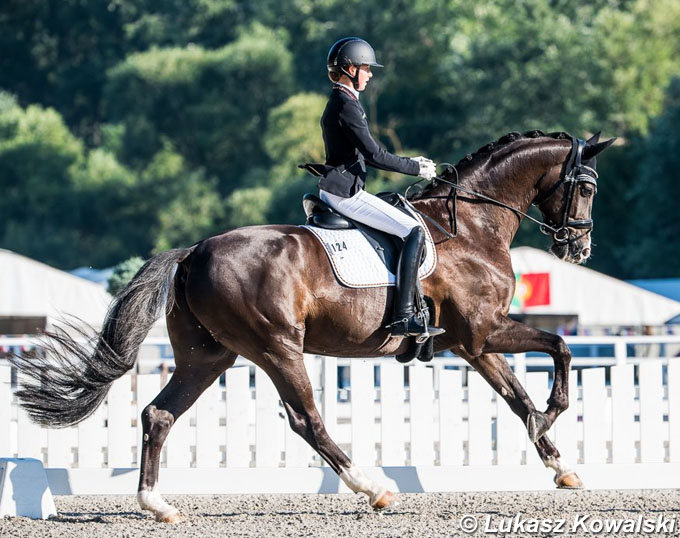 Germany decided to field only three combinations instead of four to Budapest, but even without having a scratch score they got the gold. The overnight leader in the team test, Clara Paschertz and Danubio (by Dante Weltino x Laudabilis), ended up fourth with 82.825%, while Caroline Miesner and her 8-year old Thuringian mare Angelina (by Decurio x Liberator) slotted in fifth with 79.059%. 
Unfortunately during the lap of honour after the medal ceremony, Clara Paschertz" Danubio became a bit too frisky, and made a few jumps in the air, which dislodged his rider from the saddle. The petite Clara unfortunately landed on the plastic fence. Her horse stood still immediately. Clara was taken to the hospital for a check-up and X-rays, but sustained no fractures. She will be able to ride in the individual test on Friday.
Raaijmakers Leads the Way to Silver
Dutch Kebie Raaijmakers and her seasoned Children's ride, the 13-year old KWPN bred Happy Feet (by Tuschinski x Animo), led her Dutch team mates to silver by finished second with 83.417%. She got 75.333% for the technical part and 92.500% for the quality part with 9.1 for seat and aids and 9.2 for precision and general impression. 
Team mate Maura Knipscheer and the 15-year old KWPN bred Amaretto (by Krack C x Jazz) were third with 82.825%. Her scoores were 75.400% for the technical part and 90.250% for quality with 8.7 for seat, but 9.2 for aids and precision and 9.0 for general impression. 
Holland's third rider was Veerle Farla and Formidable who was the overnight runner-up with 78.959%. Holland's scratch score was still a solid 76.092% achieved by Veerle van Hof on Don Diablo (by Westpoint x Polansky). 
"We didn't anticipate that we would be so close to the Germans," said Dutch Children team trainer Imke Schellekens-Bartels
"We hadden vooraf niet zien aankomen dat we zó dicht bij de Duitsers konden komen", vertelt bondscoach Imke Schellekens-Bartels. "Kebie Raaijmakers, de laatste starter, wilde per se weten wat ze moest halen om het land aan goud te helpen. Haar score was geweldig, al liepen we de gouden medaille op een haar na mis. Goud was zeker mogelijk, zelfs de Duitsers kwamen naar ons toe dat ze voor hun medaille vreesden. Het verschil was minder dan 0,3%"
France is Bronze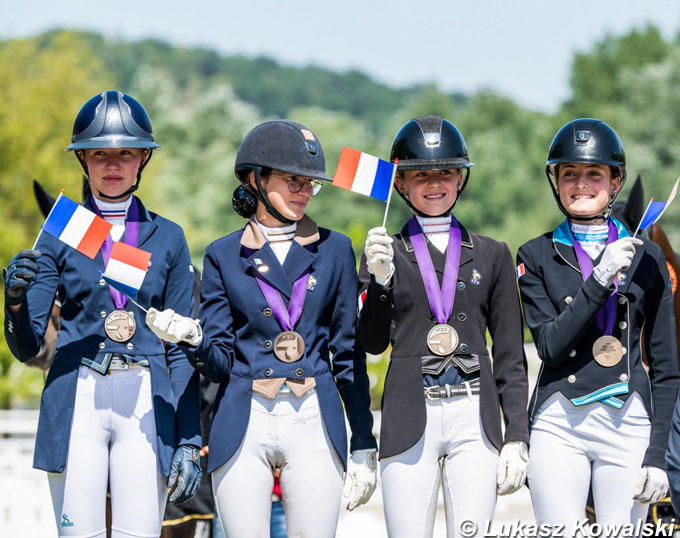 The French team scored the team bronze medal, moving two places up from last year's fifth spot at the 2019 European Children Championships in San Giovanni in Marignano (ITA). 
The highest ranked French rider was 13th with 73.600%. Stella Briand and the 12-year old Hanoverian U2 Jass du Derby (by Rob Roy x Lauries Crusador xx), owned by Laurent Haingue and Peggy Kaczmareck, scored 70.200 for the technical part and 77.00% for the quality component with 7.8 for seat, 7.4 for aids, 7.8 for precision and general impression. 
The other two bronze team medal earning scores were contributed by Anna Dupuy Pelardy on the 13-year old Hanoverian Hilario Saint H (by Herzensdieb) with 72.667% (16th place) and Eloise Thomas on the 13-year old Rhinelander pony bred Kind of Magic Fast (by FS Champion de Luxe) with 71.109% (22nd). France's fourth score came from Thanais Capelle Morosi on the just 6-year old French bred mare Escortgirl Maupertuis (by Don Juan de Hus) with 70.817 (25th). 
"Winning the bronze medal with the Children today was formidable," said French Technical Dressage Director Emmanuelle Schramm. "The good work accomplished in the past few years allowed our combinations to develop each year. Today we are getting more and more satisfying results. This is partly thanks to the good synergy between the trainers and the technical staff, but also because of our training seminars. Due to Covid-19 we couldn't do many shows this year. There were two preparatory shows in July and some did not do any CDI's at all. This is why it's even more rewarding to see they succeeded in focusing on getting nice results."
Ukrainian Sokolova Seventh!
The highest ranked rider from a non-team medal winning country was the Ukrainian Tetiana Sokolova aboard the 11-year old KWPN gelding Energy (by Ampere x Welt HIt II). She placed in a strong seventh spot with 76.925%.
She was followed by Austrian Valeria Bader on Vemmetofte Roscoe (by Romanov) with 76.375% and Polish Dionizt Polikowski with Qiu (by Quaterhall) on 76.275%.
Text by Astrid Appels - Photos © Lukasz Kowalski
Related Links
Scores: 2020 European Children and Junior Riders Championships
Paschertz Leads the Way in Team Test at 2020 European Children Championship
Clara Paschertz Sets the Bar High in Preliminary Test at 2020 European Children Championship
2020 European Children/Junior Championships Kick Off with Opening Ceremony and Warm Up Class
Eurodressage coverage of the 2020 European Youth Championships