2020 European Youth Championships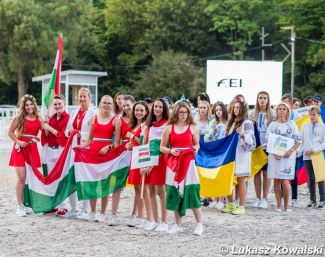 The 2020 European Youth Championships in Pilisjaszfalu, Hungary, kicked off on 9 August 2020 with the first group of children riders competing in the preliminary test as a warm-up for the team championship test.
Three weeks of European Youth Championships began at Stable Unikornis located north of Budapest, Hungary, with an opening ceremony in which the children and junior teams were officially presented bearing their flags. 
Inaugural Europeans in Hungary in Corona Year
Arie Yom-Tov's Stable Unikornis has been collecting some experience organizing international dressage shows in 2019. Last week they also hosted a 2020 World Cup qualifier in the lead up to the Youth Championships and offered riders an early opportunity to check in early at the show grounds, familiarize their horses with the venue, and compete in the main arena. 
While Stable Unikornis is still building towards becoming an international standard equestrian centre, the developing property is making the most out of the difficult situation of hosting a European Championship in this turbulent year with the corona pandemic.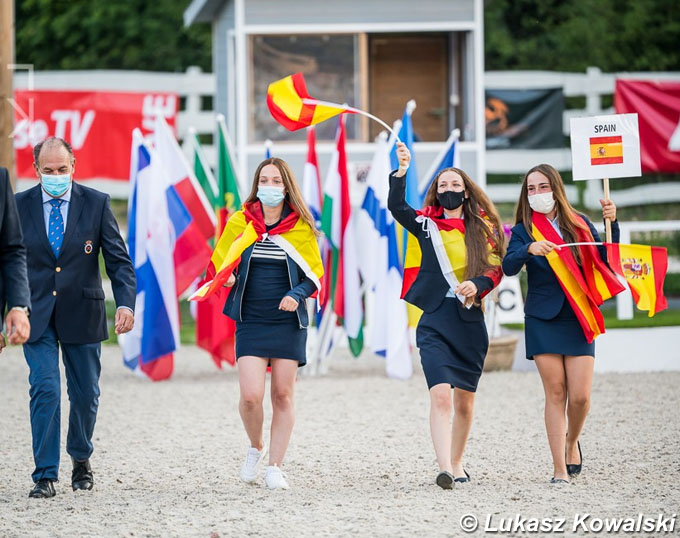 After getting the five youth divisions allocated by the FEI - coming to the rescue last minute when Strzegom (ponies) and Hartpury (junior/young riders) dropped out because of COVID-19 - the yard has made all efforts to have a corona contingency plan in place and have decent facilities available for the large number of horses, riders and team members that will come to these special Europeans. 
All Arrived Well, Except for Spain
Show director Arie Yom Tov told Eurodressage that he secured documents and passes for riders from all nations to travel easily across borders to Hungary. Only Spain experienced unfortunate last minute issues at the border and even though the decree was there to freely enter the country, a part of the Spanish delegation decided to turn around. 
Yom Tov told Eurodressage that it was the Spanish Embassy in Hungary who wrongly advised the Spanish equestrian federation not to enter the country.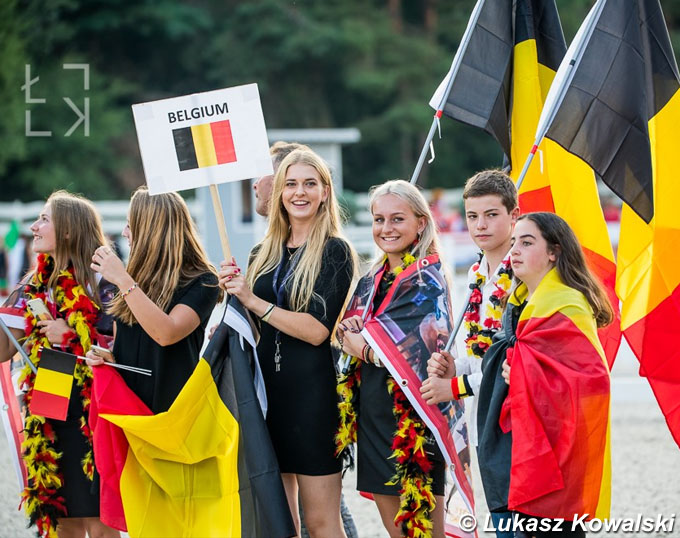 "We nominated a representative of the police to take special care of any problem that will arise at the borders for any country, green, yellow or red, coming to the European championship," Yom Tov explained. "We have all the support from the Hungarian government to help the trucks to pass the border smoothly and faster in case they are coming with horses and gave us the location of the border they are passing and their truck number. We got a lot of support and help from the state of Hungary."
Yom Tov added that he communicated immediately with the Spanish federation, but their poor knowledge of English hindered a swift resolution. Furthermore, the federation's rash decision to turn around and cancel all flights was made in 15 minutes, instead of relying on good communication between all parties and some patience to resolve the matter. 
"All 107 riders for the Children and Juniors division arrived at the stable. For the last two weeks we have prepared this stable and it's looking really nice. We are ready for the championships," the show director added. 
Children Kick Off Competition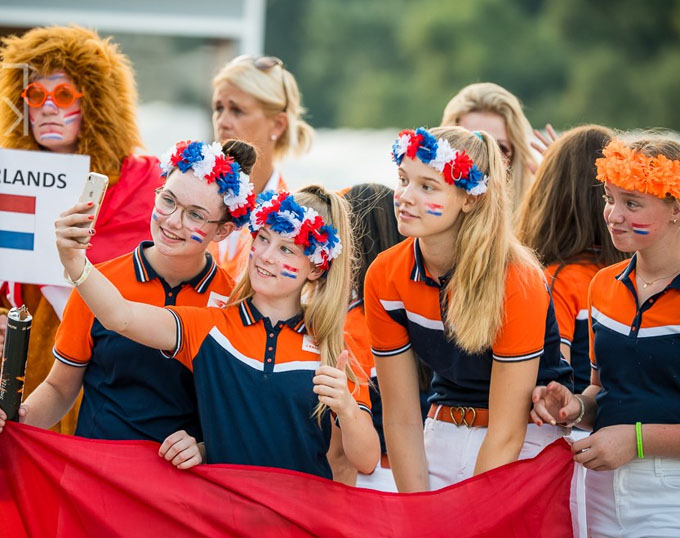 After the opening ceremony on Sunday 9 August, the Children division kicked off with the preliminary test, a mandatory warm-up class for all riders. 
Judges by Katrina Wust and Alice Schwab, in combination with Annette Fransen-Iacobaeus, Freddy Leyman and Trond Asmyr, the preliminary test on Sunday was ridden by the first group of 23 riders. The second group will ride on Monday. 
The Dutch team took a very strong start with three of its riders capturing a provisional first, second and third place. Veerle van Hof took an early lead aboard her 12-year old KWPN gelding Don Diablo (by Westpoint x Polansky) scoring 80.203%. Her Dutch team mate Veerle Farla is standing in second place with 78.465% on her 10-year old KWPN gelding Formidable (by Tango x Purioso). Maura Knipscheer and the 15-year old KWPN gelding Amaretto (by Krack C x Jazz) is third with 77.238%.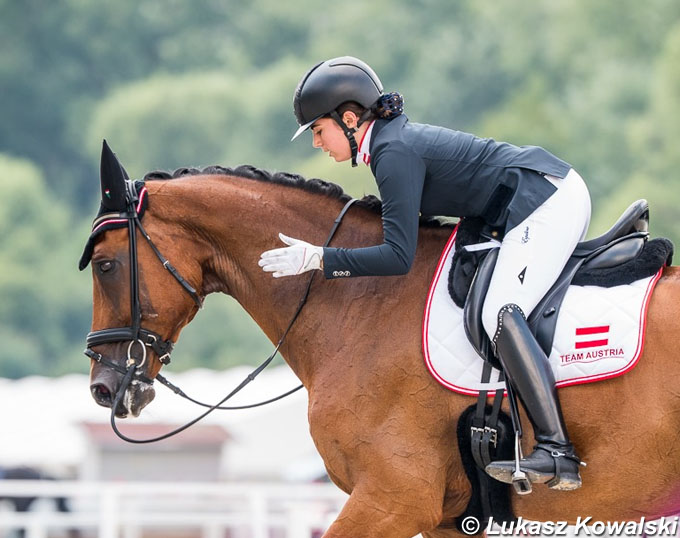 Austrian Valeria Bader and the 14-year old Danish warmblood gelding Vemmetofte Roscoe (by Romanov x Stravinsky xx) landed fourth place so far with 74.846%.
Spanish Arianna Abad Feliu de la Pena, who decided to continue her journey to Budapest at her own risk despite her federation's recommendation to turn around, finished in a strong fifth place with her 13-year old Sunboy (by Sandro Marq) scoring 73.316%.
Photos © Lukasz Kowalski
Related Links
Scores: 2020 European Children and Junior Riders Championships
Eurodressage coverage of the 2020 European Youth Championships