2020 Bundeschampionate Qualifier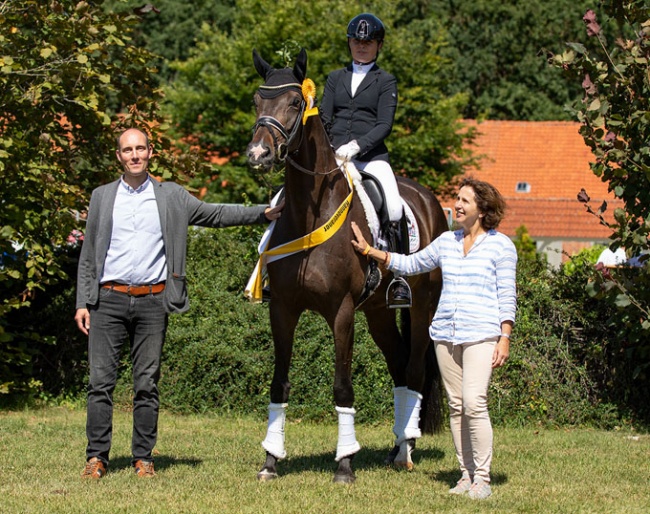 The 5-year old Feingefühl and Gaitano and the 6-year old Dolciario became the winners of the Buneschampionate qualification classes held at the 2020 Hanoverian Young Horse Championships in Verden, Germany. 
No less than 31 pairs competing in the 5-year old division and Feingefühl (by Fürstenball x Farewell III and her rider Sandra Kötter became the sovereign winners and Hanoverian Champions in Group 1 for the Hanoverian bred horses. The pair scored 8.5 in total after receiving 9.5 for walk, 8 for trot, 8.5 for canter, 8 for submission and 8.5 for general impression. The mare is owned by Gaby Heye-Hammerlage and was the reserve champion of the 2018 Hanoverian Elite Mare Show as a 3-year old. She was also a Bundeschampion and is now ready to reclaim that title in Warendorf in September. Felix Hillmer placed second aboard Mohlmann and Von Fintel's Hanoverian stallion Fun4ever (by Feedback x De Vito). The half brother to Foundation, who sold in Verden first as a foal and then as a young licensed stallion, scored 8.2. He got 8 for walk, 8.5 for trot and canter, 7.5 for submission and 8.5 for general impression. Norwegian Isabel Freese steered Paul Schockemöhle's Hanoverian stallion Furst Toto (by Furstenball x Totilas) to a third place with 8.0.
Group 2 was won by Beatrice Buchwald and Keo Pty Ltd's Oldenburg stallion Gaitano (by Goldberg x Rohdiamant). They scored 8.3 after the dark bay earned 7.5 for walk, 8.5 for trot and canter, submission and general impression. Lena Waldmann and Gestut Bonhomme's Westfalian stallion Maracana (by Millennium x Lord Loxley) were second with 8.1. points.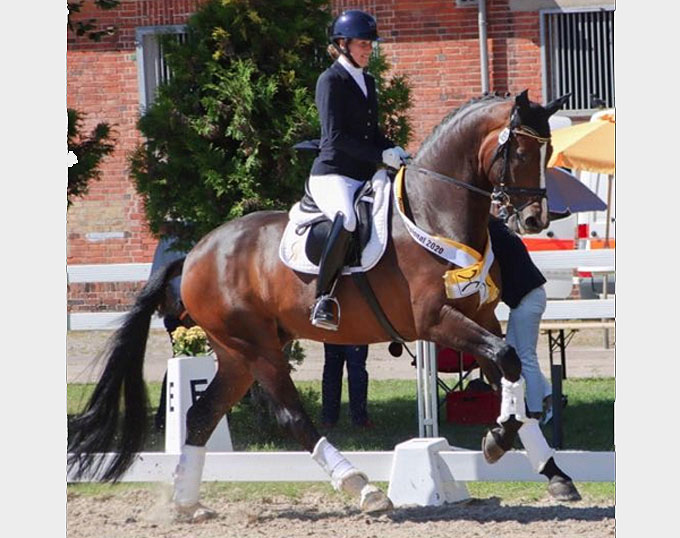 Twenty pairs contested the 6-year old division with the majority being Hanoverian bred horses. Czech Eva Niklova steered Hof Kasselmann's Hanoverian stallion Dolciario (by Danciano x Don Frederico) to victory with an 8.2 total score. The dark bay stallion got 9 for walk, 8 for trot and canter, 7.5 for submission and 8.5 for general impression. No less than three combinations placed second with an 8.0 score: Jörn Kubelke on Bernd Freye's Hanoverian gelding Quintessential (by Quantensprung x Donnerhall), Anna-Sophie Fiebelkorn on Axel Windeler's Don Mateo (by Don Juan de Hus x Royal Highness) and Sophie Duprée on her own Hanoverian gelding Furst Flulidu (by Furstenball x Rotspon). 
"Dolciario presented himself very consistently in his basic quality and has high rideability qualities," said judge Anna von Holten-Jungheit. 
Photos © Hannoveraner Verband - LL-foto
Results - 2020 Bundeschampionate Qualifier - Verden
5-year olds
Group 1
1.Sandra Kötter -  Feingefühl (by Fürstenball / Farewell III) - 8.5
2 Felix Hillmer - Fun4ever (by Feedback / De Vito) - 8.2
3 Isabel Freese -  Fürst Toto (by Fürstenball / Totilas) - 8
4 Stephanie Leuenberger -  Isterberg V. (by Instertanz V / Belissimo M) - 7.8
5 Lena Waldmann -  Divina Bellezza (by / DeLorean / Sandro Hit) - 7.6
5 Anne Koch -  Fernando Parrado (by Fürst Belissaro / Del Piero) - 7.6
5 Yvonne Reiser -  Fiete (by Fürst Belissaro / Bergamon) - 7.6
Group 2
1 Beatrice Buchwald - Gaitano OLD (by Goldberg / Rohdiamant) - 8.3
2 Lena Waldmann - Maracaná (by Millennium / Lord Loxley) - 8.1
3 Jessica Lynn Thomas - Redford (by Radisson / Farewell III) - 8
4 Victor Alfonso Pomares - Ecuador di Fonte Abeti (by Negro (Novabor) / Sir Donnerhall ) - 7.7
4 Nicole KlattCissee -  Fräulein Feni (by Fürstenball / Sandro Hit) - 7.7
13 Kristina Felicitas Kutter- PK Damseys Delaney (by Damsey / Weltmeyer) - 7.5
13 Friederike Kops -  Qubra (by Quaterback / Waikiki) - 7.5
13 Friederike von Waaden - Weissenas Legacy (by Fürsten­Look / Inselfuerst) - 7.5
13 FabianAndré Janda - Fantomas HB (by Fürstenball / Rascalino ) - 7.5
13 Beatrice Buchwald - Dancelli (by Dante Weltino / Baroncelli) - 7.5
18 Anett Müller - Famous K (by Finest / Londonderry) - 7.4
18 Shereena Satzer -  Royal Discovery (by Rock Forever I / Dimaggio) - 7.4
18 Jan­Niklas Mürmann - Fräulein von Nymphenburg (by First Ampere / Don Gregory) - 7.4
21 Ellen Stengele - Royal Palace (by Royal Classic II / Royal Blend) - 7.3
21 Jana Christin Sönnichsen -  Sindbad (by San Amour I / Don Frederico) - 7.3
21 Wiebke Hälker - Emotion (by Estobar NRW / Rohdiamant) - 7.3
21 Katja Slupinski - Fleur de Vie (by Fidertanz x Sandro Hit) - 7.3
21 Pedro Luiz Almeida Pavao - Sultan (by Sarotti Mocca­Sahne / Weltmeyer ) - 7.3
26 Josephine Wolff - Querida (by Quasar de Charry / Hohenstein) - 7.1
26 Pedro Luiz Almeida Pavao  - Fernandez (by For Romance I / Rutilus) - 7.1
26 Magdalena Preisler  -  Betty Brown (by Buckingham / Akzent II) - 7.1
29 Maria FalknerHansen - Best of Mount St. John OLD (by Fürst Romancier / Bordeaux) - 7
30 Sascha Böhnke -  Louisa S (by Londontime / Rascalino) - 6.8
Daisy PalmerKraul - Fürst Highness AH (by Fürsten­Look / His Highness) - RET
6-year olds
1 Eva Niklova -  Dolciario (by Danciano / Don Frederico) - 8.2
2 Jörn Kubelke - Quintessential (by Quantensprung / Donnerhall) - 8
2 Anna­Sophie Fiebelkorn - Don Mateo (by Don Juan de Hus / Royal Highness) - 8
2 Sophie Duprée - Fürst Flulidu (by Fürstenball / Rotspon) - 8
5 Madeleine Bendfeldt - Dschamilja (by Dancier / Lauries Crusador xx) - 7.8
6 Julia Kristin Heitzmann -  Dancing Grace (by Damon Hill / Imperio) - .6
7 Mareike Schucher - Despacita (by Destano / Wanderbursch II) - 7.4
8 Lisa Maria Schneider - Frederike O (by Fürstenball / Sandro Hit) - 7.3
8 Hannah Laser - Quenido (by Quantensprung / De Niro) - 7.3
8 Nicole Kirschnick - Lamantia (by Lorenzio / Florencio) - 7.3
8 Timo Kolbe - Lucky Diamond (by Like a Diamond NRW / Fürst Piccolo) - 7.3
12 Birgit Seemann -  Dünengold (by Damsey / Dormello) - 7.2
12 Anett Müller - Quantum Star (by Quaterhall / White Star) - 7.2
12 Jörn Kubelke - Emilio Cariño (by Windsor / Buddenbrock) - 7.2
15 David Leßnig -  Edina (by Escolar / Kaiser Franz) - 7.1
15 Sascha Böhnke - Lake Worth (by Livaldon / Longchamp) - 7.1
17 Anna Kahle - Deiva Nera (by Danciano / San Landino) - 6.9
17 Janna Jil Hammann - Flappersnap Deluxe (by Fürstenhof / Dancier ) - 6.9
19 Kristin Schneider - First Class (by For Romance I / His Highness) - 6.7
20 Miriam KödderitzschFrank - Flamenco (by Fürst Wilhelm / Hohenstein) - 6.3
Related Link
Eurodressage Coverage of the 2020 Bundeschampionate