Van Olst Sales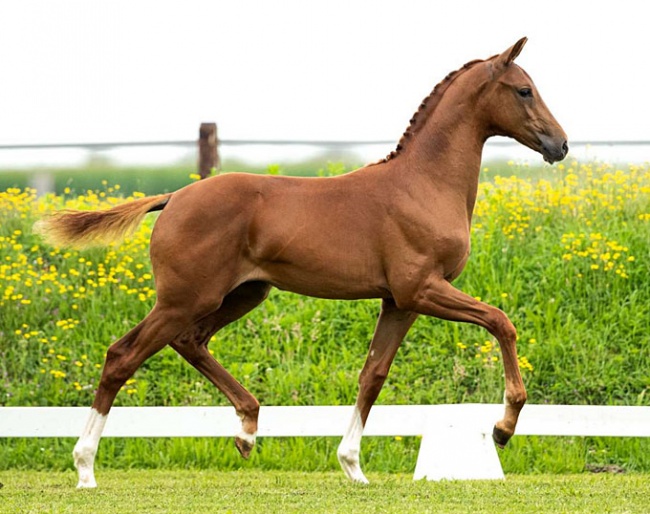 The 2020 Van Olst Sales continue with an Online Foal Auction on 3 August 2020 in which a collection of 14 handpicked colts and fillies from the Van Olst breeding programme will be offered for sale.
This is a unique opportunity to purchase an exquisitely bred foal, sired by a Van Olst stallion such as Everdale, Glamourdale, Kjento, Jayson and Lantanas, directly sourced at the breeder
Due to Covid-19, the 2020 edition of the Van Olst Sales have moved to the "online" format. After a very successful first auction of 3-year old young dressage horses, the foal auction is now a service Van Olst provides for its breeders to market their foals in an optimal way. 
Kjento Offspring Stands Out in the Collection
The offspring of KWPN stallion performance test winner Kjento (by Negro x Jazz) has been highly coveted by stallion owners and dressage horse investors. The 2020 Van Olst Sales Foal collection includes several impressive Kjento foals that could be your future star. 
Primadonna Lilly Rose JVR (by Kjento x Krack C x Fruhling)
This special filly descends from Kjento and is a dressage enthusiast's dream. She always moves with a good hind leg, can do great transitions, moves with space and is also very beautiful to see!
Her dam Cancan RVR is elite and descends from the international grand prix stallion Krack C. Granddam Mystiek v. Fruhling is also the dam of the international dressage horse Djuice Geuzenhof (s. Jazz) and 4 more horses that are Z2 dressage or higher. Many national and international sport horses come from the direct dam line.
Princeville JT (by Kjento x Lord Leatherdale x Almox Prints)
The mother line of Princeville JT is very familiar to Van Olst. Princeville's dam, Elite mare Cinderella,  received 90 points for her trot and she is the mother of the approved stallion Don Joe (by Diëgo). Her sire is Lord Leatherdale who has proven to give offspring who can act at the highest level. Grand dam Printses is preferent and descends from Almox Prints.
Princeville JT stands out with its generous model and special way of moving. Princeville JT is awarded with the D-oc predicate.
Phelicity (by Kjento x Desperado x Opan)
Phelicity is a large and very well developed foal with a great front. When she starts moving she knows how to use this front in a very good way. In movement she stands out with good technique, a lot of bending in the joints and good space.
Sire Kjento comes from a very well-tested dam of the stallion Jazz, Zoriana. This mare managed to achieve her IBOP with a record score of 90 points. Grandfather Desperado has become a fixture in the Dutch dressage team under Emmelie Scholtens.
Bidding Closes 3 August at 20h00
The Van Olst Sales Online Foal Auction starts on 31 July at 12h00 and will conclude on 3 August 2020 at 20h00.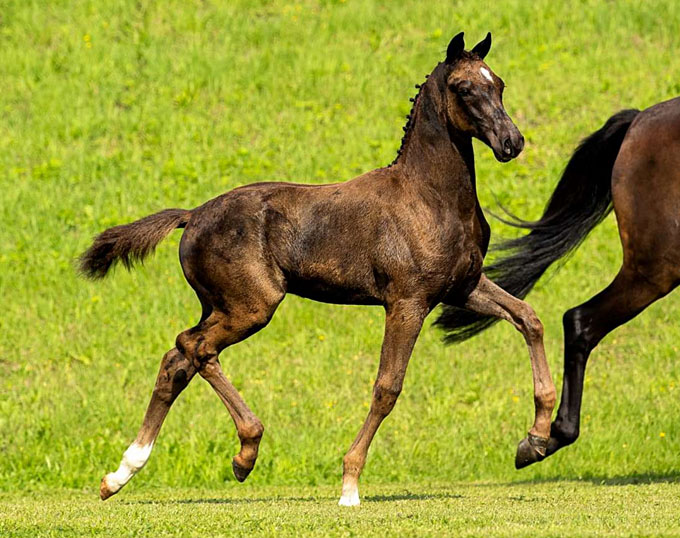 In order to bid, you need to register online. Your identity will not be revealed and the bidding is anonymous. Only the organizer has your contact information. 
The complete collection can be viewed online at https://vanolstsales.online/collectie/6 
Van Olst provides full "after-service" care for clients who have purchased a foal at this auction. Invest in a foal and make the experience completely hassle free! The possibility exists to have the foal reared at the brand new Van Baalen Farms rearing stable, where your foal will grow up in professional care. Tailor-made packages for the rearing and training of your youngsters in The Netherlands are available. 
For more information, visit https://vanolstsales.online/en/