Ekestrian Online Auction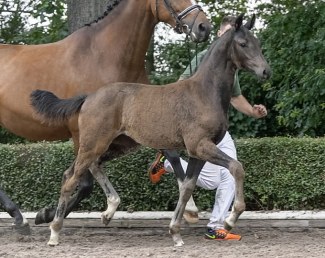 On 28 - 29 July 2020 you will have the unique opportunity to acquire your foal from the Rhenania Horses breeding farm at the 100% online auction on Ekestrian, where "The dam makes the difference!". This is the FIRST time that Rhenania will offer you all their foals of the year.
Find in this incredible catalog, no less than three fillies from the full sister of Grand Prix stallion Foundation and Glock's Flavio! Also on offer are a Vanity Fair half sister filly and her two colts, a half sister of the stallion Finnigan filly and colts who are stallion prospects!
The complete collection can be viewed here.
Ekestrian is proud to present this catalogue of 12 foals with modern origins and high-performance damlines. Also selected by our expert, Jessica Michel-Botton, each foal correspond to the best criterias of conformation, paces and rare origins for breeding.
"The dam makes the difference": Frau Pigge
Today, Ekestrian introduces you to Frau Pigge. On the catalogue, you will find her three fillies from Jameson RS2, Bonds and Vivino.
Frau Pigge is an Hanoverian Prämienstute. Frau Pigge is the full sister of Foundation, the approved stallion Hauptprämie OLDBG, HANN, MECKLBG, RHEIN, BAVAR. Foundation participated with Matthias Alexander Rath (ALL) in the 5 * Nations Cup of Falsterbo in 2019 and ranks in 2nd place. Foundation ranks in the Grand Prix 4 * with more than 71%. Foundation is the winner of the Oldenburg approval in 2012. He is the father of the approved stallion Ferrari OLD, 5-year vice world champion under the saddle of Andreas Helgstrand for Denmark. Frau Pigge is also the full sister of Crystal Friendship who is the International Small Tour winner under the saddle of the German Anabel Balkenhol with more than 72%. He was bought at the age of 4 at the Hanover auction for 200,000 euros after winning the test of Hanoverian mares and gelding horses.
Frau Pigge is the full sister of Glock's Flavio,HANN & OLDBG approved stallion. He becomes a Premium approved stallion at the Hanoverian approbation in 2014. Under the saddle of Hans Peter Minderhoud (NED) he made his debut at the Subli Cup for 5 years and took the 3rd place with more than 78%.
Frau Pigge is finally the full sister of Donna Wenita, dam of Serge Gainsbourg (2019, Secret) who was sold 150,000e to Helgstrand Dressage during the Oldenburg auction in 2019.
Dam II; Donna Doria is the sister of Queeny 44, she wins in International juniors classes under the saddle of Nicole Hang and ranks with more than 68% in International young riders under the saddle of Magdalena Danninger (GER) and Daria Marchenko (RUS). Donna Doria is the sister of Waikati dam of D'archi Diamond, who is competing in International Small Tour, Force Majeur Mn, approved stallion OLDBG Prämienhengst and Lord 1064, who is also competing in Grand Prix dressage
Dam III, Weniga is the full sister of Weniga II dam of Don't Forget, Grand Prix dressage, Dick Francis who is competing in ZZL-drs and Dawsen's Creak who competed in ZZL-drs; Weniga is the sister of Grannus II who is an approved stallion.
Focus on Foals
Lot 1 - The new star Jameson RS2 with Foundation's and Glock's Flavio's full sister
a filly beyond all expectations " Jades (Jette), always wide awake, attentive and dynamic, she knows how to inspire everyone " - Matthias Fieseler - Rhenania Horses
Lot 6 - A jewel for breeding and sport!
Filly by Bonds out of Foundation's and Crystal Friendship's full sister " Balenciaga (Bondy), physically still very youthful, she does not lack self-confidence, in her way always swinging and relaxed " - Matthias Fieseler - Rhenania Horses
Lot 11 - Beauty by the 2,01 millions Euro stallion Vivino out of Foundation's full sister " Victoria's Angel. 
the name says it all, it is a top figure and there is an unmistakable resemblance to Victoria's Secret " - Matthias Fieseler - Rhenania Horses
Find also in this incredible catalog, nothing less than the half sister of Vanity Fair, Champion of the 2018 Hanoverian Elite Mare Show in Verden, a half sister of the stallion Finnigan and colts who are stallion prospects
Easy Bidding, 100% Online
The auction will be 100% online. It will start on Tuesday, 28th of July at 11am (French time) and close on Wednesday 29th of July at 9pm (French time), lot by lot, minute by minute.
To be able to bid the day of the auction, don't forget to create your profile on Ekestrian's website:https://www.ekestrian.com/en/register
For any question about the lots or the auction, contact the Ekestrian team:
Breeders: online auctions can be for you!
The selections for 2020 auctions are always in progress! Send your complete applications for your foals, embryos, broodmares and 2 years to carodufil.ek@gmail.com (name of horse, father, mother, father of mother, age, location, reserve price, photos and videos).
Talk to you soon!
Related Links
The Wait is Over: Videos of Private Rhenania x Ekestrian Online Auction are Online
Rhenania Private Auction by Ekestrian on 28-29 July 2020