Van Olst Sales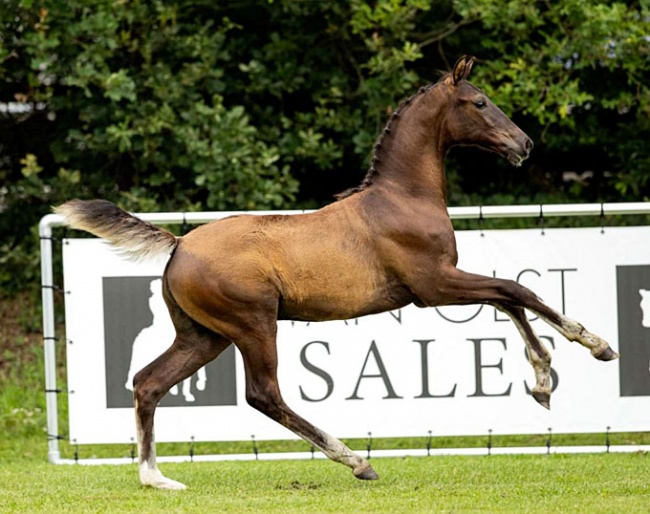 The 2020 Van Olst Sales continue with an Online Foal Auction on 3 August 2020 in which a collection of 14 handpicked colts and fillies from the Van Olst breeding programme will be offered for sale.
This is a unique opportunity to purchase an exquisitely bred foal, sired by a Van Olst stallion such as Everdale, Glamourdale, Kjento, Jayson and Lantanas, directly sourced at the breeder
Due to Covid-19, the 2020 edition of the Van Olst Sales have moved to the "online" format. After a very successful first auction of 3-year old young dressage horses, the foal auction is now a service Van Olst provides for its breeders to market their foals in an optimal way. 
Bidding Closes 3 August at 20h00
The Van Olst Sales Online Foal Auction starts on 31 July at 12h00 and will conclude on 3 August 2020 at 20h00. 
The complete collection can be viewed online at https://vanolstsales.online/collectie/6 
In order to bid, you need to register online. Your identity will not be revealed and the bidding is anonymous. Only the organizer has your contact information. 
Eye Catchers in the Collection
Glamourdale out of Orlandaise
Pippa d'Orlandaise is probaly the most eye-catching foal born this year. A filly by Glamourdale out of the unsung hero mare Orlandaise. She is the only dam in The Netherlands who has the "prestation" status in both dressage and show jumping. In dressage she even scored Double Prestation.  This proven dam in combination with Glamourdale makes Pippa d'Orlandaise incredibly interesting as a dressage prospect, but also a good investment for a future in breeding. 
Peggy Sue: Extreme Canter
Peggy Sue is a filly beautiful in model and with ground covering, powerful movements of which the canter is extremely uphill. She is a daughter of the World Young Horse Champion Glamourdale out of "ster" mare Fernanda (by Krack C x Jazz). This line produced numerous international dressage and show jumping horses, licensed stallions and auction highlights, including Edward Gal's Sisther de Jeu and O.Esther, the dame of three Grand Prix horses. 
Famous Charites Line
Glamourdale x Gribaldi x Roemer: these are wonderful names in the pedigree of the very strongly moving bay colt, Parmenides. His grand dam is the famour Roemer offspring Charites, which produced the well known Grand Prix mare Nadine (Hans Peter Minderhoud). Charites is the foundation mare for no less than 45 horses that have competed at Z-level and higher. 
Full After Service Available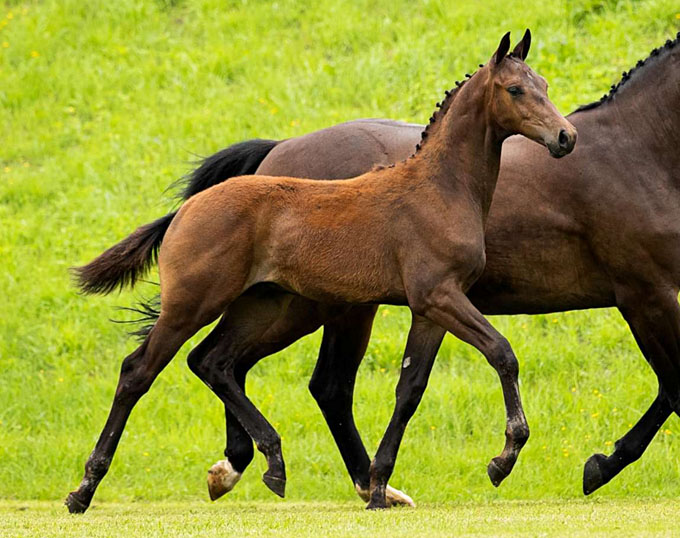 Van Olst provides full "after-service" care for clients who have purchased a foal at this auction. Invest in a foal and make the experience completely hassle free!
The possibility exists to have the foal reared at the brand new Van Baalen Farms rearing stable, where your foal will grow up in professional care. 
Van Olst can also offer a total package for each client as well as provide assistance to get your 2.5 or 3-year old prepared for the licensing or be saddle broken. Tailor-made packages for the rearing and training of your youngsters in The Netherlands are available. 
For more information, visit https://vanolstsales.online/en/