2020 Bundeschampionate Qualifier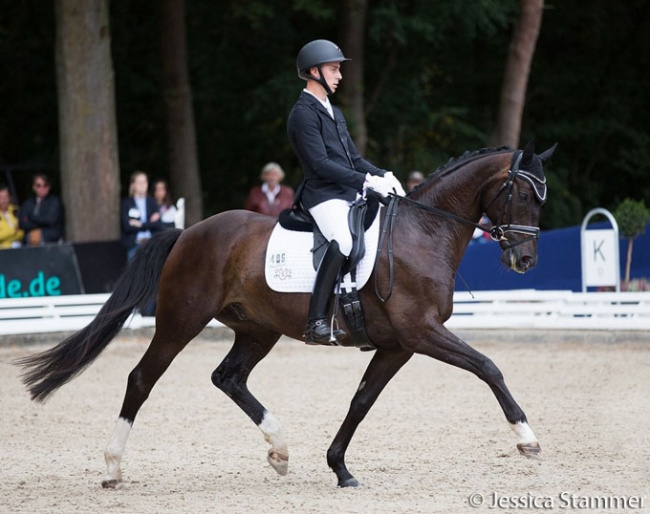 The 5-year old Bourani and the 6-year old Fine Art von Bellin were the winners of the Bundeschampionate qualification classes held at the regional show in Neustadt/Dosse on 1 July 2020.
Thirteen combinations contested the L-level dressage horse test for 5-year olds. Laura Strobel and Maja Kozain-Fleck's Trakehner bred Bourani (by Fairmont Hill x Legretto) topped the board with 8.30 points. The stallion scored 8.5 for walk and trot, 8 for canter and submission and 8.5 for general impression. Christian Flamm and Jurgen Bornhorst's Hanoverian gelding Bornhorst (by Bordeaux x Ehrenwort) were second with 8.1.. The liver chestnut gelding earned 8 for walk and trot, 8.5 for canter, 8 for submission and general impression.  
Only 5 pairs competed in the M-level dressage horse test for 6-year olds and Belgian Bart Desender won the class aboard Christian Soetebeer's Hanoveran gelding Fine Art von Bellin (by Fidertanz x De Niro). The pair scored 7.5 for walk, 8 for trot and canter, 7.5 for submission and 8 for general impression to total a winning 7.80 points, which is not enough to qualify for Warendorf. Friederike Maas and PBM Pfefferle's DPS bred Damontez (by Damon Hill x Lord Loxley) were the runners-up with 7.7. 
Photo © Jessica Stammer
Results - 2020 Bundeschampionate Qualifier - Neustadt/Dosse
5-year olds
1.  Bourani (by Fairmont Hill / Legretto) - Strobel,Laura - 8.30
2 Bornhorst (by Bordeaux (NLD) / Ehrenwort) - Flamm,Christian -  8.10
3 Dante's Stern (by Dante Weltino / Fidertanz) - Weilert,Anna -  8.00
3 Benedetto (by Bombastic / San Muscadet) - Weilert,Anna - 8.00
5 Flow Jack (by Finest / De Niro ) - Gerullis,Pia Anina - 7.40
6 Bankier (by Belantis I / Contendro) - Feistkorn,Lena - 7.10
7 Wahre Liebe GK (by Fürstenball / Sandro Hit) - Henkel,Maren - 7.00
8 Franziskuss (by Franziskus / Eskardo) - Munz,Patricia - 6.90
9 Dante's Luca (by Dante Weltino / Royal Diamond) - Struzynski,Alexandra - 6.70
10 Silence (by Sir Donnerhall I / Fidermark) - Mehl,Ann­Christin -  6.60
10 Daily Crocket (by Grey Flanell / Dancier) - Munz,Patricia - 6.60
12 154 Doro N 5 / Hann / S / Df / De Niro / Grand Cru) - Wlazik,Eylin - 5.10
Divina Bellezza (by DeLorean / Sandro Hit) - Waldmann,Lena - RET
6-year olds
1.  Fine Art von Bellin (by Fidertanz / De Niro) - Desender,Bart -  7.80
2 Damontez (by Damon Hill / Lord Loxley) - Maas,Friederike -  7.70
3 Destar (by Descolari / Quaterback) - Weilert,Anna - 7.60 
4 Dimagico (by Dimaggio / Jazz Time) - Waldmann,Lena - 7.50
5 Silberglanz (by Sir Galanto I / Swarovski) - Mencke,Libuse - 6.70
Related Link
Eurodressage Coverage of the 2020 Bundeschampionate