The Netherlands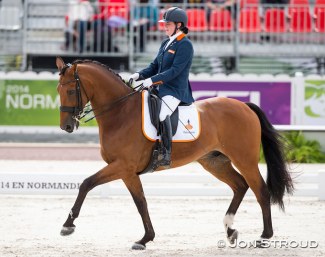 Dutch Grade III para rider Sanne Voets had to say goodbye to her former medal winning ride, Vedet PB. 
Vedet was an 18-year old Dutch warmblood gelding by Florestan out of Korenda B (by Cocktail). He was bred by P. Bijvelds
In June 2005 Voets discovered Vedet on a video on the internet as a 3-year old.
"I remember I saw a video on the internet and you immediately stole my heart," she said. "Your attitude and the powerful, confident look upon your face made me fall in love in a split second. You turned out to be way too expensive for us, but we made an offer and while I lit a candle in the Utrecht Dom, the sellers agreed on our bid."
Vedet has been a horse instrumental to the start of Voets' paralympic dressage career. 
"While I was in a dark place after medical setbacks, you pulled me through," said Sanne. "Every morning I heard you and that was what I held on to. All I wanted was to get back to the stable, to you. After a long recovery we started riding and competing again. You gave me back my trust, my spirit, my wings. We qualified for the Olympics of London and made the most amazing memories together."
The pair was 4th and 5th at the 2012 Paralympics in London. They became four time Dutch Champion. In 2013 they were European Champion in the kur and silver medallists in the individual test. They won team silver and kur gold at the 2014 World Equestrian Games in Caen. At the 2015 European Para Championships, they were twice fourth. 
"He understood what was going to happen as soon as I started to braid his mane," said Voets. " Every single time we entered an arena together, I felt how he turned it up a notch and gave it all he had."
In 2016 Voets had two horses in the running for the Paralympics in Rio and the Dutch selectors preferred Demantur over Vedet. The horse's last international was the CPEDI Roosendaal in May 2016 and his last national show was in the spring of 2017. The horse spent his retirement at Voets' stable. 
A few days ago, Vedet came from the field lame after what must have been a freak accident. It was decided in the best interest of the horse to put him to sleep. 
"We had a special connection," Voets told Eurodressage. "I waited until the vet came and he put his head in my lap, I felt what he meant. It was enough. I'm incredibly grateful for what he has given me in those fifteen years we spent together and that I was able to give him a worthy goodbye."
Photo © Jon Stroud
Related Links
Sanne Voets to Premier New Freestyle at 2020 CDI-W 's Hertogenbosch
Sanne Voets, Dutch Equestrian of the Year 2016