Dutch Dressage News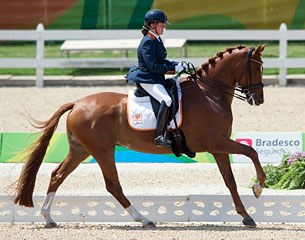 Paralympic gold medal winner Sanne Voets has been named Dutch Equestrian of the Year 2016 based on her golden achievements at the 2016 Rio Olympics. This is the first time that a paralympian claimed Dutch top honour following the absence of medals in the three Olympic disciplines.
The title of "Dutch Equestrian of the Year" is determined by the board members of the CDI/CSI 's Hertogenbosch and this year is was decided by Anky van Grunsven, Ed van den Bent, Andries van den Berg and Henk Rottinghuis. The first Dutch Equestrian of the Year was named in 1966 but Sanne Voets is the first first paralympian to be bestowed with the honour. 
The 30-year old Sanne Voets lives in Berghem, The Netherlands, and won kur gold at the 2016 Rio Paralympics aboard Demantur.  The other nominees for the title were carriage drivers Ijsbrand Chardon and the Dutch carriage driving team including Chardon, Koos de Ronde and Theo Timmerman.
The 2016 Olympics were a missed opportunity for the Dutch with none of the riders in any of three Olympic disciplines able to achieve a team or individual medal.
Voets will be honoured during the 2017 CDI-W 's Hertogenbosch on 9 - 12 March 2017. 
Related Links
Cathrine Dufour Wins Olympic Hope Award at Sports 2016 Gala
Six Nations Make Olympic and Paralympic Debuts at Rio 2016 Equestrian Events
Michele George to Compete Kingsley Lucky Dance as Rio Paralympic Hopeful
CDI *** One Day, Paralympics the Next