Mariakalnok Online Auction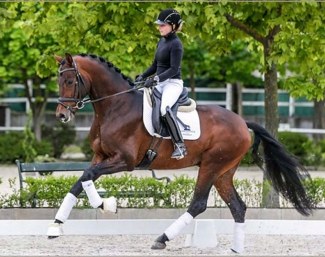 This is your last chance to bid on the horses that make up the collection of the first Mariakalnok Online Auction of Elite Riding Horses ever hosted in Hungary. The auction boasts a stunning collection of proven dressage talent and diamonds in the rough and concludes today, 31 May 2020. Make your bid now!
Visit the collection at www.dressurzentrum.auction
Secure Your Schoolmaster or Future Star Now!
The auction collection includes 16 dressage horses and 1 sport pony.  Talented youngsters schooling at different training levels and proven sport horses that have competed internationally up to small tour level, the collection meets the demands of professionals and amateurs alike. 
During the week, the Mariakalnok team has also posted videos of the horses in daily training, showing them being handled in their daily environment, in the stable, being groomed and tacked as well as under saddle. 
One of the many highlights in the auction is catalog nr 1, Francois (by Franziskus x Brentano II x Weltmeyer). This 6-year old Hanoverian is a licensed breeding stallion. He has proven his talent and potential and has been the double, consecutive Hungarian Young Horse Champion in 2018 and 2019. 
One pony brightens the collection and it is no other than the 12-year old palomino Macciato (by The Braes My Mobility x Bogenschutze). This gorgeous gelding has competed at two European Pony Championships and was a triple consecutive Hungarian Pony Champion. 
Vivaball is a 4-year old Oldenburg stallion by Vivaldi x Fürstenball and is the epitome of today's modern dressage horse in every way. 
The 4-year old Fürsten Hit (by Fürstenball x Sandro Hit x Donnerhall) is a Hanoverian bred stallion who was named the winner of the 2019 Hungarian Sport Horse Stallion Performance Test. He immediately won the first dressage competition he was entered in in March.
The entire collection can be viewed here.
Bid Now!
All horses were vetted by Dr. Attila Toth and their vet reports can be reviewed upon request.
The bidding concludes today on 31 May 2020. The bid process will phase out with catalog nr 1 on 15h00, followed by cat. nr 2 at 15.05h, etc. 
With a click of the mouse, you can then secure your dream horse from the comfort of your own home. To bid, please register here. No one will publicly know your data or your name when bidding. Only the organizer has access to your data in order to be able to contact you when the bid is accepted.
For more information, please contact:
or visit: www.dressurzentrum.auction
Photos © Anett Somogyvári