Hit & Run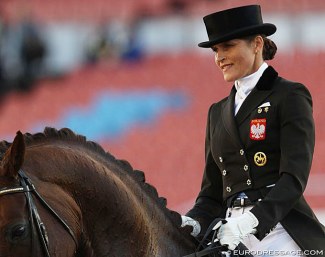 In corona times we are all ordered to stay at home, self quarantine, and do social distancing. With more time on your hands to spend online, Eurodressage launches a "Hit & Run" interview series so that you get to know the world's most famous dressage riders and personalities more closely. 
Polish Grand Prix rider Katarzyna Milczarek first represented Poland at the 2005 European Dressage Championships with Lecantos, followed by the 2006 World Equestrian Games in Aachen. Her next international Grand Prix horses were Rugby and Ekwador. With the grey stallion Ekwador she went to the 2009, 2011 and 2013 European Championships, 2010, 2011 and 2012 World Cup Finals, 2010 World Equestrian Games and 2012 Olympic Games. Aboard Dzeko she rode the 2015 and 2017 European Championships. She is a multiple Polish Grand Prix Champion and lives with her partner Jarek and dressage riding son, Tomasz Jasinski, in Poland, where she runs a training and sales facility. 
Hit & Run - Katarzyna Milczarek
What is your earliest memory? 
When you are over 50 you're not fully trusting your memory anymore :
Which person alive do you admire the most and why?
I cannot name just one, there are so many people that are better and wiser and so on... and worth admiring
When were you the happiest?
Working my horses at my beautiful place
What is your biggest fear?
Fear of heights
What was your first thought today?
"Oh - it is Friday again,  the time's passing so fast and yet boring during these (corona)days"
What is your most annoying character trait?
They say I'm quarrelsome, but I don't understand why
Which trait do you dislike the most in other people?
Pettiness
What is your dearest possession?
I've learned to let the possessions come and go
If you look into the future, what do you see?
Hope
What makes you unhappy?
I try to think positively, unhappiness or worries don't create action, they freeze you so you are unable to think clearly
What is the love of your life?
My family and horses
What was the best choice you ever took in life?
To move from Warsaw and buy a farm 500 km away from the family nest
What's your guilty pleasure?
sometimes I'm too greedy a gourmand
What do you owe your parents?
Everything that is best in me I got from them
Who can sit next to you at your dream dinner table?
it would be interesting to dine with James Fillis
What was the worst job you ever did?
lab practice with rats when I was a university student
What was your biggest disappointment in life?
Fortunately can't name any serious ones
What would you change if you can go back into the past?
I try to regret as little as I can and accept the results of my decisions with a welcoming heart, it's better than being sad over something you cannot change anymore
Name one thing that would improve your quality of life?
a mild climate - possibly always 20° c and sun
What is your biggest achievement?
21 Polish Championships medals, 2 times olympic qualifications; Barcelona individual (but no start) and London (composite team Poland)
What is the most important life lesson you have learnt?
To gain experience with all you are learning
Where would you like to be right now? 
It's not bad where I am now
What's your favourite scent?
it's definitely the seasonal variety of my garden flowers' scent; so currently - lilies of the valley
Which character would you dress up in for Halloween?
Baba Yaga witch
To whom would you like to say sorry?
to my students for my malicious allusions
What does love feel like for you?
feels like a roller coaster
When are you most relaxed?
On my Schumann's 3D platform
What super power would you like to have?
to have the ability to fly, and have control from above
When did you last cry, and why?
I don't know why I cry with most melodramas, but it helps when you read somewhere that people who cry watching movies develop more empathy
When were you closest to death?
Who knows? maybe some near-misses while driving
How do you want to be remembered?
I would like to set an equalitt level for future sportsmen
Related Links
Polish Grand Prix Champion Dzeko Sold to the U.S.A
Zoll, Von Mauberg, Terlecka, Milczarek Win 2019 Polish Dressage Championships
Bierieznow, Pachulska, Lesner, Milczarek Win 2018 Polish Dressage Championships
Cybula, Kowalska, Haber, Milczarek Win 2017 Polish Dressage Championships
Polish Team Selected for 2015 European Dressage Championships
Milczarek and Prunthaller Strike Big Tour Gold at 2015 CDI Fot