Great Britain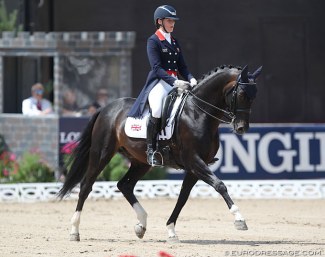 British junior rider Maddy Frewin has decided to pursue a professional career in horses and to mark that transition, she has adopted a new last name as well as set her goals for the future. 
17-year old Maddy Frewin was previously known as Maddy Whelan and has represented Great Britain three times at European Youth Riders Championships. 
British Team Rider
Frewin began her career as an international pony rider in 2016 and was straight away selected on the British team with her own Ode to Shannon (by Washington Postman) for the 2016 European Pony Championships in Vilhelmsborg. They finished 9th in the Kur to Music Finals. 
In 2017 she continued on ponies but also began riding horses at junior level. With Peta Claridge's Oldenburg gelding Monsieur Pomerol (by Riccione x Donnerhall) she achieved top placings at CDI's in Keysoe, Saumur and Roosendaal to get selected on the British team for the 2017 European Junior Riders Championships. Unfortunately the pair got eliminated in the team test when "Jammy" took a few uneven steps. After the Europeans, Maddy and Monsieur Pomerol competed at one more international, the 2018 CDI Keysoe. 
In 2018 Maddy was offered the ride on Sandy Phillips' Oldenburg mare Diamond Design (by Diamond Hit out of British 2006 WEG team horse Lara (by Lanciano)) and she campaigned her at the CDI Keysoe to got another swift British team selection for the 2018 European Junior Riders Championships in Fontainebleau, where they were 51st in the individual test. 
2019, A Year of Change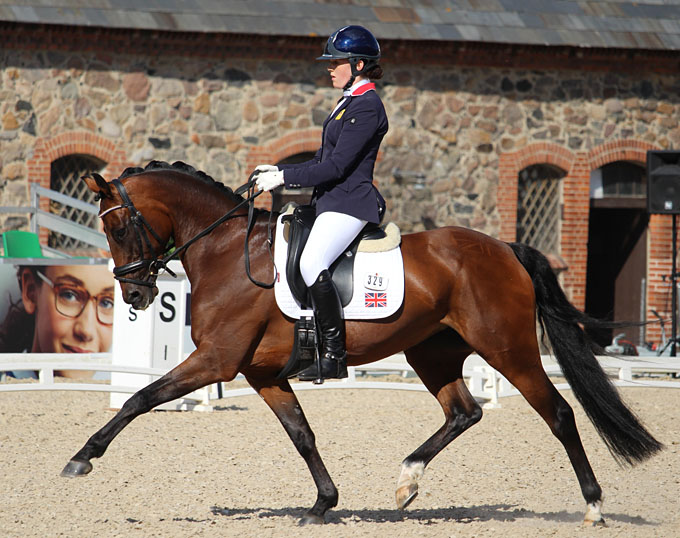 2019 was a year of change for Maddy.  Whelan dropped her father's surname and took on her mom's maiden name Frewin in the spring of 2019. Horses Monsieur Pomerol and Diamond Design left the yard and Woodlander Rhythm 'n Blues came instead.
"I chose to change my name at 16 following my parents' divorce," Maddy told Eurodressage. "Monsieur Pomerol retired at the age of 19, he is now happily munching grass in a field with his owner. I decided that I wouldn't ride Diamond Design last year as I was taking GCSE exams. He was kept with his owner, Sandy Phillips, I was unable to travel there 4 times a week to ride him.
Maddy began riding a few young horses in her 2019 exam year, but also Christine Kirk's British warmblood Woodlander Rhythm 'n Blues (by Woodlander Rockster x Londonderry) came along
"Thankfully I was offered the ride on Woodlander Rhythm n Blues in February 2019, just in time to build our relationship and we have been to 3 internationals together taking a recent win at Keysoe CDI in the team and individual test," said Maddy.
Rhythm 'n Blues started his international career as an eventer under Timothy Cheffings and Abbie Hughes in 2015. Frewin introduced him to junior dressage, making their debut at the CDI Exloo in June 2019 but missing out on team selection for a fourth consecutive Europeans. 
Career in Horses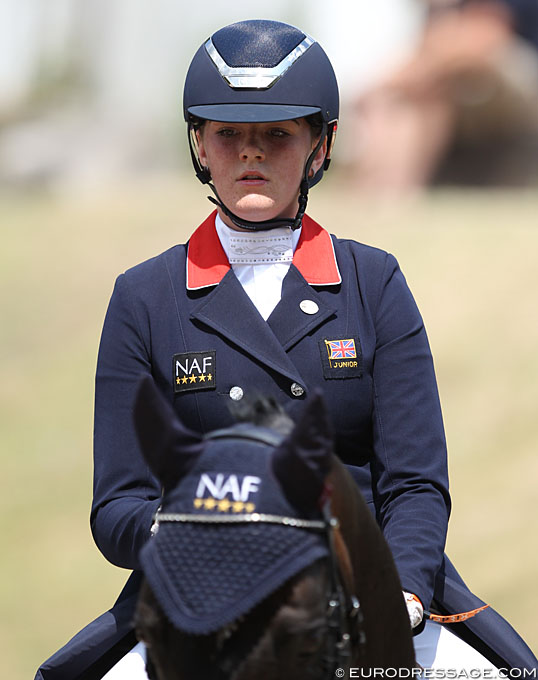 Frewin, who trains with Jackie Beaven, has now decided on a career in horses.
"'ve now got my own yard to produce and train horses, I still have Rhythm and Blues and hope to campaign him whenever possible," she told Eurodressage. "I also have some up and coming younger that I hope to produce up the levels."
Photos © Astrid Appels - private
Related Links
British Youth Squads for 2020 Announced
Portugal Writes History at 2019 CDIO Hickstead, Sweden Wins 2019 FEI Nations Cup Series
Emma Hindle Indomitable in Big Tour at 2019 CDI Keysoe
British Team Short List for 2018 European Junior/Young Riders Championships
Kirby, Whelan, Smith Stand Out at the 2017 CDN Addington
British Team Selected for 2016 European Pony Championships
All New British Pony Team Finishes Fourth at 2016 European Pony Championships