2019 CDIO Hickstead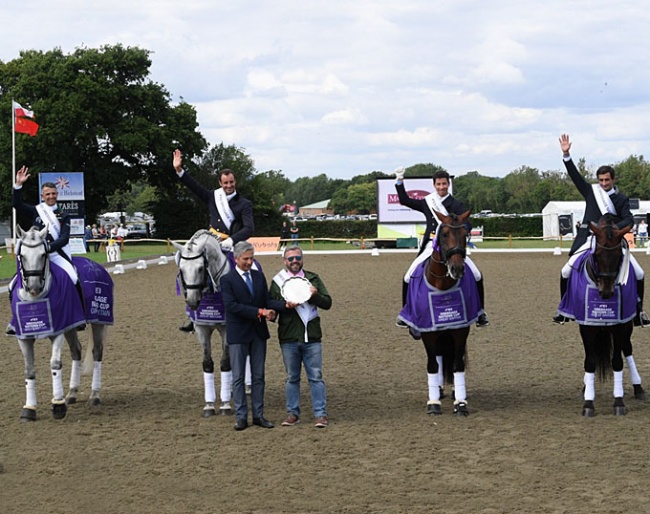 Four days of international dressage competition took place in scorching hot temperatures at the 2019 CDIO Hickstead in Great Britain on 25 - 28 July 2019. British Dressage provided the following detailed write-up of the event. 
Day One - Scorching Heat 
It's been nothing short of scorching on day one at this year's Hickstead International. With temperatures forecasted break the highest ever recorded, plenty of provision was made on the show ground to keep horses, riders, officials and supporters well watered and cool and everyone rode appropriately for the conditions.
The FEI Pony Team test which got the action underway this morning and two of the Dutch riders lead the way. Nina Van Bakel was the only rider to break the 70% barrier with Mastro's Night and Day to claim the class on 70.14%. Compatriot Syrah van de Rovaart was just behind on 69.28% with Donna Daria 8 while the Best Brit accolade went to South Yorkshire rider Mollie Witham with DZL Royal Sunrise with a score of 68.42%.
Germany lead the way in the Junior ranks with Emely van Loon and FBW Depereaux putting up a stylish performance to go 72.42% but Clare Hole with Rachel Murray's Winnetou G.E.P. gave them a close run with 70.65% for second. Maddy Frewin completed the podium for Britain with Christine Kirk's Woodlander Rhythm n Blues, just shy of 70% on 69.78%.
In the Young Rider section there was an emphatic win for Jasmine Harding-Heitzman with her own Valeron sired Deco with a great 68.18%. Just behind were Angus Corrie-Dean and Tiny Tempur on 67.5% and Norwegian visitor Kaja Tharaldsen Olsen was just .45% adrift in third with Solhoej's Lord Falcor.
A sizable Prix St Georges got the CDI Small Tour under way and it was a familiar name at the top of the leaderboard. Luis Principe and R.S. Raphael are enjoying a great run of form having taken the Inter I and Freestyle at Hartpury earlier this month and today they showed that winning way with a convincing victory scoring 73.47%, the highest mark of the day. Dutch rider Lynne Maas, who sported a stunning hat/tail coat combo featuring rose gold accents, occupied second with Fantastiqe on 72% even. Katie Bailey made sure the Union flag appeared on the podium with a polished performance on Leslie Forlee's Boccelli 6 to score 71.23%.
Dutch based Aussie Warwick McLean was the winner in the first test of the Middle Tour competition, the Inter A, with Hendrix II on 67.73. In her first international competition for over four years, Pammy Hutton was a popular second with her loyal partner Belmondo on 66.82% and she was also fourth with Armagnac – quite a day for a rider in her 'fifth decade' of competing. Alice Oppenheimer was third with Caroline Dibden's impressive dun Headmore Diffinity; a mistake in the twos just held the score to 66.32% in his first start at the level.
Day Two - CDIO Nations Cup Underway
After yesterday's competitive Prix St Georges, it was Jess Dunn who triumphed today in the Inter I with Jennifer Whittaker's Alicante Valley. Drawn early at fifth to go at 8:30 this morning, Jess put together a polished test with 'Chello' to set the early pace 73.23% in their sixth international of 2019 together. They went in the peak of the heat yesterday but thankfully it clouded over to give a bit of relief. Jess admitted to being a bit worried what yesterday may have taken out of the big moving Caricello 14 year old but she needn't have as, in her words, 'he came out fresh as a daisy'.
Her biggest threat was yesterday's winner, Luis Principe but R.S. Raphael was a bit on the spooky side today to pin their marks back to 71.42%, normally enough to win many a class, but today it was Jess and Chello's day. "He was awesome!" proudly declared Jess who's had a remarkable season internationally so far. "I struggle with his power at times so I've made a few changes at home. He was wild at Hartpury…and I heard a comment on the livestream which said he was a bit fat so he's been on a strict diet. I've forced myself to work more on the trot too as I admit I avoided it. But 101 transitions later and we're improving! He's been super this week, really on it, and I'm dead proud of him today."
In the u21 sections it was Individual test day. In the Young Rider ranks it was a rise from the third of yesterday to a win today for Norway's Kaja Tharaldsen Olsen with Solhoej's Lord Falcor on 68.67% and Ruth Hole was the best Brit in second with Easy VZ, who events for fun, with 67.69%. Emely van Loon continued her winning streak for Germany in the Juniors with FBW Despereaux with all three judges declaring her the winner on an overall score of 71.37%. Jessie Kriby was second and best of the home side with Belle Amie on 69.6%. Olivia Whitelaw topped the podium for Britain with Brouwershavens's Viceroy on 69.14% in the Pony ranks.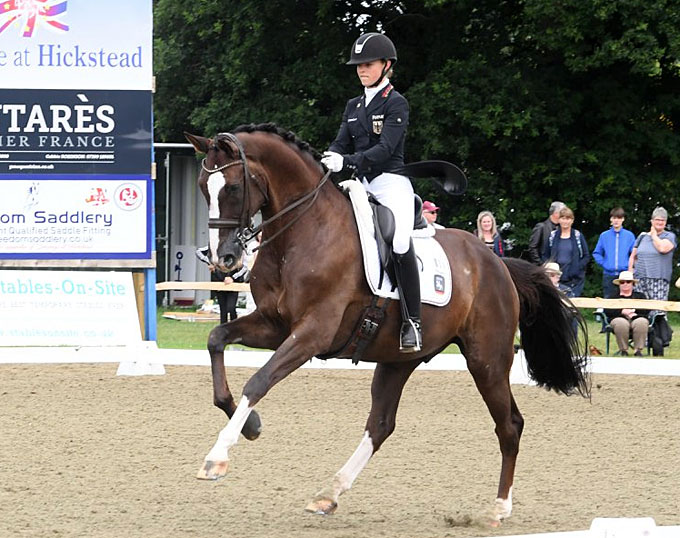 The CDI3* got underway with a strong Grand Prix class which was hard to call a favourite for the win from the long list of entries. Vicky Thompson Winfield set the early pace with the ever popular Mango Jacaro, owned by Samantha Francis, on a strong 68.89% with some fabulous piaffe/passage. The next contender was Laura Tomlinson with the powerful black Rhodium sired stallion Duval's Capri Sonne Jr. 'Cas' as Laura calls him at home put up an impressive performance at Hartpury but a lapse in concentration marred a high score but today, with the help of trainer Klaus Balkenhol, he looked focussed and excelled in what went wrong at Hartpury but it was the tempi changes which eluded him today. Such is his the power of each change that he just doesn't have enough room. Laura was brave as ever to ride a powerful extended canter but again, there was so much power, he changed before asked as she couldn't collect in time. The quality was there to merit 70.15% so when it all comes right for the duo, the scores will be impressive.
However, the top honours went to a rider who earned her senior flag here at Hickstead exactly a year ago and what a 12 months it's been for the show rider turned dressage star. Fresh from a crowd pleasing performance at Aachen last weekend, Louise Bell and Tonya Wood's Into the Blue just oozed quality today – in fact if anything, 'Dynamo' was a bit on his toes – cheeky really. It was relatively mistake free, just a few unrequired one time changes at the end of the line of twos were the only blips. The final aggregate score was 70.3% and it wasn't a unanimous win – two of the five judges had the duo first and others ranged down to fifth.
It will take a while for her first international win to sink in; after hearing the final result, Louise chatted and told us; "He was totally full of energy in the warm up which was NOT what I expected after Aachen. I was extremely lucky to have Carl [Hester] here to help me warm up this morning and we kept him very entertained! He gave me exercises to help with the flying changes as I had trouble in Aachen including changes on a circle. It helped as they felt great but in the two I had nine perfect ones and then he took matters into his own hands and slipped in a couple ones! His piaffe and passage felt epic today! He's certainly not the finished article either which is so exciting. We're get the reward for what he does well and the rest we'll carry on working on. It just makes me so happy to have a horse so happy in his work!"
Amazing to think the bubbly roan gelding last won here as a six year old when he and Louise galloped round the main ring iconic Hicstead jumping arena as supreme working hunter champions. What a journey they've had in seven years.
The finale of the FEI Dressage Nations Cup series started with the Grand Prix and on the eve of selection, new mum Lara Butler made a last minute case for her inclusion in the Rotterdam team with a win with the Bechtolsheimer's Rubin al Asad. They rode a strong 'clear round' and 'Rufus' belied his 17 years, looking as fresh as ever. 73.76% was the score with the judges largely agreeing on his score although there were two 75% plus marks amongst the five. Hayley Watson-Greaves and Rubins Nite were next best Brits in fifth on 71.17%. 'Squeaks' looked a picture as ever today but he had his mind set on a gremlin he decided was living in the K marker which caused him to miss a one time change on the diagonal headed to K which was followed by a loss of rhythm at the end of the line. Ever the professional, Hayley got him back and rode her final extended trot towards the dreaded K marker on full power with Squeaks showing his trademark trot with controlled power to everyone's delight. 
Sara Gallop was the team pathfinder with Bandreo and they showed some great work today but he was another feeling fresh for some momentary concentration lapses for some errors. They posted 68.5% which left them ninth overall. Emile Faurie and Hof Kasselmann's Café's Caletta are continuing to develop their partnership and the mare is really developing into a strong Grand Prix contenders but today wasn't their top performance. There was some inconsistencies in the piaffe and an unfortunate loss of canter in the first pirouette which then impacted the centre line flying change. But the changes are much stronger and her work more secure, 65.67% was their final score.
The strongest showing of the day was from the Portugese team with all four riders partnering Lusitanos. Lara may have won but their counting riders finished in second, third and seventh which leaves them on a score of 12 and leaders overnight. Britain is second 15, the Netherlands third with 23 and Ireland are fourth with 30. So it's close at the top with the Grand Prix Special to come tomorrow. Emile and Sara are our nominated riders with Lara and Hayley in the Freestyle on Sunday.
After the prize giving Lara said; "Finally…a mistake free test! He was super but he still tests me. I seem to leave it to the last minute to peak as it was all right today. He just keeps carrying on getting better and better but with that extra sparkle. It's great to do well at a 'home' international and even though it only my third show since coming back, our average is better this year. I feel the break gave me time to refresh and refocus which has made me more determined than ever."
Day Three - Lusitanos Lead the Way
It was Grand Prix Special day for the FEI Nations Cup competitors and a one-two for the Portugese further extended their lead ahead over the home team in the standings. Joao Miguel Torrao and Coudelaria Monte Velho's Equador have won a legion of fans in the six weeks they've been based in Britain with Carl Hester and today they won their first Grand Prix level competition and with a personal best score of 75.78% to boot when last to go. Compatriot Durate Nogueira was second some four marks adrift on Beirao on 72.85%. It was a picture in the prize giving with the two bay Lusitano stallions proudly representing their breed and country.
26 year old João was emotional after his win as he's trained the horse for the last five years and they've worked up the grades together. They've been impressive in their first year at Grand Prix and, on their first Nations Cup appearance for their country, today they cemented their credentials for a place on the Portuguese team for Rotterdam.
"It's all been a dream come true. I always said one day I'd score 75% in a Grand Prix and today I've done it. Equador is amazing, he always tries is hardest and today I had a really good feeling. His frame was good and he was in front of my leg – a small mistake in the half pass was our only problem. He has such a kind heart and is such a fighter; he's frightened of nothing. He makes me emotional as he's my teacher – I've learned everything with him, he's amazing."
The Brits were competitive but off the pace a little today. Sara Gallop rode a strong test with Bandreo who's ever improving – today's piaffe passage tour and final centre line was one of the best we've seen from 'Chippy' for a 68.12%. Emile Faurie was first to go with Hof Kasselmann's Café's Caletta and they had a tricky ride. Their start was delayed by an AWOL when they were ready to start and then a restless crowd caused the mare to spook during her extended walk so the score 66.8%. So our Freestyle riders have a bit to do tomorrow to take the top honours but Hayley and Lara are two very capable riders sat on two of the best dancing horses around.
British based Finnish rider Mikaela Soratie showed that no matter how low things may feel, never give up. Just weeks ago she finished on 60% at Hartpury and didn't qualify for the Special, today she backed up her Grand Prix fourth place from yesterday with a close win in the CDI3* Grand Prix Special riding her own Dacor on 68.51%. Just 0.02% behind was Emile Faurie with Niina Nilosaari's Quentano 2 who rode a test full of promise on the impressive nine year old contesting his first Special. Emile has high hopes for him. "He's world class but just needs more competition exposure," he said.
A job with Katja Kustila lured Mikaela to British shores after a two year stint in Germany and she now makes West Sussex her home. She's had Dacor since he was four and this is their first year at Grand Prix. She was delighted with today's performance, her first international win; "The Special really suits him as there's plenty of extended trot which is his highlight. I've really struggled with him this season, it's been up and down but it was great today to show what I know he can do. I only hope we can keep this level of work and the scores!"
Mikaela trains with Gareth Hughes and is currently longlisted for the Finnish team for a place at the Rotterdam Euros. She and Dacor travel to the Netherlands this week for team training and will shortly find out their selection fate. The win today will certainly have brought that coveted team place a step closer.
Almost exactly a year to the day Nottinghamshire's Olivia Whitelaw once again found herself in the winner's position in the CDIP Freestyle class. Last year it was on her International debut with Brouwershaves's Viceroy but a year on and the duo have progressed leaps and bounds to the point they were long listed for this year's Team NAF Pony squad for the Europeans. Sadly they weren't selected as one of the four but today's win, on the back of victory yesterday in the Individual test, will go some way as a consolation.
Olivia has had the Dutch bred 'Leo' since he was five and has taken him from a novice right up to producing him as an international winner with help from trainers Andrew Fletcher, Daryl Thickitt and Clive Halsall. Their performance was magical today with great music which grabs the attention and a brave start in walk to the spine tingling theme of the hit TV show Victoria. A mistake strike off into canter instead of trot was quickly left behind them for a polished test to score 71.61%.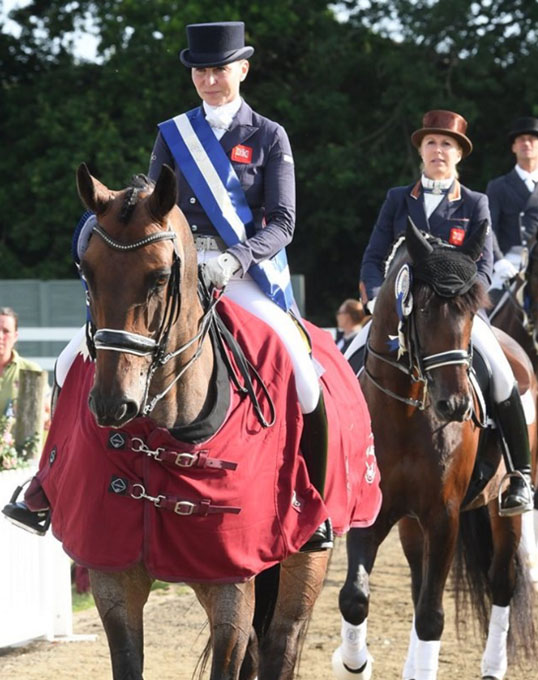 Afterwards, Olivia said; "He has a bit heart and tries so hard! Julie Geraghty from Equivisions did the music but I wanted to do my own floorplan. My friend Maddie Frewin helped me. We wanted something regal to match Leo and I thought it'd be different to start in walk and we enter to the theme from Victoria my trot music is Road to Victory and canter is Empire of Angels.
Sadly, this is their final year together.  Olivia has had a tricky summer combining her training with Leo and taking her GCSEs as she has her sights firmly set on becoming a doctor in the Army. This is one focused and determined young lady so there's no doubting she'll achieve just that.
It was all change on the podium today from yesterday's Inter A with three new names rising to the top in the Inter B. It was a combination which have been together for a while now and have been one of the most consistent at small tour both nationally and internationally who shone through. Nathalie Kayal and Homerun, or Jojo as he's known, are using the Medium Tour classes to their best advantage as they're climbing the ladder together and today they posted 68% to take the win. "It's a bit like the blind leading the blind at the moment!" she exclaimed. "At Small Tour we're established and I can anticipate and quickly correct things in the test, at this level it's still new. In the Inter A I was pleased with his way of going but there were too many mistakes. Today, my normal International groom Casey Marsh didn't make it for the test – she was stuck in traffic but gave me a good piece of advice over the phone, 'don't ride for a nine, just aim for correct' and I did just that. It was one of those tests where as a rider you come out and say 'I don't care what the mark is', I knew it was the best we could do today," she explained.
Jess Dunn crowned a great week, and amazing season overall, with a win in the Inter I Freestyle with Jennifer Whitaker's Alicante Valley. Things didn't start well when she raised her arm to start her music and someone else's tunes bellowed from the tannoy. A momentary silence from the commentary box and then they tried again…but that music was for the previous competitor. More silence…but eventually the CD played and Jess and Chello were underway to their uplifting Greatest Showman music. It was a demanding and technical floorplan with plenty of opportunity to show all the compulsory moves and the judges. It was well rewarded by the judges with 77.4% which overtook Alice Oppenheimer and Headmore Davina who'd previously lead on 74.32%. Duthc rider Lynne Maas, who's impressed all week, snuck into second when last to go with Fantastiqe on 76.43%.
Jess told us; "The start was slightly annoying…I've never had that happen before. One of my CDs is scratched so I don't have a backup and I just hoped it would play. It didn't bother us; I'm ready as soon as I enter the white boards. I was really pleased today as it was the first time I felt we were exactly in the right place with the music. We've been working toward this all year and he's proved himself now. He'll have a well-earned break now and then it's time to press on to Big Tour."
The CDIU25 got underway this afternoon with the Inter II for the five all female British line up. It was Gloucestershire rider Amy Schiessel, who runs her own yard in Cirencester, who took the spoils with the evergreen Mr Mercury in a tight battle on 66.97%. A fraction behind was Megan Ingham on Coral Ingham's Wanadoo on 66.55% with Ellie Mccarthy and Belafonte just .35% adrift in third on 66.2%. Amy and Mr Mercury have been together for 12 years so know each other well. He started as mum Gina's hunter but the eye catching skewbald (Mars x Demonstrator) then went to Amy and she's taken him from novice up to Grand Prix including representing their country at the 2016 Young Rider European Championships. "We had a slight saddle malfunction in the warm up and he also felt a bit fresh today but I'd rather have him forward really. There were plenty of good parts with some mistakes but I'm thrilled – I wasn't expecting it! It's our first international under 25 win so really special."
Day Four - Portugal Makes History by Winning FEI Nations Cup Leg
Victory in the CDIO FEI Dressage Nations Cup final leg was emphatically claimed by the all-male quartet each riding Lusitano stallion today when their two Freestyle riders got the necessary results today at Hickstead. Rodrigo Torres posted 74.62% with Fogoso to a grand Pink Floyd routine but the class victory went to Britain. It was Lara Butler who posted a career best with the Bechtolsheimer's Rubin Al Asad of 78.26% who took the spoils. 
'Rufus' may be 17 this year but the enforced break while Lara took a few weeks out when baby Jack arrived has invigorated both of them and he looked better than ever. Their trademark Dire Straits routine was executed perfectly – mistake free and some great passage and truly impressive canter pirouettes. "He was awesome!" declared Lara. "The power was there, the concentration was there and he's the best condition wise I've ever had him. He tried so hard and today we really showed our partnership."
Hayley Watson-Greaves completed the podium with a spritely Rubins Nite. They didn't get off to the best start when their music didn't start and then 'Squeaks' had a shy at a speaker which put them off their first tricky line but then the gorgeous black gelding switch off to the surroundings and on to his pilot and the marks began to flow for a final score of 73.24%. "Once I got him back there was some really good quality work and I was happy with the mark. That's just him…that's just horses." 
This is the first season for some time that Hayley has competed him in acoustic ears following an incident at Doha which saw them miss a few months and today maybe was a case to try them again. "I'm keeping the ears off. He has much more about him without them, I just need to learn how to ride him without," she explained.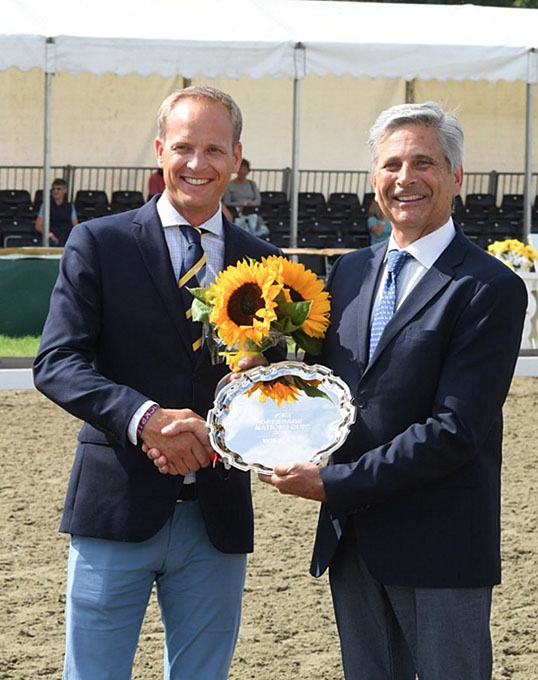 So after the three stages, Portugal reigned supreme on a score of 17, Britain finished on an overall score of 23, the Netherlands completed the podium on 36 while Ireland scored 51. With this final result in, Sweden are the overall winners of the series.
The day ended on a massive high with a popular victory for Louise Bell in the CDI3* Grand Prix Freestyle. If her inaugural win on Friday wasn't enough emotion, today she scored a new PB with the eternally cheeky Into the Blue of 76.05% much to the delight of the crowd and supporters. They danced to their now trademark country routine featuring Sweet Home Alabama and Desposito and it was the cleanest performance of the floor plan so far.
"He's really busy – so very saucy normally – but today I went in and he almost felt tired so I thought to myself, let's just go through it and enjoy it, we know exactly what we're doing. I just wanted to ride him nicely and the judges obviously liked what they saw. He gave me such a harmonious feel. I'm so proud; he's got to be the happiest horse in dressage!" she exclaimed. 
Amy Schiessel and Mr Mercury completed an U25 CDI double by taking today's Grand Prix by a two percent margin and showed that age is no barrier with the 18 year old looking fresh as a daisy to score 67.38%. "It was pretty much mistake free and his changes were good. The sun came out just as we were about to go in and it got hot but I couldn't have asked for more. He'll have a little break now and I'm hoping for a Nationals invite but he'll resume his grandpa duties on the yard to my three year olds!" she joked.
Kaja Tharaldsen Olsen was another rider to top a great week with a win in the Freestyle, this time in the Young Rider division for Norway. Riding Solhoej's Lord Falcor, she posted 70.34% to take the spoils in her first ever CDI. The duo have been together for three and a half years and have moved up the levels together before travelling to Britain to spend time with the Eilbergs training.
Kaja said; "It's been an amazing week! It's my first international and the atmosphere here is really good. My horse has been fresh and had great energy – he's been so fun to ride. This year he's really grown up so next year is exciting." Kaja and Falcor will journey home to Norway for their National Championships before coming back to resume her training with the Eilbergs.
German 17-year old Emely Van Loon made it a Junior hat-trick with a resounding win the CDIJ Freestyle on her first trip to British shores. Riding FBW Desperaux, a ten year old the Van Loon family have owned from a two and half year old, Emely posted her third 70% plus score of the week when last to go. The judges all had her to win with a final score of 75.96%, a new personal best for the duo.
Emely said; "He did a super good job today! He has a very good trot and we focus on that in my floorplan and also his extended canter is like flying! I was happy with my test and I expected a good score."
The duo have been part of a winning German Junior Nations Cup team but this week is her first individual international win – and she's achieved three in one week! Emily and Deseraux are considering competing at Exloo this seadson before the move up to Young Riders next year and the young talent has progressing on to the German u25 squad in her sights. Emely is hoping to make riding her career and is current looking for a professional stable to join when she finishes school.
Text by British Dressage
Related Links
Scores 2019 CDIO Hickstead
Four Teams to Compete in Nations Cup at the 2019 CDIO Falsterbo
Team Holland Wins Nations Cup on Home Turf at 2019 CDIO Geesteren
Team Denmark Secures Victory in Nations Cup Leg at 2019 CDIO Uggerhalne
Team Great Britain Wins 2019 CDIO Compiegne Nations Cup with Stellar Hughes Hitting 77%
Team USA Wins 2019 CDIO Wellington Nations Cup
Geesteren and Järvenpää Added to 2019 FEI Nations Cup Series