Hit & Run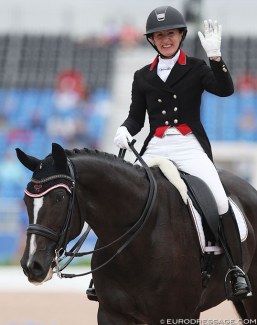 In corona times we are all ordered to stay at home, self quarantine, and do social distancing. With more time on your hands to spend online, Eurodressage launches a "Hit & Run" interview series so that you get to know the world's most famous dressage riders and personalities more closely. 
Canadian Grand Prix rider Belinda Trussell has represented Canada at two Olympic Games: the 2004 Games in Athens (on Royan II) and 12 years later at the 2016 Olympics in Rio (Anton). Trussell competed at four World Equestrian Games (2002, 2010, 2014 and 2018). She also showed at the 2003 Open European Championships, the 2004 World Cup Finals and the 2015 Pan American Games where she got team silver. 
Hit & Run - Belinda Trussell
What is your earliest memory? 
Playing 4 square with the kids on my street in Atlanta Georgia. I also remember finding a dead bird and we all had a formal funeral for the bird. 
Which person alive do you admire the most and why?
There are so many! Probably Roger Federer and Oprah Winfrey. Roger seems to be a class act, huge talent, nice guy and loves his sport. Oprah has stayed true to herself throughout her career. She came from a difficult background and turned her life around. I also admire my sister, she has dealt with tough times and come through them. She is an amazing mother, she is kind and a great friend. When I need to find strength , I think of her.
When were you the happiest?
Being with my husband and kids, it does not matter what we do, just hanging out with them.
What is your biggest fear?
Losing my husband or  kids. 
What was your first thought today?
What? Snow again!! Aren't we almost in May?!
What is your most annoying character trait?
This is more of an annoying thing I do, but I feed the horses too many treats. My bits are disgusting, full of treats, maybe even sometimes leaves too. I tend to allow the horses to have snacks out on the trails. It drives my grooms crazy.
Which trait do you dislike the most in other people?
Dishonestly and being unkind 
What is your dearest possession?
Besides my family, probably my horses and Dogs.
If you look into the future, what do you see?
Riding and training horses, watching my kids grow up and growing old with my hubby
What makes you unhappy?
When people treat each other poorly, are unkind and not thoughtful
What is the love of your life?
Horses, dogs, family....and tennis when I can get to it!
What was the best choice you ever took in life?
Making horses my career
What's your guilty pleasure?
Ice cream
What do you owe your parents?
They have always encouraged me to pursue my passion. Even though riding was not considered "a real job" many years ago, they always supported and encouraged me. They also have allowed me to make my own mistakes, yet are there for me afterwards.
Who can sit next to you at your dream dinner table?
My sister, my nieces, my parents , husband and kids
What was the worst job you ever did?
I was a waitress at a golf club, I was terrible...I always brought the wrong food to the wrong people, I never improved
What was your biggest disappointment in life?
Not having enough time with Tattoo....I wish I could have ridden him longer..
What would you change if you can go back into the past?
Nothing...any pain or disappointments have made me who I am now...I'm content
Name one thing that would improve your quality of life?
Some more $$$ to fix things in the barn!
What is your biggest achievement?
Developing the business I have made, I am grateful each day for my clients, horses and staff
What is the most important life lesson you have learnt?
There are different definitions of winning...not always coming first is winning...achieving your own personal goal no matter how big or small can bring the most joy, and having someone to share that with.
Where would you like to be right now? 
Just where I am, at home in Canada, on my farm with my family
What's your favourite scent?
Peonies
Which character would you dress up in for Halloween?
I would find a costume that was a onesy ....super comfy. I can eat all the Halloween candy I want without anything getting tight!
To whom would you like to say sorry?
I don't have anyone to say sorry...when I make a mistake I apologize right away. I am Canadian eh?
What does love feel like for you?
Unconditional, peaceful
When are you most relaxed?
At the end of the day, chilling on the couch watching a show
What super power would you like to have?
To teleport myself so I don't have to sit in a car or airplane, I just  press a button and arrive anywhere in the world!
When did you last cry, and why?
I cried from a movie I watched a couple months ago, anything with kids and sadness I am a mess
When were you closest to death?
Thank goodness that has not happened yet!
How do you want to be remembered?
A rider who produces happy, beautifully trained horses. And a person who is kind, honourable and have helped others in my life.
Related Links
Belinda Trussell's Anton Retired from Top Sport, Tattoo Takes Over Torch
Trussell Leads Unofficial Canadian Rio Olympic Ranking List
Belinda Trussell and Anton, Top Canadians at 2014 World Equestrian Games
Belinda Trussell and Laurencio, Dressage Canada Athlete and Horse of the Year 2016
Belinda Trussell Not Seeking Spot on Canadian Team for 2012 Olympic Games
Belinda Trussell & Royan II Gearing up for 2004 World Cup Finals
Belinda Trussell Wins 2003 Canadian League World Cup Finals
Trussell Replaces Ishoy in 2002 Canadian WEG Team Lineup