Hit & Run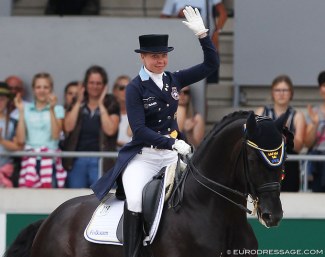 In corona times we are all ordered to stay at home, self quarantine, and do social distancing. With more time on your hands to spend online, Eurodressage launches a "Hit & Run" interview series so that you get to know the world's most famous dressage riders and personalities more closely. 
Swedish Grand Prix rider Therese Nilshagen has represented Sweden at the 2017 and 2019 European Dressage Championships and 2018 World Equestrian Games. She was nominated on the Swedish team for the 2016 Olympic Games but her horse Dante Weltino sustained an injury in Rio before the Grand Prix. Therese works as a professional trainer at Dressage Performance Centre Lodbergen in Germany.
Hit & Run - Therese Nilshagen
What is your earliest memory? 
Playing with my sister in our garden at home in Sweden
Which person alive do you admire the most and why?
My horse owner (Mrs Wespe). She is a fantastic woman with a big heart
When were you the happiest?
I am happy as long as I can do what I do daily: educating high quality dressage horses
What is your biggest fear?
To lose someone dear
What was your first thought today?
Thank God the sun in shining
What is your most annoying character trait?
I always want to have the last word in a discussion
Which trait do you dislike the most in other people?
Dishonesty 
What is your dearest possession?
Dante Weltino OLD
If you look into the future, what do you see?
A happy life full of nice people and horses around me and i hope for peace all over the world
What makes you unhappy?
People treating other people and animals badly and without respect
What is the love of your life?
My family, friends and horses
What was the best choice you ever took in life?
Moving to Germany
What's your guilty pleasure?
Avocado, especially on crisp bread
What do you owe your parents?
Much! Giving me a good start in life, teaching me to work hard for what I want to achieve in life
Who can sit next to you at your dream dinner table?
My Grandmother. Unfortunately she passed away a few years ago. She was the greatest person in the world to me, always warm, loving and supportive. She also cooked the best food ever
What was the worst job you ever did?
I can't remember doing something bad. Everything I did has made me what I am today.
What was your biggest disappointment in life?
When Dante Weltino got lame in Rio  
What would you change if you can go back into the past?
I would actually not change anything. Everything has turned out better than what I could ever have dreamed of
Name one thing that would improve your quality of life?
More sunlight
What is your biggest achievement?
To be who I am today. I have all I want here in Lodbergen
What is the most important life lesson you have learnt?
To listen to the people you really trust. Always stay fair and humble 
Where would you like to be right now? 
Were I am right now, in Lodbergen. I really feel good here
What's your favourite scent?
The smell just after a smooth summer rain
Which character would you dress up in for Halloween?
A vampire
To whom would you like to say sorry?
No one. Sometimes I feel bad not seeing my family  in Sweden that often. With horses you are always busy. 
What does love feel like for you?
Happy and warm inside
When are you most relaxed?
Christmas time in Sweden, ideally with snow outside. Sitting in the jaccuzi in my sister's garden with candellight and a glass of wine.
What super power would you like to have?
The ability to heal and help, especially poor and vulnerable children all over the world
When did you last cry, and why?
I few weeks ago. My best friend Frederic Wandres called me early in the morning to tell me in tears that his favourite horse Zuccero had died. That was heartbreaking
When were you closest to death?
A flight back home from Paris. We had terrible turbulence. 
How do you want to be remembered?
As a happy and nice friend, always helping were help is needed
Related Links
Gold for Germany in Dramatic Denouement of Team Competition at 2019 European Dressage Championships
Werth and Bella Rose Win 2019 CDIO Aachen Grand Prix, Showtime Steals the Show
Germany Conquers Team Gold at 2018 World Equestrian Games
Nilshagen, Guest Judge Rider for 2019 PSI Dressage with the Stars
Therese Nilshagen Takes over Ride on For Final OLD