Germany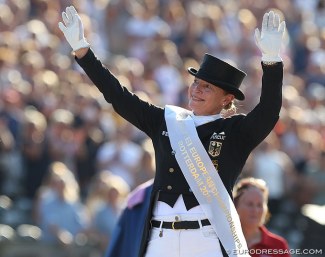 The German magazine Focus interviewed Isabell Werth, the world number on dressage rider and multiple World, European and Olympic champion, on the corona crisis and the upcoming Tokyo Games.
The Focus "article" counts only 82 words, but Isabell Werth's quote on holding the summer Olympics in Tokyo (23 - 29 July 2020) is clear:
"It is an incomprehensible and totally not understandable delay tactic of the IOC and the Japanese," said Isabell Werth. "They should follow soccer and Fomula A as example and say now: the Olympics in July will not happen."
On Facebook German team member Sönke Rothenberger responded  to Werth's quote and added:
"I am totally in agreement. We should take our responsibility towards the elderly and be an example as an athlete. Stay at home," said Rothenberger. 
Photo © Astrid Appels
Related Links
IOC Remains Fully Committed to the Olympic Games Tokyo 2020
Cancelled CDI's due to Corona Virus Clampdown