Austrian Warmblood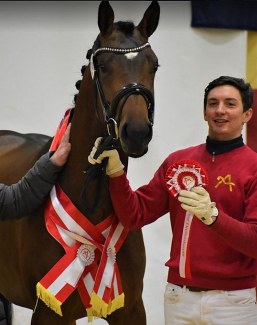 Traunstein K became the champion of the 2020 Austrian Warmblood (AWO) Stallion Licensing which took place in Stadl Paura, Austria, on 7 - 8 February 2020. 
A total of 48 stallions participated in the licensing and they were divided into groups which included young dressage and jumper colts, older stallions and pony stallions. The stallions were measured and presented on hard surface, shown in freedom, and presented in hand. 
The AWO Stallion Licensing committee included Georg Brötzner, Leopold Erasimus, Walter Werni, Claudia Wuggenig and Peter Zechner.
The champion of the dressage colt collection, which included stallions born in 2016 and 2017, was Traunstein K.
Traunstein K is by the Hanoverian Toto jr out of KWPN mare Candice (by United x Belisar). He is bred and owned by Wolfgang Kromoser from Oberndorf, Austria and he celebrated not only the champion's title that day, but also his birthday. The colt was also presented at the pre-selection for the 2020 KWPN licensing, held in Ermelo in December, but not accepted for the licensing in February.
The Austrian Warmblood licensing committee described the champion as a "harmoniously, and very athletically built stallion with excellent gaits that convinced with their power and dynamics."
The reserve champion was the Oldenburg bred Fürst Otto (by Furstenall x Don Schufro), bred by Otto Mucker and owned by Martina Winter. 
Eleven dressage bred colts in total were licensed. Two more received a premium label: Dr. Eisenhardt and Feel the Beat
The others were
Dr. Eisenhardt (by Dimitroff MT x Fackeltanz) - Breeder: Sissy Max-Theurer - Owner: Heinz Winter 
Feel the Beat (by For Dance x Zack) - Breeder & Owner: Andreas Winter 
Dom Perignon M (by Desperado x San Amour) - Breeder & Owner: Franz Maier 
Tarcisio (by Totilas x Canturo) - Breeder: Reimer Nagel -  Owner: ZG Strilka & Pobitzer 
Massimo (by Millennium x Laurentio) - Breeder: Reinald Faß - Owner: Sandra Katharina Wolleitner 
Broadmoars For Gold (by For Romance x Fürst Piccolo) - Breeder & Owner: Broadmoar KG 
Heaven Dancer (by Kentucky V x Kaiser Wilhelm) - Breeder: Mette Hansen, DK - Owner: Suellen and John Saals, Australia
Broadmoars Ettore (by Escolar x  Farewell III) - Breeder:  Ferdinand Sanladerer - Owner: Broadmoar KG
Bartlgut's Duarte (by Damon Cello x  Paradiesvogel) - Breeder: Lutz Freimann - Owner: Wenzel & Edda M. Schmidt
The champion of the pony stallion lot was the buckskin Notting Hill (by FS Numero Uno). The German riding pony bred colt is bred by ZG Nagel and owned by Johanna Siebenhandl.  Three further pony stallions were approved. The reserve champion was Bergerhof's Domino (by D-Day), bred by Heike Gier and owned by Frank Doppler. 
There was also an assessment for 2.5-year old colts and the winner was the 2017 born Maximums (by Millennium), bred and owned by Gerhard Resch. 
Related Links
Faberge EP, Champion of the 2018 Austrian Warmblood Stallion Licensing
Giuliano Gustavo, Champion of the 2017 Austrian Warmblood Stallion Licensing
Darwin and Del Piero Approved at 2016 Austrian Warmblood Stallion Licensing
Don Rouge Royal, Champion of the 2015 Austrian Warmblood Stallion Licensing
Divine Etincelle, Champion of the 2014 Austrian Warmblood Stallion Licensing
Rosarius, Champion of the 2013 Austrian Warmblood Stallion Licensing
Del Magico, Champion of the 2012 Austrian Warmblood Stallion Licensing
Lord Fernando AB, Champion of the 2011 Austrian Warmblood Stallion Licensing
Bellheim, Champion of the 2009 Austrian Stallion Licensing