U.S.A.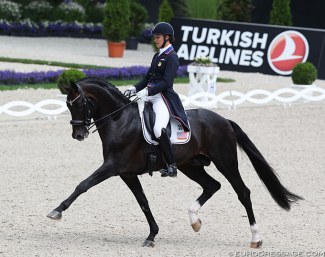 Gorklintgaards Dublet and Salvino, two principal horses of the 2018 U.S. WEG Team, are a no-show at the first mandatory outing for 2020 U.S. Olympic team selection.
"We continue to have very positive and regular conversations with Kasey and Adrienne about the progress and fitness of Dublet and Salvino in their aim to achieve selection and prepare for Tokyo 2020,"  USEF spokesperson Carly Weilminster told Eurodressage. "After reviewing their strategic competition calendars, both combinations applied for waivers, relieving them of their need to compete at the CDI5* at GDF, which have been approved by the Selectors."
CDI 5* Wellington Mandatory Outing
The United States Equestrian Federation marked the CDI 5* competition in Wellington, Florida, on 19 - 24 February 2020 as the first "Mandatory Outing", where he top ten (10) ranked athletes on the USEF Grand Prix Ranking List, have to show form to be selected on the Olympic Short List.
However, USEF accepts requests to not compete in the Mandatory Outing if a combination has demonstrated "Proven Ability" or in the case of illness or injury to a horse or athlete, provided there is documentation by the Team Veterinarian or physician(s) approved by USEF.
"Kasey and Dublet, as well as Adrienne and Salvino, have met and surpassed the Proven Ability Standard by definition in our selection procedures and are intently focused on properly peaking for the Tokyo 2020 Olympic Games, which is still over five months away," said Weilminster.
Who are the Most Likely U.S. Team Candidates?
For the 2020 Olympics teams will consist of only 3 combinations (plus one travelling reserve).
With the retirement of Verdades, WEG team members Perry (Dublet), Lyle (Salvino) and Peters (Suppenkasper) are the most likely candidates for a team spot.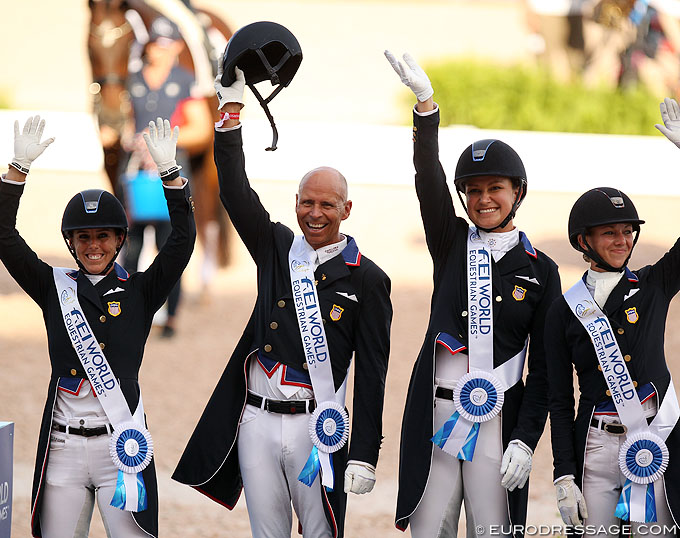 However, only Peters and Suppenkasper have proven form at the start of the 2020 show season, winning three CDI's and six classes in a row in Wellington.
Dublet's last show was the 2019 World Cup Final in April 2019, Salvino's last show was the CDIO Aachen in July 2019.
Entries for the CDI 5* in Wellington close Tuesday 18 February 2020, with the horse inspection commencing the next day on 19 February.
Salvino Ready for the Palm Beach Derby
According to Dressage-News, the 13-year old Hanoverian stallion Salvino (by Sandro Hit x Donnerhall), owned by Betsy Juliano and ridden by Adrienne Lyle, sustained a small injury in December which delayed his 2020 show start.
"Salvino had a little setback in December. He never was lame but had some filling. They scanned it. They decided to back off. He's never gone out of work, ever. But we just feel it's a little soon with his fitness getting back to full work that it's pressing it," U.S. team trainer Debbie McDonald. "Why? Because we have so much to do this year. He is fit and he's sound. It's not in his best interest to go out full bore right now."
Lyle plans to compete Salvino in the 4* CDI (Palm Beach Dressage Derby) at the end of February.
"He will (go out) right after (the CDI5*)," McDonald explained. "That's her (Adrienne's) plan right now, and we're targeting that for sure."
Also Weilminster confirmed that, "Salvino and Adrienne have been working at home and a small veterinary set back in December reduced their training workload for a few weeks."
Waiting for Gorklintgaards Dublet's Return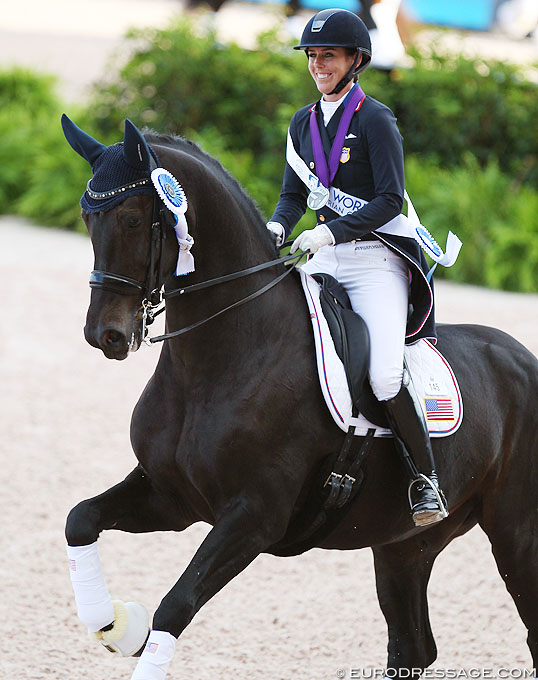 Kasey Perry's 17-year old Danish warmblood Gorklintgaards Dublet (by Diamond Hit x Ferro) is the oldest U.S. team candidate for the Tokyo Olympics and considered the country's number two after Verdades, so now in principle number one. 
In an interview with Eurodressage on 12 January 2020, Perry said that she aimed to ride at the 5*, but according to the rider and her trainer Debbie McDonald the show is too much too soon for her seasoned horse. 
"Dublet is sound and in work, according to McDonald. "She's (Kasey) being extremely cautious because of his age more than anything. She just feels again that if she didn't have to do this one she's thinking about her plan from that point on, in his best interest and knowing she has to come out and lay it down.
"There's no major issue. It's just that they're not in top fit form for competition (Dublet & Salvino)," McDonald continued. "So give them another couple of weeks and they'll be right on."
USEF press officer Carly Weilminster added, "Kasey and Dublet have amassed incredible experience over the past five years and Kasey remains committed to closely managing Dublet to ensure he's in top form for the intense lead up to team selection."
Eurodressage got back in touch with Perry who said that her horse is in full training, but there is no show date selected. 
"We are not setting a specific show date at this moment, but luckily since we are here training in Wellington, we have lots of options," she said. "Dublet is feeling great and we are looking forward to getting back out there!"
Short List in April, Then Many Options to Prove Form
On 26 April USEF will announce a short list of up to eight combinations and up to four combinations may be named as Alternates to the Short List.
The USEF gives much leeway to riders to prove themselves once on the short list.
Short listed combinations are required to compete in "Observation Events", of which one "may" include a mandatory event. However these observation events may be CDI's or CDN's, and they "may" be in the U.S.A. or in Europe. it is expected that a group of short listed riders will be sent to Compiegne and Aachen.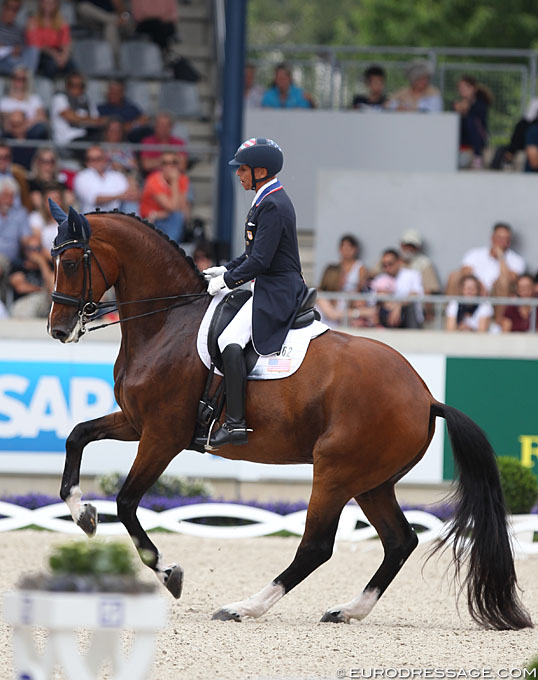 Additionally, "Home Visits" may be conducted with each Short List combination.
Again athletes may request special consideration for selection without competing in the designated Observation Events, if they have proven ability and in case of injury or unforeseen circumstances.
In those cases Home Visits will be done to ensure ongoing "State of Preparedness".
On 16 June 2020 the actual U.S. Olympic team will be announced. The team horses leave from New York for Tokyo at the end of July.
"At the end of the day when you think about Tokyo backwards and if we want to try to go to Europe as well that's a lot on these horses, a lot," said McDonald. "I think a lot of people don't understand how difficult it is for the Americans to try to get head-to-head with the Europeans without a huge amount of travel and then come back to the U.S. to quarantine and then go to Tokyo."
U.S. Ranking List for Olympic Games
USEF has posted the updated ranking list for the Olympic Games, as of 10 February. The top 10 combinations, based on their Grand Prix Special average, at the moment are:
1. Steffen Peters - Suppenkasper - 75.192
2. Ashley Holzer - Mango Eastwood - 74.128
3. Nick Wagman - Don John - 73.064
4. Charlotte Jorst - Nintendo - 71.680
5. Sabine Schut Kery - Sanceo - 71.532
6. Adrienne Lyle - Harmony's Duval - 71.319
7. Katherine Bateson Chandler - Alcazar - 70.341
8. Tina Konyot - Diamantino II - 68.681
9. Anna Marek - Dee Clair - 68.298
10. Guenter Seidel - Equirelle W - 67.883
"Our expectations remain the same as to what both combinations (Perry/Dublet - Lyle/Salvino) will produce relative to consistency and performance when they return to competition," Weilminster concluded. "We are confident in their competition plans as we look ahead to an extensive calendar to come in late spring and early summer."
Complete ranking list here.
Selected quotes from Dressage-news' article: Adrienne Lyle & Salvino, Kasey Perry-Glass & Dublet to Miss Wellington CDI5*, Adrienne Plans CDI4* Week Later in Bid for USA Olympic Team
Related Links
Kasey Perry and Dublet Preparing for 2020 Season Start
U.S. Grand Prix Dressage Squads for 2020 Announced
Holzer and Eastwood Make it a Double on their CDI Debut at 2020 CDI-W Wellington
Guenter Seidel is Back with Second Leatherdale Horse Equirelle W