2020 CDI-W Wellington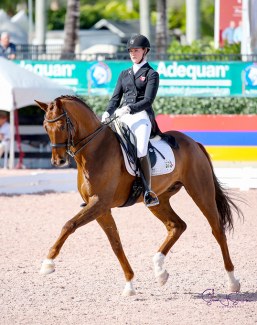 It was a clean sweep in the small tour for the 30-year-old Danish rider Carina Nevermann Torup, who teamed up with the eight-year-old Bordeaux gelding Bordolino 8 just a week before the 2020 CDI-W Wellington on 6 - 9 February 2020. 
 They made it three plus-70% wins from three starts when topping the Intermediate I Freestyle 3* with 73.76% on Sunday 9 February. 
Borrowing Dong Seon Kim's Horse
"I trained the owner, Dong Seon Kim, a bit when he came over here, so I know the horse a bit from the ground, but I'd never sat on him before last Tuesday," said Nevermann Torup, who is based in Denmark and works for Helgstrand Dressage. "It's quite awesome that he actually won, but when you have a horse that's well ridden, it's quite easy to get on them. He's an awesome horse and he gives such a nice feeling in the ring."
This was the first time Nevermann Torup had ever ridden through this freestyle as she borrowed it from Kim.
"I just listened to the music yesterday and learned it," said Nevermann Torup, who usually rides 8-10 horses a day and specializes in bringing advanced horses up to grand prix level. "Bordolino has so much power and I asked him for a little bit more today and he gave it to me which meant I had to make a little circle to get with the music because I ride him a little bit faster. We're still getting to know each other so maybe in two weeks or a month it will be even better still; we'll see.
Bordolino was acquired by South Korean Kim as an investment project and is for sale at Helgstrand's alongside several more horses that Kim has purchased for resale. However Nevermann Torup is keen to keep training him up the levels. She brought her own horse over with her in December which she had planned to compete at GDF, but he was quickly sold.
Losos de Muniz Wins Inter II
The Dominican Republic's Yvonne Losos De Muñiz rode her own 10-year-old Vivaldi mare Felicia to top honors in the Intermediate II 3* with 63.324%. Losos De Muñiz bought the talented and light-footed horse from Helgstrand Dressage in Denmark in 2018 and this was only their second international show together — the first at big tour. Felicia was formerly ridden by Australia's Simone Pearce.
- GDF press release by Alice Colllins, edited by Eurodressage
Photos © Sue Stickle - Lily Forado
Related Links
Scores: 2020 CDI-W Wellington
Steffen Peters On His Way to Las Vegas, Takes Five Out of Five at 2020 CDI-W Wellington
Six Out of Six for Peters and Suppenkasper as they Secure Ticket to Las Vegas
Holzer and Eastwood Make it a Double on their CDI Debut at 2020 CDI-W Wellington