2020 CDI-W Wellington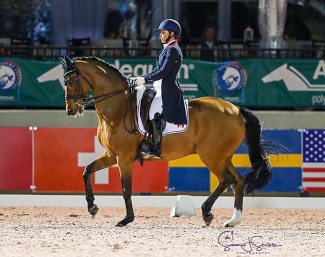 The 2020 Global Dressage Festival (GDF) opened the winter season at the Palm Beach International Equestrian Center (PBIEC) in Wellington, Florida, on 9 January 2020 with Canadian riders filling all three podium places in the Grand Prix CDI-W and Steffen Peters winning the 3* Grand Prix.
Jill Irving Wins First CDI-W Class of 2020 Wellington Season
The 15-strong class was won by last-to-go Jill Irving on her own Degas and was the qualifier for the Grand Prix Freestyle CDI-W, which takes place under the lights on Friday evening.  Jill Irving (CAN) and Degas start the 2020 season as they mean to go on, with a plus-70% win. 
"I was really thrilled with him," enthused Irving, who is based between New Brunswick in Canada and Wellington, Florida. "He's going to be 18 this year and I'm going to be 57, so we're both having to take good care of ourselves for the future. I've had him since he was six and this cooler weather was really his cup of tea."
The De Niro son's test was well balanced and unhurried, with just a single mistake in the two-time changes. Irving and her team mates have their sights firmly set on the Tokyo Olympics this summer, and this marked a good start in her and Degas 12's campaign. This win comes off the back of Canada's team gold at the Pan American Games in Lima, Peru, in July of 2019 and this was the duo's first competitive outing since then.
"It's my childhood dream to go to the Olympics — for every athlete they're the dream. I feel really prepared for this journey, but Canada needs to take the best horse/rider combinations and I hope that's me, but if it's not, we take the best," said Irving, who has a second horse, Arthur, at international grand prix level.
Praise for Wellington
She also praised the GDF for elevating the status of competitive dressage in the US: "The GDF is amazing and I've been coming here since 1992; it's less stressful than a European tour where you're always moving to different venues, with paperwork and travel. But here, the Friday night under the lights shows prepared me for Aachen. I thought, it's just like Global, but bigger.
"Dressage horses need this show in North America. The footing is great and we're a family here; I can come and invite people to watch and it's a world class facility. It gives us the opportunity to compete against people like Steffen Peters and Laura Graves — all the big guns — without having to go to Europe. I wouldn't be where I am today if it weren't for Global. It's put dressage on the map for the United States. When I'm an old lady and I can't ride a horse, maybe I can own one and still come."
Canadian One-Two-Three
The top three finishers in the class — Irving, Brittany Fraser-Beaulieu and the up-and-coming 23-year-old Naima Moreira Laliberte — all train with Ashley Holzer, with whom Jill is based at Wellington.
For Fraser-Beaulieu, this was her second show back with her long-time partner All In since having a baby in the summer of 2019. She and the large-framed 15-year-old chestnut gelding by Tango scored a little under 70%, with Moreira Laliberte and the elegant Sandro Hit son Statesman less than 1% adrift.
Peters and Suppenkasper Win Grand Prix 3* with 70%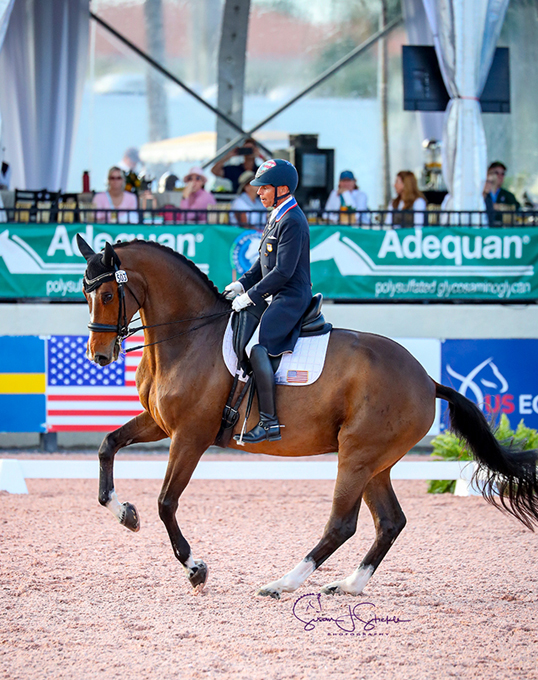 There were 19 starters in the day's other grand prix class, the CDI3* Grand Prix presented by MTICA Farm, which is a qualifier for Saturday afternoon's CDI3* Grand Prix Special. The California-based 55-year-old Steffen Peters, the penultimate rider, overtook the long-time leader, Great Britain's Susan Pape to claim the class with 70.826%.
Under Peters, Akiko Yamazaki's 12-year-old gelding Suppenkasper (by Spielberg out of a Krack C dam) showed brilliance peppered with patches of over-exuberance, resulting in a wide range of marks from the five-strong panel of judges. The pair scored 70.826% but had the individual marks of the judges ranged from 69.783% to 74.022%  This was Peters' and Suppenkasper's first show since competing at Aachen in Germany in July of 2019. 
Susan Pape finished second with 70.435% on Leslie Malone's Eclectisch, an 11-year-old black stallion by Zenon, who was stepping up to grand prix internationally for the first time. Germany's Michael Klimke was third on another Harmony Sport Horses-owned ride, scoring 70.109% with Royal Dancer, a 14-year-old by Royal Blend.
Photos © Sue Stickle
Related Link
Scores: 2020 CDI-W Wellington