Bits 'n Pieces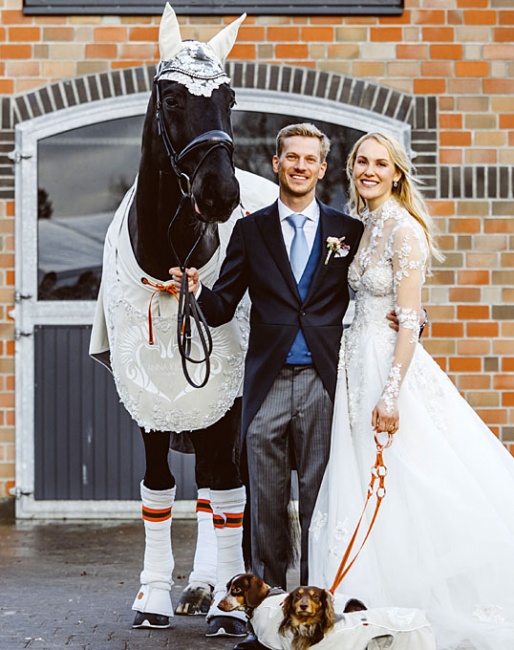 Little over two months after their civil wedding, German Grand Prix rider Kathleen Keller and Nikolas Kröncke had their church wedding on 7 December 2019. The big wedding day took place in the Hamburg Elbe suburb of Blankenese and a special highlight was provided by Kathleen's main sponsor, the Hamburg equestrian manufacture Anna Klose, which designed white horse blanket and fly cap, which were embroidered with the same exclusive lace as the bride's dress.
Dutch national Grand Prix rider Marijke de Geus has sold her number one Grand Prix horse Connecticut (by Johnson x Goodtimes x Obrecht) to Dutch youth rider Britt van der Panne. In February De Geus was sidelined after getting kicked by a horse. Connecticut was temporarily trained by Esra de Ruiter, but as the recovery process is taking longer than expected Marijke decided to sell her chestnut. Van der Panne began her international show career as a pony rider in 2013 with Vitell W. In 2014 she moved to junior level with Marciano G and Atink. In 2016 she also competed Valentino. It was her last year out at CDI's. Van der Panne now aims to ride Connecticut at Under 25 level.
German stallion owner and eventing rider Jens Hoffrogge (34) proposed to his girlfriend, German professional dressage rider Beatrice Buchwald (30), on Christmas Eve 24 December 2019 and she said yes. The couple has been running a shared business together the past year with Buchwald moving her training horses to his yard. They also recently acquired the stallion Bonds from client Anemone Samyn.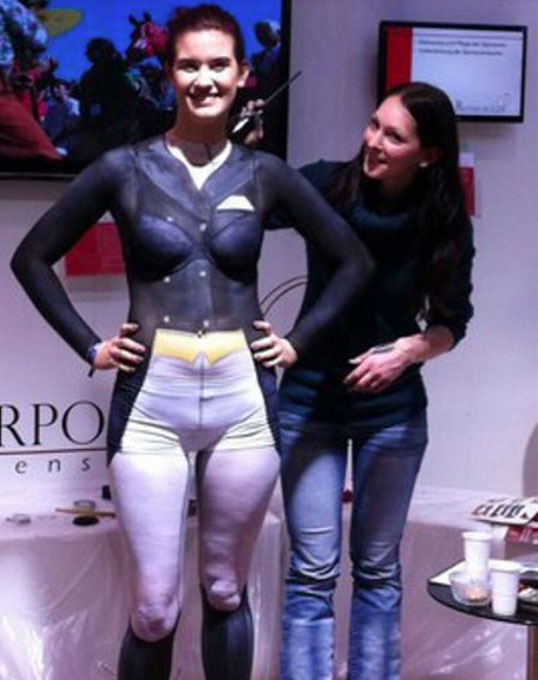 At the World Cup qualifier in Herning, this rider had herself body painted in competition gear. Check out the photo.
Oldenburg horse breeder Inge Bastian has passed away at age 82. Inge (and her husband Günter) have bred horses for more than 40 years at their yard in Bargteheide. Inge Bastian is best known as the breeder of Isabell Werth's medal winning mare Weihegold (by Don Schufro x Sandro Hit), but she has also bred licensed stallions Blue Hors Zatchmo, Donatelli I, II and III, Feldjunge, Placido,  and the Oldenburg elite mare champion Fabina. In 2017 she was named Oldenburg Breeder of the Year. 
Danish rider and trainer Henning Sloth Jepsen has passed away at age 57 on 1 January 2020. Sloth Jepsen was a renowned trainer in Denmark who returned to work at the Broholm riding school after Allan Gron left for Blue Hors in 2011. He was trained by Nis Valdemar in Vilhelmsborg. He has also worked at Esbjerg and Omegns riding club and worked with Hasse Hoffmann. Most recently he ran his own business from Tjaereborg riding school. On New Year's Eve Jepsen died by his own hand. His funeral was held at the Hertjing church on 3 January 2019.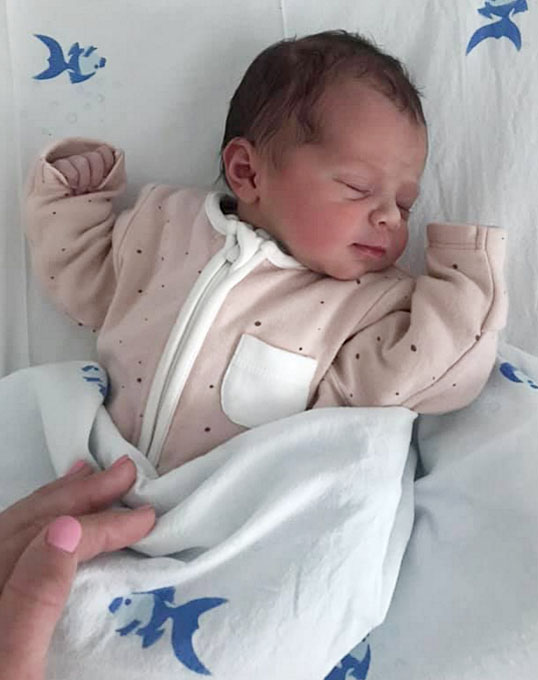 Australian Sarah Warne and her Portuguese husband Andre Furtado have become first time parents to a baby girl, Madalena Warne Furtado, on 2 January 2020. The baby weighed 2.8 kg at birth and mom and child are doing well. Warne is a former writer for Eurodressage.com and produced articles for the Classical Training series. She is now a full time mother living in Cascais, Portugal.
More baby bliss. Dutch Grand Prix rider Anouk Noordman gave birth to her first child on 5 January 2020. Noordman and her partner Jasper Klein welcomes baby boy Timo Klein at 10h25 AM and he weighed 3.12 kg at birth. Little side note: Noordman was still in the saddle and competing at the indoor show in Zuidbroek on her Grand Prix horse Zeronica the day before giving birth !
British Grand Prix rider and trainer Nicky Barrett (53) got engaged to her boyfriend, Simon Pasco (57), on 6 December 2019. The couple has been dating for three years and living together for a year. Pasco has no horsey background and works in psychometrics. "I am excited and looking forward to the next decade," said Barrett, who was previously married to dressage rider Richard Barrett for 29 years.