2019 CDI Frankfurt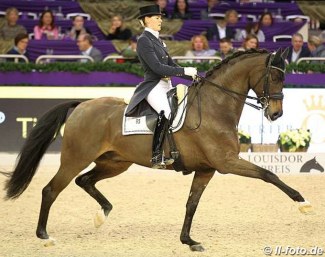 Senta Kirchhoff and her Oldenburg gelding L'Arbuste became the surprise winners of the 2019 Louisdor Cup Finals, the German Championships for Developing Grand Prix Horses, in Frankfurt on Sunday 22 December 2019. 
Twelve horses competed in the Louisdor Cup Final, with two small changes to the entry field right before the kick off of the event. Hubertus Schmidt's Bonamour and Nicole Wego's San Ravallo were pulled and replaced by Insa Hansen on Rebroff and David Lessnig on Dior. 
Kirchhoff and L'Arbuste: From Retired to Titlists
Going into the Finals as the winner of the Hagen qualifier, the first of the season, Kirchhoff and the 9-year old Danish bred but Oldenburg registered L'Arbuste (by Skovens Rafael x Zardin Firfod) had a difficult start in Frankfurt, but the pair persevered and became the titlists. 
"I'm really over the moon and think I still haven't realized it yet," an ecstatic Senta told Eurodressage. "It is a dream come true! And I feel actually really proud also as I have had him since he is 4 years and have educated him myself."
In the warm-up round on Friday 20 December 2019, Kirchhoff retired her horse from the test because he was too tense and impressed by the atmosphere. He spun round in the trot half pass and reversed in the collected walk. Kirchhoff was unable to get rid of the tension and retired at the beginning of the canter tour. 
"He just got really distracted by the atmosphere and it didn't get better, but just worse and worse and he turned around and I couldn't really get anywhere," Senta explained about what happened in the warm-up test. "As I didn't want to make him even more afraid and I felt that there is no chance of settling him down I decided to retire."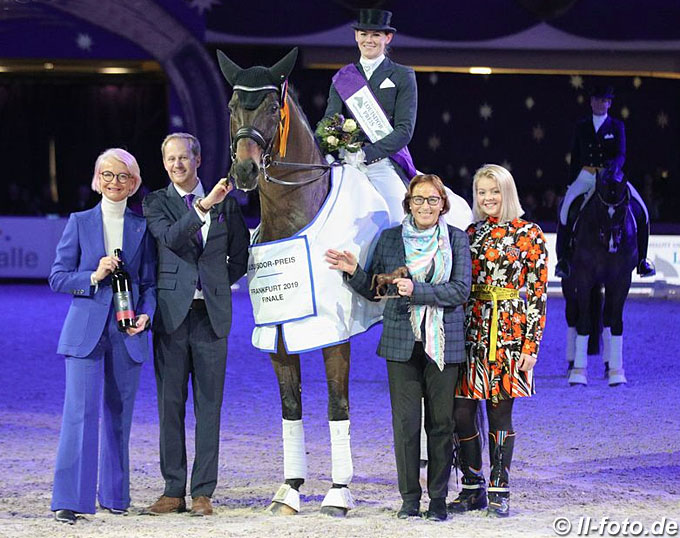 However, a new day gave new opportunities and Kirchhoff and L'Arbuste a more solid Grand Prix test in which the lightfootedness of the gelding stood out.  He posted 73.220% which at the end of the test sufficed for the victory and title. 
"L'Arbuste felt already much safer in the warm up today and I thought that it might work that we finish the test," she joked. "That was my only goal: to ride him that he gets the self confidence back. In the test he still felt tense and a bit afraid but it got better and better during the test. He felt more self confident but by far not like he can feel and there is still so much more in him!"
The 33-year old Senta Kirchhoff owns equestrian centre Gut Bertingloh in Menden, Germany, where she and her life partner, Finnish Grand Prix rider Henri Ruoste run a sales and training business. Kirchhoff considers herself a semi-professional rider as she has a half-time job working in the marketing department of her father's company. She first premiered L'Arbuste internationally in 2017 at the World Young Horse Championships in Ermelo, where she finished 7th in the 7-year old finals. 
"The overall plan with him is to get him more and more confident on the bigger shows and really get him into the Grand Prix and Grand Prix Special. I'll take my time with him," said Senta about her future plans with her new champion.
Fiderdance Runner-Up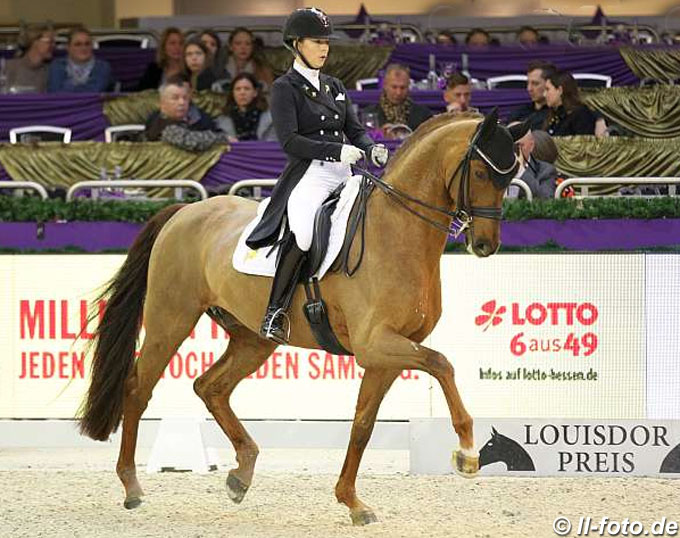 Lena Waldmann and Gestut Bonhomme's 10-year old Oldenburg stallion Fiderdance (by Fidertanz x Don Schufro) proved consistency throughout the weekend. After placing third in the warm up round with 73.395%, he moved up one place in the Grand Prix finals with 72.300% and became the runner up. 
"I feel an incredible sense of joy and deep gratitude," said Waldmann after becoming runner-up. In the 2019 Nurnberger Burgpokal Finals for developing Prix St Georges horses, she also placed third and fifth with Cadeau Noir and Morricone. "What an incredible weekend in Frankfurt."
Fiderdance was initially trained by Falk Rosenbauer as a youngster, but when the then head-rider and Gestut Bonhomme's owner Rebecca Gutmann parted ways, Waldmann took over the ride and she has developed the chestnut to Grand Prix level. The horse has not yet competed internationally. 
Rebroff Third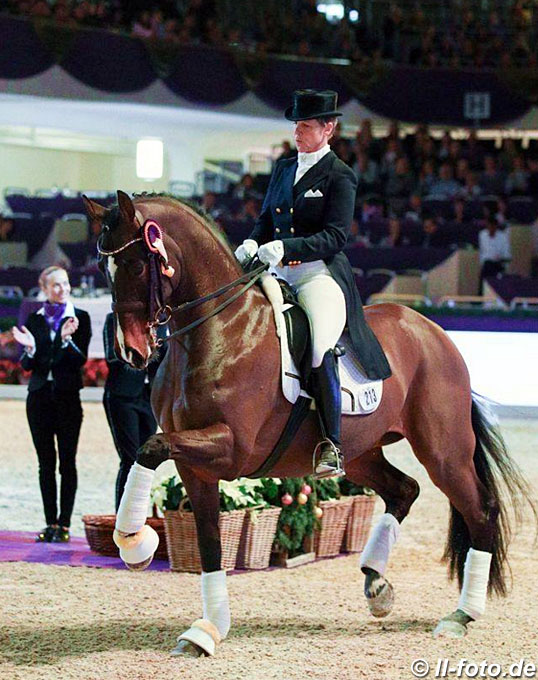 Insa Hansen and Jamie White's 10-year old Rhinelander gelding Rebroff (by Robespierrot x Oula Owl xx) substituted for Hof Kasselmann stable mate Nicole Wego and San Ravallo. Wego is pregnant and on a break from riding, while San Ravallo has been sold. Hansen and Rebroff took over their slot and it paid off. 
While they were only eleventh in the warm up test with 69.023%, they made a massive jump on the leader board and landed third place with a score of 71.980% for their Grand Prix ride. 
Ferdinand BB and Soiree d'Amour
Jessica von Bredow-Werndl was the favourite for the title after winning the warm-up round with Beatrice Burchler-Keller's 10-year old Hanoverian Ferdinand BB (by Florencio x Lanciano). 
Von Bredow-Werndl and Ferdinand BB had already qualified for the 2018 Louisdor Cup Finals but the rider decided not to compete at the show to give her horse more time to mature. The decision pair off and the pair won the warm up test with 76.488%. In the actual finals a few small niggles kept the score down and with 70.460% they landed fifth place.
"It would be wrong to say that today was not our day," Jessica explained. "Ferdl felt sensationally good during the warm up and also mostly in the test. But the atmosphere in the Frankfurter Festhalle is pretty tough. In two passages and in the extended walk we had such big mistakes that today "only" 5th place was possible. Just in the movements that count among our absolute highlights. Nevertheless, this test does not change my gratitude and the joy that I have with Ferdinand. I am very, very proud of his development and look forward to the coming season with great joy."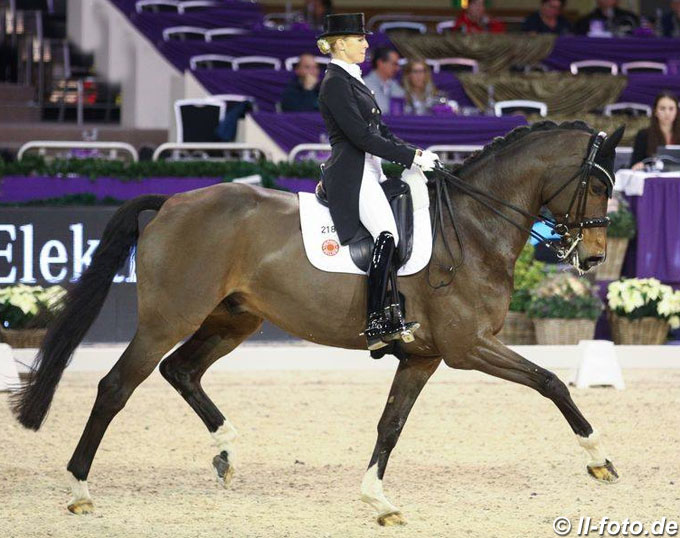 Kira Wulferding and Birgit Kalvelage's 10-year old Oldenburg mare Soiree d'Amour  (by San Amour x Latimer) are familiar faces in Frankfurt. They were seventh in the 2017 Nurnberger Burgpokal Finals for Developing Grand Prix horses and were well on their way for a top place in the Louisdor Cup this year. 
Wulferding and her elegant mare Soiree d'Amour placed second in the warm-up test with 73.674% even though the mare struggled with some tension. However, in the Grand Prix their score got stuck at 66.160%, which landed them 11th. The mare had big eyes focused on the surroundings instead of her rider and she stalled in the final piaffe.
Schneider's Quaterbacks 
Dorothee Schneider qualified two Quaterbacks for the 2019 Louisdor Cup Finals: Quantum Vis and Mister-C.
With Maja Wieczorek's 10-year old Hanoverian stallion Quantum Vis MW (by Quaterback x Gloster) she had the most success. After placing 7th in the warm-up round with 70.767%, Schneider climbed the ladder and improved her ranking and score to a fourth place and 71.160% in the Finals. 
Unfortunately Dorothee had to retire Castilia's 10-year old Oldenburg stallion Mister C (by Quaterback x Raphael) in the finals test, after placing 10th in the warm up test with 69.860%. The stallion was not up to do piaffe in the electric Christmas atmosphere in the Frankfurt indoor arena and Schneider lifted her hand and retired.
Photos © LL-foto - More photos at the bottom of this article
Related Links
Scores: 2019 CDI Frankfurt
Bonamour and San Ravallo Drop Out of 2019 Louisdor Cup Finals
Kirchhoff and L'Arbuste Win Louisdor Cup Qualifier at 2019 CDI Hagen
Louisdor Cup Qualifiers for 2019 Announced
Previous Winners
Blue Hors Veneziano Wins 2018 Louisdor Cup Finals for Developing Grand Prix Horses
TSF Dalera BB Wins 2017 Louisdor Cup Finals for Developing Grand Prix Horses
Sammy Davis Jr Wins the 2016 Louisdor Cup Finals for German Developing Grand Prix Horses
Rothenberger and Cosmo Win 2015 Louisdor Cup Finals' Warm Up Class at 2015 CDI Frankfurt
Brigitte Wittig and Balmoral W Win 2013 Louisdor Cup
Thomas Wagner and Very Keen Win 2012 Louisdor Cup Finals
Diva Royal Wins 2011 Tesch Inkasso Cup for Upcoming Grand Prix Horses
Werth's El Santo NRW Wins 2010 Medien Cup Finals
Dablino Wins  2009 Medien Cup Finals
Carabas Wins 2008 Medien Cup Finals
Floresco Wins 2007 HKM Upcoming Grand Prix Horse Finals