Russia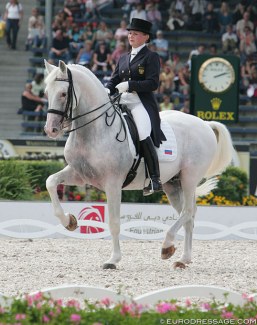 Balagur, one of Russia's most successful Grand Prix dressage horses in the last two decades, has passed away today 10 December 2019. He was 29 years old. 
Balagur was a 1990 born Orlov Trotter by Raskat out of Brusnika (by Kolchan x Dok). He was owned by Anatoly Balykin.
The grey began the sport career, his breed was destined to fulfill: trotting on the race track. Although he won two races, he wasn't fast enough and sold as a 3-year old to the mounted police in Nizhny Novgorod (formerly Gorki).
During one of his winter indoor training sessions, Russian dressage rider Alexandra Korelova spotted him as she shared the same indoor arena with the mounted police, but did not immediately recognize the horse's talent. It was former World and Olympic champion, the late Elena Petushkova, who spotted Balagur's talent, after seeing him in a competition at the Riding Club in Nizhny Novgorod as a "borrowed horse" under different riders.
Petushkova told Anatoliy Balykin, the club owner and owner of the Grand Prix horse Korelova was riding at that time, to pay attention to Balagur, but only a few years later when Alexandra's Grand Prix horse became unsound, did Anatoliy remember Petushkova's words and bought Balagur.
Alexandra was far from enthusiastic when Balykin gave her Balagur to train: "I was embarrassed, because nobody took part at the dressage riding shows on Orlov trotters," she told Eurodressage.
Balykin sent a video to Georg Theodorescu in January 2002 to ask his opinion on Balagur. When the German legendary trainer replied enthusiastically, Korelova and Balagur moved to Germany to work with Georg at his Lindenhof Stud in Fürchtorf three weeks later. It was the start of a remarkable competition career.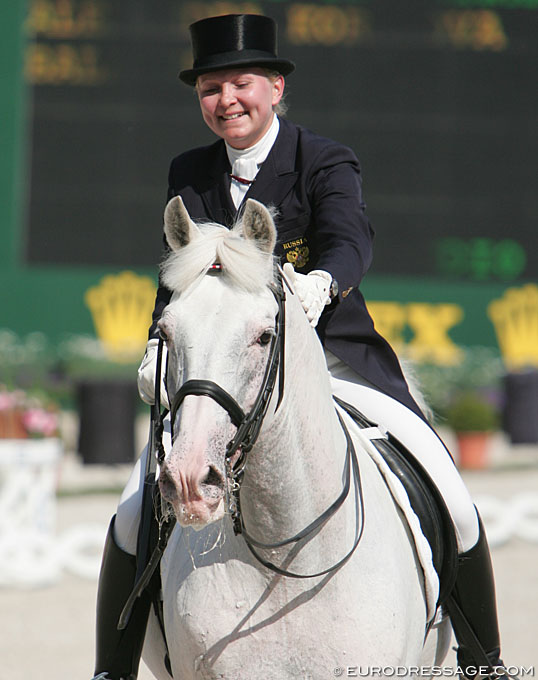 The pair represented Russia at the 2002 World Equestrian Games in Jerez, 2004 Olympic Games in Athens, the 2006 World Equestrian Games in Aachen, the 2007 European Championships in Torina, the 2008 Olympic Games in Hong Kong and finally as last show in his career, the 2009 European Championships in Windsor. They won three CDI classes in their career: in Braunschweig and in Hagen.
Balagur was known and praised for his textbook piaffe, which should have easily earned him 10s but it only took until the end of the horse's sport career before the judges recognized and acknowledged his greatness in that movement.
For the past 10 years, Balagur spent his retirement with Monica Theodorescu in Germany. He was top fit and served as a schoolmaster for several working students, enjoying some very light training and feeling his usual self. His last ride was Friday 6 December. 
Balagur died peacefully in his box. Monica and Dania, who rode him from 2015 until his last ride on 6 December 2019, were with him and said goodbye.
Photos © Astrid Appels
Related Links
Eurodressage Photo Database: Balagur
Balagur, an Orlov Trotter in the Olympic Dressage Arena
Balagur Taking the Orlov Trotter into the 21st Century
Judges make mistakes, too
Monica Theodorescu: Backed by History, Facing the Present on Home Bred Horses