Switzerland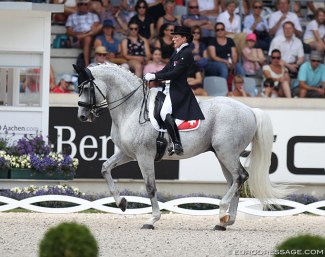 The dressage selection committee of the Swiss Equestrian Federation has named the riders on the three Swiss Grand Prix squads for 2020. 
The Swiss NF has three squads at Grand prix level: an elite squad, a perspective group and an Under 25 team. 
Squad listed riders get to enjoy regular training seminars and mental coaching. The goal of the federation is long-term: to field a team at the 2024 Olympic Games in Paris.
Joannou and Aerne-Caliezi Decline
In a press statement, the federation pointed out that neither Antonella Joannou, nor Anna-Mengia Aerne Caliezi have declined to be submitted to the elite squad.
Joannou told Eurodressage that, "I left the elite squad because my goal (for) 2020 is not the Tokyo Olympics, but I will continue to make international competitions with Dandy de la Roche who is in top form." She also added that "there was a communication problem with the federation, I have an appointment with them next week to clear (it out)."
Aerne-Caliezi is the 2015 and 2018 Swiss Grand Prix Champion. She is coached by Silvia Iklé, a former Swiss Grand Prix Champion, who is currently putting pressure on the Swiss federation, by discussing and questioning its policies in a public forum, which she co-hosted in March 2019.
"I declined because Raffaelo is eighteen now and the Olympics is not our goal for 2020," Anna-Mengia told Eurodressage. "He is still top fit and we will continue to compete international shows next year. There were some communication issues this year with members of the federation which made my decision even clearer but it has nothing to do with the public forum held in March this year."
Marcela Krinke-Susmelj?
The federation does not even make mention of its year long anchor and number one Grand Prix rider Marcela Krinke-Susmelj, who has not been out to compete since February 2018, despite loyal support from her sponsor Irine Meyer, who keeps  no less than 4 Grand Prix horses with Marcela: Carissimo, Sopran, San d'Or and Sonny Star. 
Rumour has it that sponsor Meyer and Krinke has split up and all horses sent to trainer and horse dealer Daniel Ramseier, but this has been denied. 
"The sponsoring of Irene Meyer has not ended and there are no plans to end it in the near future," Sabine Meyer told Eurodressage. "None of her horses are for sale. It is true though that Carissimo and Sonny Star are at Daniel Ramseier's barn in Ibbenbüren at the moment, for training reasons. All the other horses are at Marcela's stable in Lucerne."
Krinke herself declined to comment.
Swiss Grand Prix squads for 2020
Elite Squad
Carla Aeberhard
Charlotte Lenherr
Estelle Wettstein
Birgit Wientzek-Pläge
Perspective Squad
Simona Aeberhard
Marie Blockx
Philine Brunner
Delia Eggenberger
Elena Fernandez
Caroline Häcki
Melanie Hofmann
Gilles Ngovan
Corinne Sélébam Alt
Andrina Suter
Under 25
Charlotta Rogerson,
Carl-Lennart Korsch
Photo © Astrid Appels
Related Links
Swiss Youth Squads for 2020 Named
Swiss Federation Disapproves Forum on Future of Swiss Dressage
Megan Lane's San d'Or Sold to Switzerland
Krinke Says No, Van der Meer Replaces at 2018 World Cup Finals
Carissimo, New Grand Prix Hopeful for Marcela Krinke-Susmelj
Graf, Guerra, Schmid, Aerne-Caliezi Win 2018 Swiss Dressage Championships
Swiss Dressage Squads for 2019 Named
H1000C to Support Swiss Dressage Team on the Road to Tokyo