Westfalian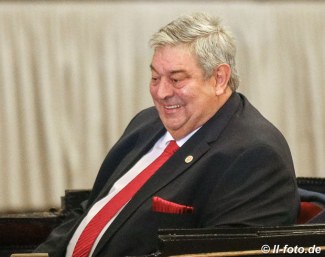 Bernd Richter is retiring as auction director of the Westfalian breed society. He officiated at his last auction at the 2019 Westfalian Stallion Licensing on 27 November 2019 and achieved a turnover of 5 million euro.
The 63-year old Richter has been auction director in Munster-Handorf for 25 years. 
Originally from Ladbergen, Richter began working for at the Warendorf State stud as a trainer in 1973 until 1975. After army duty he became a certified nurse and between 1979 and 1994 worked at the University Clinic of Munster in surgical department.
In 1994 Friedrich Marahrens, breeding director of the Westfalian breed society,  appointed Richter auction and sales director. Bernd did his first auction in 1996 and was the driving force behind the development of the winter and summer auctions as well as new sales platforms. In 2013 Richter stepped down as sales director but continued doing the auctions. 
Richter's extensive career also has a black page as he was involved in the big corruption scandal in Warendorf in 2016, which led to Susanne Rimkus and Bernhard Gerdemann getting fired and sued. Richter accepted a 50,000 euro gifted Mercedes, which was booked into the Warendorf accounting as a horse acquired as Dagobert. Warendorf is funded with tax payers' money. Marahrens retired early from his position as breeding director in 2014.
Albeit, Richter is praised for his thorough knowledge and expertise of Westfalian horse and pony breeding and is a breeder himself, having bred the internationally successful jumper Clooney (by Cornet Obolensky) under Martin Fuchs.
Photo © LL-foto
Related Links
Bernd Richter Celebrates 60th Birthday
Rimkus, Borggreve, Gerdemann Under Investigation After Raid in Warendorf
Westfalian Society Votes on New Board of Directors to Restore Confidence
Warendorf District Court Rules In Fraud Case Against Rimkus, Borggreve, Gerdemann
What's Happening: May 2017 - Part 2
What's Happening: December 2017 - Part 2